The Queensland Regional Art Awards (QRAA) has seen some extraordinary art and artists emerge from its 7 year history. One of the Alumni of this prestigious and unique award and exhibition is Jennifer Wright (Summers). We asked them a few questions about their experience with the awards and what they're up to now!
---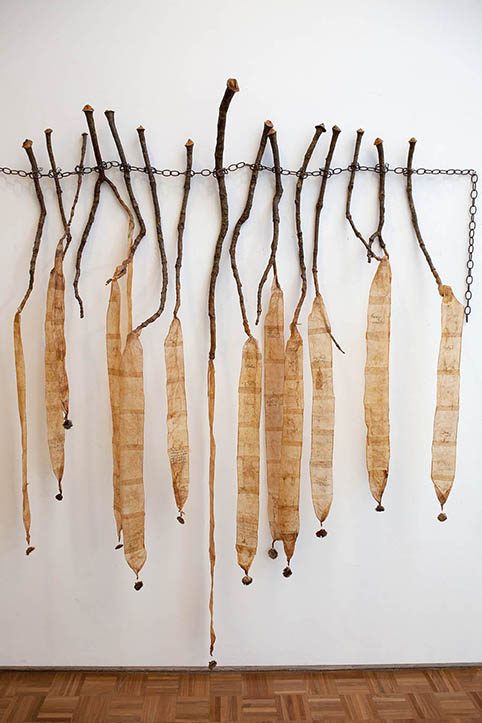 What was your reaction when you found out your work would tour Queensland as part of the Queensland Regional Art Awards Exhibition?
I felt very excited that my work had been selected to tour and happy that the meaning of the work, 'Impact of colonisation' would travel on with the tour. I was surprised as I am never confident that my work is good enough. I knew this work was strong and original and was also challenged to work out how to package it for travel as it was an installation and some parts were delicate.
What benefits do you think have come from your work/s touring Queensland with the awards?
Having my work selected gave me a boost to confidence that the late career choice to focus on my Art was a rewarding direction.
At the launch of the exhibition which was a wonderful surprise when Prof Jan Thomas who was guest speaker announced that the University of Southern Queensland was purchasing the piece.
I enjoyed meeting the curator and Flying Arts staff during the installation at the SLQ. It was also rewarding to have family members come to the opening and see their surprise and delight that my work was purchased.
Probably the most significant benefit of this award was going to Goolwah for the Regional Arts Conference. I gained a lot of insight from the program at the conference and met many artsworkers whose work inspired me. I enjoyed sharing what we were doing with Splashing Back in the Arts-led-recovery session with people from Gap Filler in Christchurch.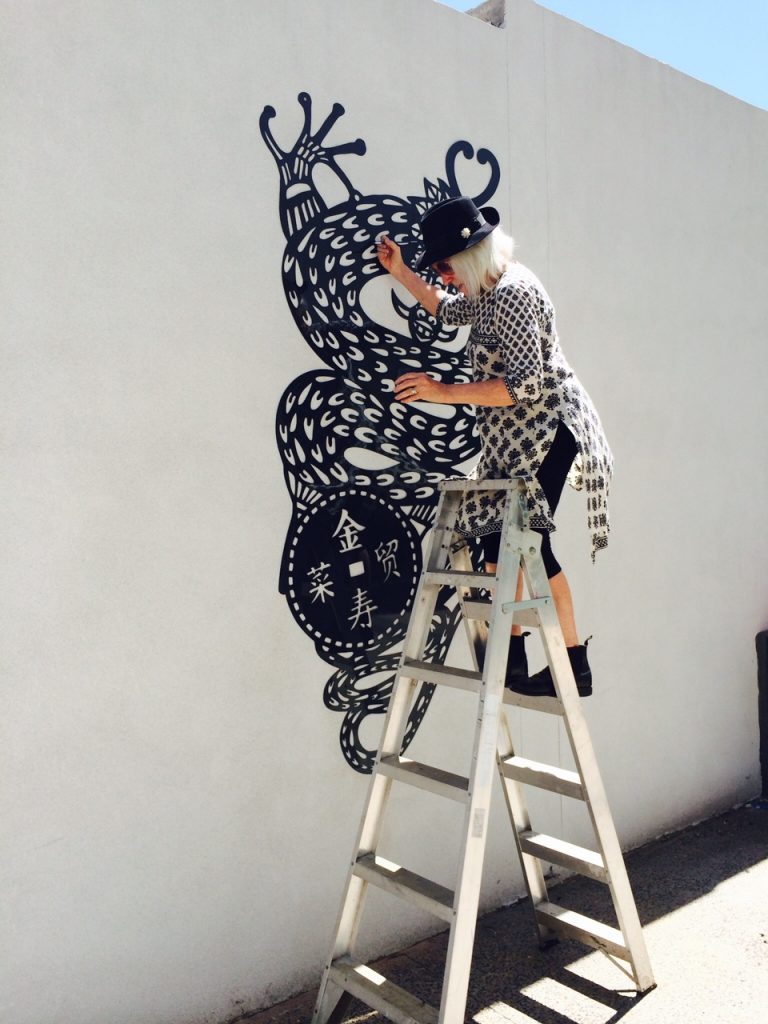 What else have you been up to in your artistic practice since your artwork started touring? Has your practice evolved or changed in that time?
I am committed to Public Art in Toowoomba with Arts Council Toowoomba (ACT). Although this takes me away from my arts practice, it gives me opportunity to work on developing projects, applying for grants and delivering projects such as 'Splashing back', ACT Waterways after the 2011 floods.
I installed a laser cut metal dragon for Kwong Sang Way in Toowoomba and enjoyed learning how to convert a sketch to a file and get the metal laser cut and powder coated.
As President of ACT last year, I worked with QIC representative to develop and project manage a Culture Wall in a CBD street. Early this year the 60m long wall was painted by eight women from different cultural backgrounds to represent how women weave the community together to make us a city of peace and harmony. To identify refugees from different backgrounds I volunteered at Toowoomba's Refugee and Migrant Resource centre.
Keeping the LAC going is a passion and I am keen to bring back the 'Avant Garden' project which really put ACT on the map during the long drought from 2006-2010.
Today the ACT Blackboard display unit has been installed in the Bell Street Mall to activate that area and collect information for council's Green Infrastructure program.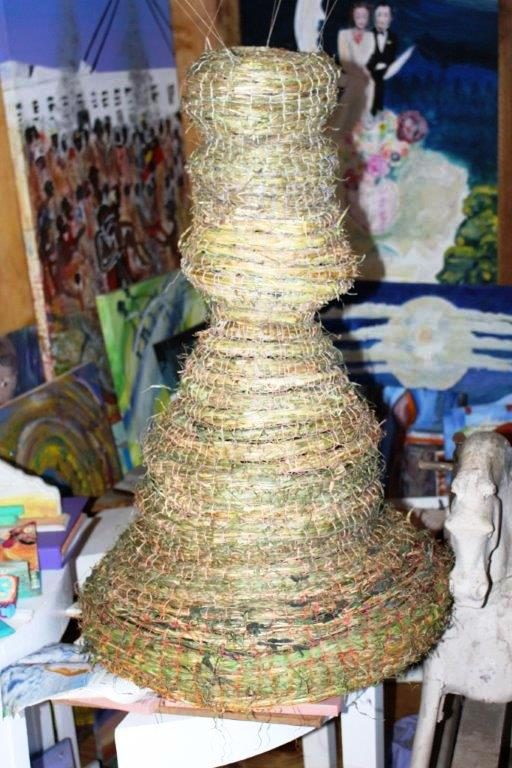 Do you have any upcoming exhibitions, events or projects you'd like to let people know about?
We have out fourth members exhibition 'Symbolic Self' opening at the Toowoomba Regional Art Gallery on Sunday 25 June. This exhibition is the first to be curated and works are progressing well.
We are also working on reviving Avant Garden with an Environmental theme. We are at the planning stage and collaborating with our Local Council and businesses. We are also working with Environmental scientists including Professor Roger Stone from USQ to hopefully help Artists develop works based on current environmental science in a Science-Art collaboration.
Is there anything else you'd like to add about you, your practice, or your experience as a participant in the Queensland Regional Art Awards?
I am glad it still raises opportunities for artists and a couple of our members were selected for the 'Colours of Queensland' tour.
---
Learn more about Jennifer Wright (Summers) on Facebook
Images and video courtesy of the artist.