Iterate | Elaborate is a new exhibition featuring artist Leigh Schoenheimer which will be on tour in 2020 – 2022 in collaboration with Flying Arts Alliance.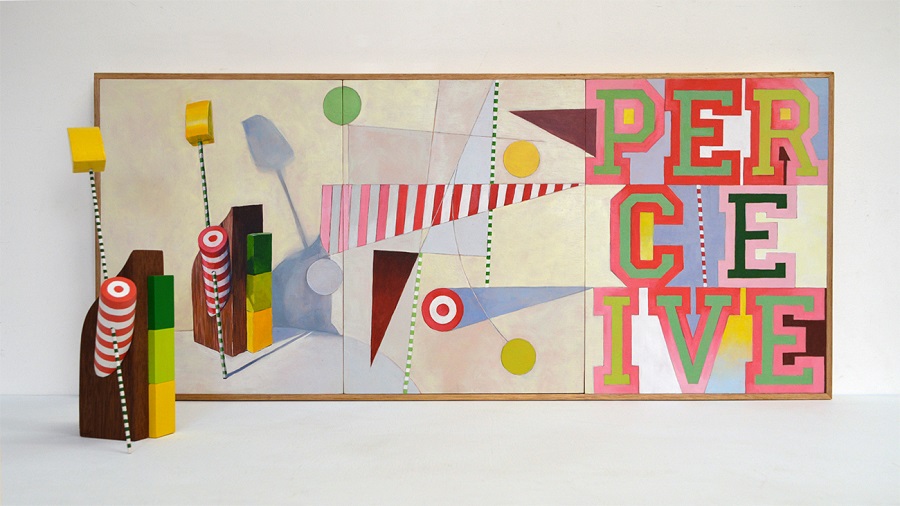 In this exhibition we see a colourful collision of Schoenheimer's sculpture and painting practices in a series of works known as the 'Constructions'. Each work in the series comprises a painted triptych exhibited alongside an abstract sculpture. Faithfully reproduced as a realist painting, each abstract sculpture is then re-interpreted in two other, painted elaborations.
Through the genre of still-life painting, Schoenheimer poses questions about what it is 'to make pictures', mining a broad span of stylistic references throughout her work. The art historical journey on which Schoenheimer takes us spans one hundred years, multiple generations of artists, and fundamental shifts in philosophy yet, in layman's terms provides a humorous and lively visual journey, the enjoyment of which requires little explanation. Schoenheimer's whimsical use of found objects and pieces of brightly coloured timber toys spark familiarity and joy. Seductive colour harmonies tie her complex works together and are fundamental to providing both a delicious viewing experience and the creation of meaning in Iterate | Elaborate.
The Iterate | Elaborate exhibition was developed by Leigh Schoenheimer in partnership with Onespace Gallery, Brisbane.
---
Tour Schedule
---
About the Artist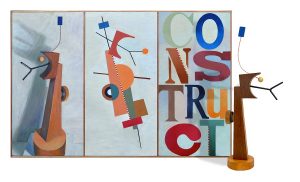 Leigh Schoenheimer is a multi-disciplinary, contemporary artist and former long-term art educator based in Brisbane, Australia. A painter and sculptor/object maker, her work investigates notions of perception and meaning. Informed by a desire to demonstrate the alternative logic of abstract and conceptual approaches to a wider audience, Schoenheimer's colourful and often whimsical work references the imagery and styles of the many 20th century artists who re-wrote the rulebook on image making.
---
Tour Package
This tour package brings not only a wonderful suite of artworks, but a significant Visual Arts Education focus (primary, secondary and art educator tailored) with learning resources directly linking artworks to curriculum. An extensive case study of Leigh's work has been included in the Cambridge University Press text book, Creative Inquiry: Visual Art for Queensland Senior Secondary Students.
Teachers Resources
Background Resources
See the full exhibition specifications
---
Public Programs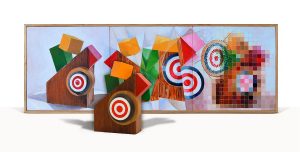 Flying Arts are working with Leigh Schoenheimer to present a public program package that will enable us to offer skill-based art workshops as well as education programs for visual arts teachers and students.
Contact Flying Arts or call 07 3216 1322 to learn more.
---
Further Resources

The Iterate | Elaborate exhibition was developed by Leigh Schoenheimer in partnership with Onespace Gallery. The Tour of Iterate | Elaborate exhibition is presented in collaboration with Flying Arts Alliance.