QRAA Artist in Residence: Kuweni Dias-Mendis
28feb10:00 am4:00 pmQRAA Artist in Residence: Kuweni Dias-MendisCreative Site Activation
Time

(Friday) 10:00 am - 4:00 pm(GMT+10:00) View in my time
Location

POP Gallery, QCA Galleries Griffith University

381 Brunswick St, Fortitude Valley, Brisbane
Event Details

Join artist Kuweni (Tharusha) Dias-Mendis for a creative site activation featuring artwork demonstrations and the creation of handmade ink brushes.

During the site activation period, exhibiting artists from State of Diversity will demonstrate their practice and sell their artworks at pop-up shops.

This program is part of the Brisbane Hotspot – an event which combines a Flying Arts exhibition with a compact suite of engaging public programs.

Open 10 am – 4 pm
Free
---
Kuweni Dias-Mendis' artwork Belonging through Diversity (2019) is included in State of Diversity, the touring exhibition of the 2019 Queensland Regional Art Awards:
Artist Statement

The mystery of this mountain is too beautiful, too powerful and too inexplicable for words. This is an unassuming mountain that holds all her living beings in her dreaming. She accepts every living thing in it's entirety, whether it's a native, weed, farm produce, wild animal, farm animal, local, visitor or immigrant. She is the mother who holds us rooted in what is beautiful, what is true and connected to our own essence. Therefore diversity in this mountain is intentional, never insisted but a natural part of belonging. In this mountain nobody is superior, nobody is inferior and most importantly nobody is equal either. In this mountain everything is unique and incomparable hence everything contributes to their potential to life. She helps us remember our way and liberates us to be naturally wild. Her magic, mystery, whispers and secrets keeps us mountain folk forever in wonder.

Photographer: Tharusha Dias-Mendis
Event Partner/s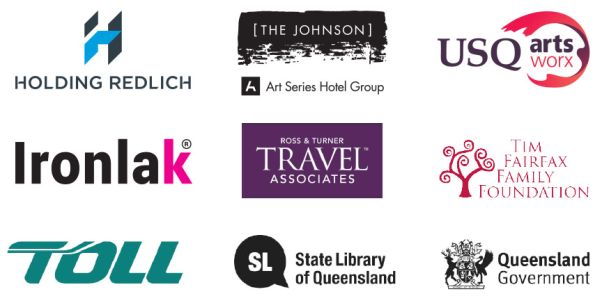 Flying Arts Alliance gratefully acknowledges The Booth Memorial Fund of Annie Tan (Yuh Siew), the Geoff Booth Foundation, David Crombie, Janet de Boer, private donors and the government, philanthropic and corporate supporters and Award sponsors who help make the Queensland Regional Art Awards possible.