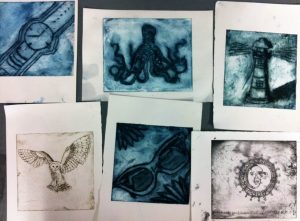 In March this year I visited a college in North Lakes to run a printmaking workshop. I had previously run two days of workshops for senior students, and for a group international students and teachers from a school that specialises in visual art in China.
This time the workshop was for a group of senior art students who were well prepared with project images in their journals to develop as the subject material. Their project was to create variations from an object.
We began the morning session with bold screenprinted images in black and white. The students were very focused and everyone printed their images onto calico.
From there we moved onto drypoint images, scratching the images into plates with drypoint needles. The plates were inked up with water based inks, which worked very well and cleaned up easily.
On my previous visit we discovered that we could use the clay press to print the drypoint images. The students printed two at a time, so that by the end of the day all of the students had printed their drypoint images.
---
Workshop – Drypoint and Screenprinting
North Lakes
College
7 March 2016
Nancy Brown – Flying Arts Artist
Flying Arts' Touring Artist Journal is brought to you monthly thanks to Art Shed Brisbane.