Flying Artist Casselle Mountford recently delivered a college arts immersion experience at a school in Far North Queensland. We asked her a few questions about her experience.
---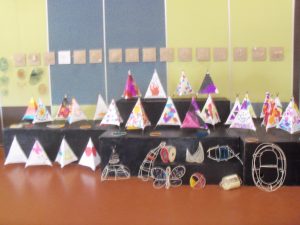 Tell us about the location your visited, Caselle!
The location was Weipa in far north Queensland, It was lush and green with amazing giant Anthills. The college has a diverse range of students form Indigenous and non indigenous backgrounds. All the artists stayed at the residential college attached to the college and we interacted with the students at breakfast and dinner.
What workshop, project or event did you facilitate? What skills, techniques or theories did you teach?
I worked on a range of Sculptural activities involving construction, shape and 3D form. the Year 8's and 9's built pyramid lanterns and papered and decorated them with overall designs using tissue paper. The year 9's also created amazing architectural constructions using matchsticks.
The combined yr 10/1/12 group created mid size organic shaped sculptures using cane and wire. They incorporated mixed media, fibre, netting and fabric to finish their sculptures.
After school workshops were also facilitated for residential students.
What was the highlight of working with this particular group?
I enjoyed being part of an amazing Arts Immersion week combining Dance, drama, art and music. the Arts festival held on the Saturday involved the whole community and showcased the finished students artwork and their music, dance and drama performances. The festival was a great success and the creative workshops we all facilitated with the residential students will continue.
---
This arts immersion experience was booked as part of our By Request programs.
By Request programs are available on-demand, and can be booked on behalf of schools or creative communities such as groups, festivals, local government and organisations. By Request programs can be delivered by our Flying Arts Artist and Facilitator Team anywhere across Queensland.