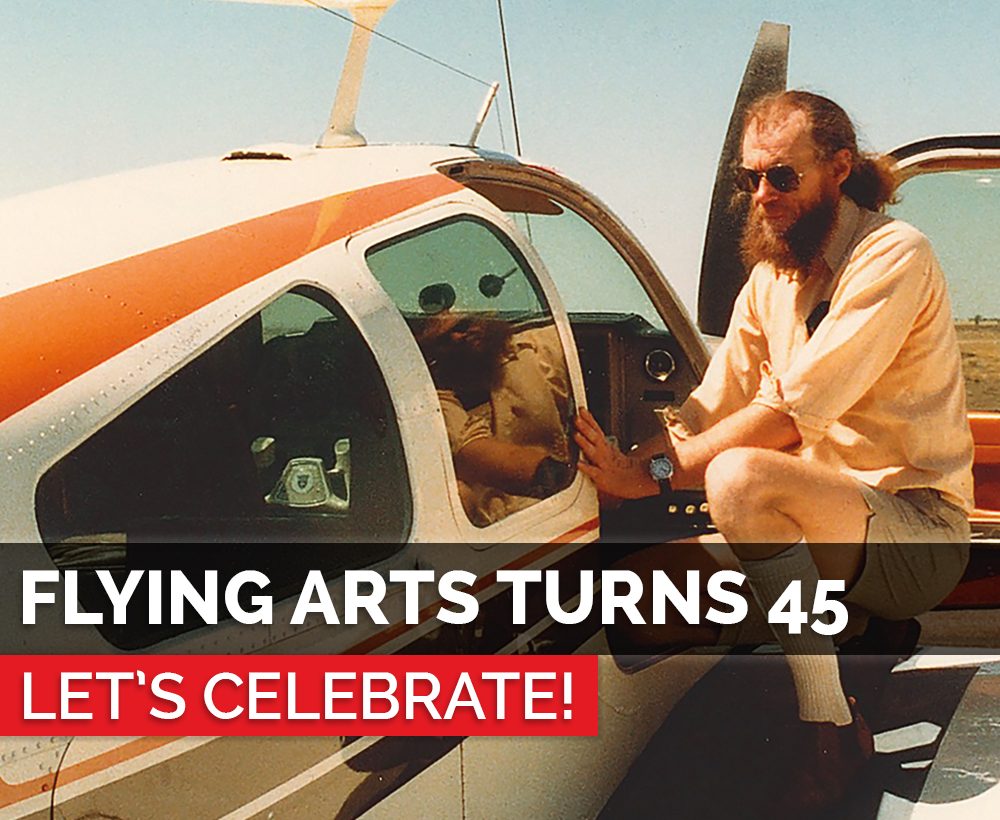 On this day in 1971, Merv Moriarty made his very first Flying Arts flight. He flew solo out of Archerfield airport in Brisbane on a 6000km round journey to meet with regional representatives across the state to assist him in establishing Flying Arts, then known as the EastAus Art School.
Merv remained the principle tutor from 1971 to 1983, flying to an average of 26 centres four times a year, with extra trips made to organise exhibitions and other special events. During this time he totaled over 1250 trips and flew well over 400,000km.
Today marks 45 years of Flying Art's great history. This year alone, we have 43 artists on our team that fly to regional and remote locations all across Queensland to deliver workshops, coordinate projects, and connect with communities.
While our name may have changed our vision has stayed true: to inspire the appreciation, practice and professional development of visual arts as a lifetime interest or career for all Queenslanders, and to overcome the challenges of distance and isolation for artists in remote and regional communities.
To celebrate this incredible milestone, we invite you to attend COLOUR: Mervyn Moriarty, A Retrospective Exhibition and the accompanying public programs. The exhibition pays tribute to Moriarty's substantial influence on the development of the visual arts in Queensland. We hope you will be able to join us in celebration on this special occasion.
Onwards and upwards,
From all of us here on the Flying Arts team.
Public Programs
[tribe_events_list category="colour" limit="5″]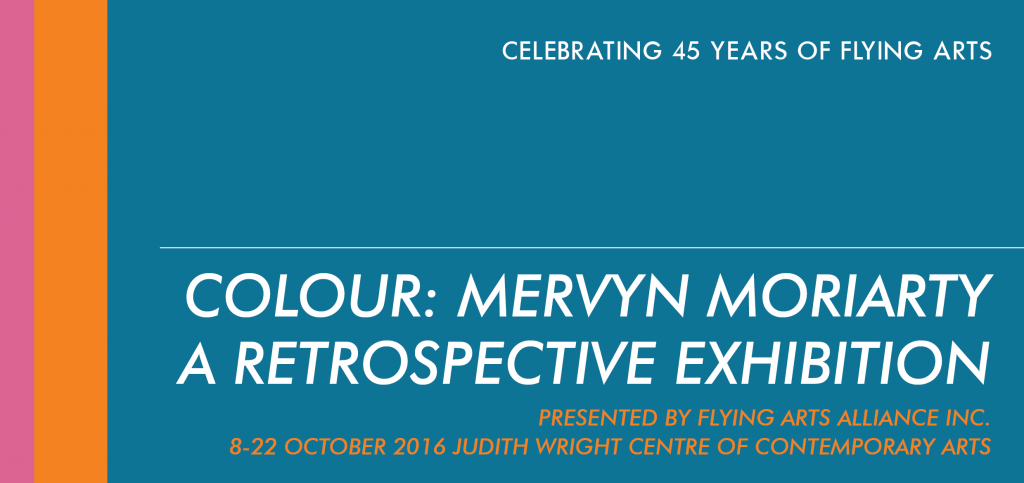 COLOUR: Mervyn Moriarty, A Retrospective Exhibition
Open to the Public 10 Oct – 22 Oct
View artworks spanning more than five decades, including early works painted in Brisbane during the 1960s-70s. A recently completed series will also be exhibited for the first time.
Primarily working with the figure and landscape, Moriarty has remained committed to expressing his individual perception of lived experiences through his masterful understanding of colour relationships, composition and form.
This exhibition provides a rare opportunity to experience a snapshot of Moriarty's artistic oeuvre, and charts his extraordinary career through his art practice.
Venue: Judith Wright Centre of Contemporary Arts
Opening Hours: 10:00 am – 4:00 pm, Monday – Saturday
Cost: FREE
From the State Library of Queensland Collection
Christine Drewe, Australian Library of Art Librarian, has published a blog about the upcoming retrospective exhibition of Merv Moriarty's work.
… the collections in State Library of Queensland provide dedicated researchers with a wealth of information on the significant contributions to arts education in Queensland over the past 45 years. Indeed Mervyn and Flying Arts have 'done Queensland proud' and what better way to celebrate this extraordinary achievement than the planned exhibition Colour: Mervyn Moriarty, A Retrospective Exhibition at the Judith Wright Centre of Contemporary Arts Brisbane.