Black Bird Blues 
Black Bird Blues is an ongoing series of nature based artworks that explore the experience of a diagnosis of mental illness. The diagnosis can be confusing and life changing for an individual and their loved ones. One in four people will have a mental illness episode during their lifetime yet they can feel isolated and stigmatised by speaking up. This disease can tear the strongest families apart. How they all survive is different for everyone but learning to be kind to each other is a start. Art and nature are natural healers. Combined they can be a potent elixir.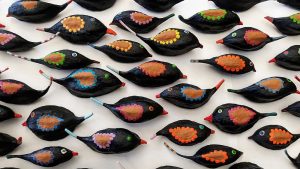 Black Birds
Seedpods and acrylic 
2 x 55 x 35 cm
$675 or $12 per bird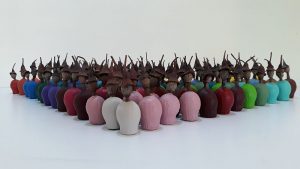 The 100
Gumnuts and acrylic
10 x 55 x 35 cm
$500 or $5 per gnome
Karen's work will be on display at the Judith Wright Centre from 29 November 2019 – 21 February 2020 as part of the Seasonal Sittings of Tiny Art – Summer.
Karen Benjamin, Wellington Point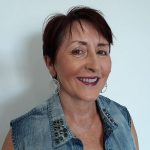 Karen Benjamin is an environmental artist living at Wellington Point, on Redlands Coast. She is constantly inspired by the diversity of fauna and flora surrounding the local area, but the perplexing amount of rubbish and pollution produced by man has influenced Karen's art to become a call to action to protect the environment. Working with only natural and recycled materials, Karen makes bold statements through her whimsical, thought provoking art. Traditional crafts such as sewing, weaving, knitting and folk art feature in non-traditional mediums such as plastics, vintage paper, and seedpods. In the past five years Karen has exhibited in over 50 exhibitions, has featured on national television, radio and numerous written publications. Karen conducts regular up-cycling workshops as her main aim is to tread lightly on the planet. Reduce, reuse, recycle.