Probably the first and most important thing for me to say about revisiting these country centers, is to see that Flying Arts is there and doing it's thing for art loving people who live in rural Queensland and New South Wales. It means that those who want to acquire the skills that allow them to express themselves in colour and form, wherever they live, have access to those who can help them to develop these valuable skills.
Of course, it was so good to catch up again with some of the people who were there such a long time ago during the early days and years of the Flying Art School, but it was also great to see a whole new generation of people who are taking advantage of what Flying Arts is providing now, in terms of access to art practice and the development of art skills. The people who come to these workshops want to be able to draw, easily and yet powerfully, a skill that can be taught, though it takes commitment from both student and teacher.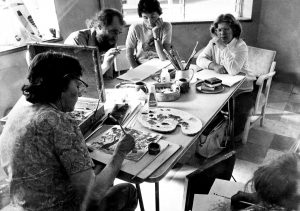 It is great to see that Flying Arts in its present form, much as in its original form as the Flying Art School is there to help those who are hungry to express themselves by making art. Flying Arts is responding to that need in the best way possible by providing teachers who can guide and encourage. I so appreciate the commitment of the present management and staff, who have kept Flying Arts going. I also realise the huge effort that Helen, my wife in those early days, put into what we then called the Flying Art School. With no precedent at all anywhere in the world, as far as we know, we were, if you can pardon the pun, flying by the seat of our pants.
I also want to include a thank you to many people who happily provided accommodation back then. Some very important and long lasting friendships were born out of these stays with people or families who put Helen and me up during workshop visits. There seemed to be a nice balance between being put up and staying in commercial accommodation. Too much of one or the other could have been a problem.
It is great to see art galleries in country towns now showing good art and people there, walking around looking at the paintings. It is even more pleasing to see that some of it is from local artists and – some of those were once "Flying Art School" students.
Sadly however, as a natural consequence of my first flight as (The first) Flying Artist, with a newly achieved unrestricted pilots license, being on 24 September 1971, many of the wonderful people who came to those early workshops have since passed away, but not out of memory.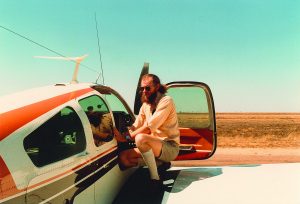 Going back to the very early days, before I had even thought about learning to fly an airplane, I had discovered the enthusiasm and commitment that country people – mostly women, had for art and the making of art themselves. Way back then The Arts Council of Australia Queensland branch arranged to send me out to two or three country centers to teach art (painting and drawing).
Significantly I think, one of these centers was Charleville where a Dr. Dorothy Hurbert, (head of the Charleville Hospital) provided me with accommodation during my stay – Dorothy was a keen armature artist and also a keen flyer who owned her own Cessna aircraft. She took me for a flight in it, let me experience the controls for a bit and I suspect, without knowing it, planted a seed in my imagination. I remain immensely grateful. I heard some time ago that Dorothy had died in an aircraft accident and I can only assume it was the same, above-mentioned aircraft.
Compared with the early days of The Flying Art School, as it was called then, there seems now, in the country, as in the city, to be much more a sense of normalness about people putting time and effort into making art in any of the major disciplines, like, painting, pottery, weaving, etc. Perhaps this is a sign of maturity and willingness to accept a wider range of meaningful pursuits for men and women.
When I told a very good, and important artist friend of mine in those days, Roy Churcher, what I was doing, working at getting my pilots license to take art education to people in remote areas, he said, Merv – that is the stupidest thing I have ever heard, then after a pause, he added, but it just might work.
Getting the idea was one thing, but realizing it was something else. Learning to fly was not a problem, for some reason I seemed to take to it easily enough. Stage two of an (unrestricted} pilots license, which depends heavily on the all important skill and discipline of air navigation, at first seemed as though it might be a challenge, because I had not been very good at mathematics at school. My then wife Helen came to the rescue. She was great at math and was able to bring me to the realization that learning to use mental arithmetic well, was not much different from learning poetry, which I loved. This changed everything and whipped away my fears to the point where I started to enjoy navigation as much as I enjoyed flying the aircraft.
I was able to identify navigation with the sort of skill an artist needs to have to be able draw, and organize direction and proportion as line and form in space convincingly on a flat surface. Even though there is no similarity of scale between these two skills, I felt I could identify a similarity between knowing exactly where I was in space over the ground relative to a chart, to how to organize line and form on a flat surface to capture the line and form that lies embedded in say a nude human figure sitting, standing, or reclining.
As anyone who has tried to draw, even say a persons face, soon discovers, it is indeed a challenge to find exactly the right shapes, proportions and placement to capture features such as eyes, nose and mouth, especially when that face is turned slightly to one side, or tilted back or forward. These things are difficult or virtually impossible for anyone, if they have not had good training in the essential techniques that help the artist's eye to calculate such things as direction and proportion in line and form.
The human figure is, at its best, perhaps the most complex and beautiful form that nature ever came up with. It is also the most challenging thing to draw convincingly.
Strangely, with all the piety we tend to associate with the times around the renaissance, consider say, the paintings that decorate the roof of the cistern chapel, they are hardly timid, with naked figures flying above – up the walls and over the ceiling in every possible pose. Even today, in these times that we believe are uninhibited, imagine the figures that grace the ceiling of the Sistine Chapel on the ceiling of a modern church causing no reaction.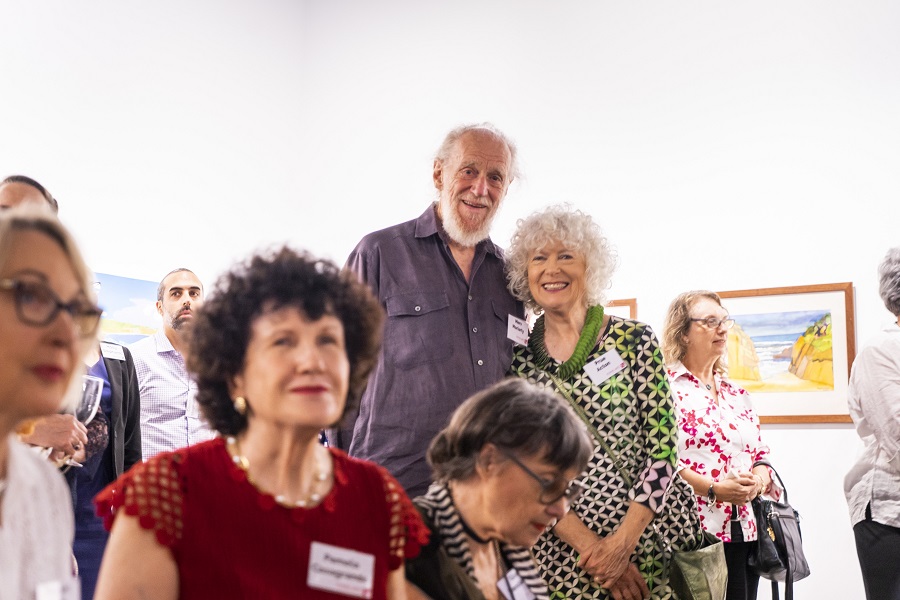 Reflections from Prue Acton
Merv Moriarty's partner
I have loved meeting up with people who I had heard spoken of so often and to meet new ones so engaged in the creative arts. So many women giving everything they have towards their communities and making such a difference as people move into these towns; loving the lively art scene, the cafes and music, and theatre venues. Often, despite old thinking surrounding them, they raise the money and volunteer, and even run the art galleries themselves.
At Dalby this year we were horrified to see the land so drought ravaged then and now we hear of wild fires everywhere. The colours of the parched land became a focus – with magenta undertones not ever greens even at the golf club venue for the Masterclass.
At Roma, flying in I saw the land destocked and mining, not farming the norm. The spirit of the town with its magnificent bottle trees and such intelligent and hard working women power the towns heart – as artists and as community leaders. They drove for miles to be part of this Flying Arts event as did people at all the towns I visited.
Bundaberg was particularly interesting as here is a sugar cane town transforming itself. I sensed that the Flying Art School played a major part in the creative life of the town, with Coralie Busby setting up her own gallery, with four art teachers joining and transforming the next generation; and now as professional artists exhibiting in Colour and Response along side Merv's Colour ll – in the field exhibition. The Gallery is wonderful, and the works were so well displayed.
In fact all the exhibitions I saw were well hung, whether by professional curators or brilliant volunteers.
Masterclasses in Colour Relationship brought local artists together and were enjoyable and interesting as everyone made the most of the opportunity to listen to and be guided by Merv.
The theory that underpins Merv's approach to colour was not just a result of his experience as a painter, his extensive research into new science of vision systems, and technologies such as computer graphics, but also the hundreds of Flying Art School participants who did a series of colour exercises Merv set, including disproving a colour theory based on Red, Yellow and Blue as the primaries of colour.
This reseach has allowed him to develop his own colour theory and colour mixing system, the foundation for the current Moriarty Colour Wheel – a definitive guide we use in all our workshops as well as his 345-page master document: COLOUR – the definitive guide.
Hats off to Lisa Bellby who is running this touring show so well.
---

The Colour and Response Project has received financial assistance from the Queensland Government through the Arts Queensland Playing Queensland Fund.