Michelle Yeatman is a featured artist in Jabu Birriny (land + sea), an exhibition developed by State Library of Queensland (SLQ) in partnership with Yarrabah Arts and Cultural Precinct and toured by Flying Arts Alliance from 2019 to 2021.
---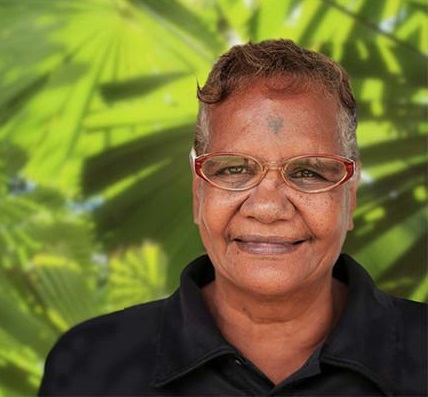 Michelle Yeatman belongs to the Gunggandji people and was born and raised in the Yarrabah community. She is an artist working across the mediums of ceramics, painting and printmaking.
In the early 1970's, pottery was introduced to Yarrabah as an initiative of the Queensland Government to provide skills development and job opportunities for local residents. In 1982, Michelle commenced employment with the pottery studio as an apprentice, mixing raw clay, waxing and glazing ceramics.
Michelle's experience at the studio incited a strong interest in ceramic work, and she has since developed a particular style that distinguishes her in the field of ceramics. She creates unique coiled pots that are carved and imprinted with natural materials collected from the beach, such as shells and seaweed.
Michelle's work draws on her intimate knowledge of Country and reflects her relationship with Jilghi Beach at Yarrabah, where she has lived for over 25 years with her family. Across her varied practice, Michelle continues to experiment with new techniques focussing on cultural expression and her deep love for the ocean, it's creatures, and the beautiful lifestyle that surrounds her.
---

Flying Arts Alliance acknowledges the traditional custodians of the lands and seas on which we work, live and create. We pay our respects to Elders past and present.