The Queensland Regional Art Awards (QRAA) has seen some extraordinary art and artists emerge from its 7 year history. One of the Alumni of this prestigious and unique award and exhibition is Donna Davis. We asked her a few questions about her experience with the awards and what she's up to now! The Queensland Regional Art Awards 2017 is now open for entries.
---
Hi Donna! What was your reaction when you won a prize and was selected as a touring artist in the Queensland Regional Art Awards?
Whilst I was still a Uni student, I would often think about my dream of being a professional artist, I would think about how wonderful it would be if my artworks could be included in touring exhibitions. The first time I was selected, I was over the moon! Crossing off goals as an artist is so rewarding!
When I got the phone call to let me know that I had won the major prize in the 2013 'Essential Character of Queensland' art awards, my first response was disbelief! I think at the time I asked Stephen to confirm he was sure it was 'my' artwork that had been selected and that he was ringing the right person! We had a brief discussion about the work and he assured me that it was definitely my work 'Resilience' that took out the prize. I was so surprised and elated at this news – and this feeling lasted for a number of weeks (in fact I am still excited and proud to think that my work had won this prize).
In 2015 I was again very excited to find out that my work 'One….' was shortlisted in this award and received a Highly Commended by the judges. The work incorporated some new techniques in my practice and this was the first time that these techniques had been exhibited, so I was pretty excited that it received this award and feedback.
I also won The Edge Digital Art Award 2016 'Colours of Queensland' for my work 'Entwined III'. I was so excited when Elysha rang me to tell me the news and that as part of the prize I would get to spend 1 week at 'The Edge' as part of a residency program. My work also toured in 2016. 
Whilst I was still a Uni student, I would often think about my dream of being a professional artist, I would think about how wonderful it would be if my artworks could be included in touring exhibitions. The first time I was selected, I was over the moon! Crossing off goals as an artist is so rewarding!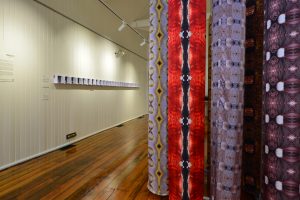 What impact did winning a prize (or prizes) have on you?
Winning the Wayne Kratzmann Prize in 2013 gave my arts practice an incredible boost of confidence, providing affirmation about my practice and me as an artist. This in-turn, gave me the courage to seek support and partnerships in order to develop and exhibit new bodies of work.
In 2013, I was also selected to be the artist-in-residence at the Brisbane Botanic Gardens to develop my body of work entitled 'The Plant Room' (the beginnings of which were first explored in my work 'Resilence'). My win came mid project, which was perfect timing, as for me, mid project is usually the time where I begin to doubt myself as an artist and wonder if my work is heading in the right direction. This gave me a much-needed boost.
The success of this project led to a second opportunity at the gardens in 2014/15 where I worked on the 'Beyond the Seed' project. Both these projects allowed me to build working relationships with the Brisbane Botanic Gardens and also the Queensland Herbarium; relationships that have continued to grow over the past 4 years.
What else have you been up to in your artistic practice since your artwork started touring? Has your practice evolved or changed in that time?
I have undertaken a number of art/science projects since my first selection for tour in 2013. Projects include: 'The Plant Room', 'Beyond the Seed' and 'Unseen'.
My most recent project, 'Unseen', was a collaboration between myself and mycologist Nigel Fechner, from the Queensland Herbarium. The project surveyed, documented and classified fungi that grew in association with the endangered Swamp Tea-tree over a twelve month period. As a artist I visited the Purga Nature Reserve every week for 52 weeks, collecting, drawing, and photographing fungi (under the arm of the Queensland Mycological Society); these physical collections were then submitted to the Queensland Herbarium for their collection, identification and further research. This collaborative art/science project provided a unique opportunity for researching fungi-tree relationships and gave me endless inspiration to create a body of artworks in response to the research. The research side of the project saw me provide over 100 specimens to the Herbarium with 33 of these species found to be symbiotic with the Swamp Tea-tree; and the artistic side of the project allowed me to create a new body of work, developed as a touring exhibition, and set to tour from 2017-2020.
Nigel Fechner, Senior Mycologist, Queensland Herbarium noted that "Mycologists generally estimated about 4-7 fungi species grew alongside their partner plant species in each location, but this project has already uncovered more than 30 partnering fungi species at Purga. A number a species found in the reserve are known to be mycorrhizal but were not previously known to be symbiotic with Melaleuca."
'Unseen' received funding from the Regional Arts Development Fund (RADF) for concept development; the project also received financial assistance from the Queensland Government through the Visual Arts and Craft Strategy, an initiative of the Australian, state and territory governments' to create the works for exhibition. The project was supported by Ipswich City Council, Queensland Mycological Society and the Queensland Herbarium, centre for research and information on Queensland ecosystems, plants and fungi.
---
Learn more about Donna Davis at www.donnadavisartist.weebly.com
Donna has two upcoming exhibitions to check out:
'Hidden Worlds' at the Ipswich Environmental Centre, Queens Park, Ipswich, 10-21 May 2017

'Unseen' exhibition at the Logan Art Gallery: 20 October – 25 November 2017
Images courtesy of the artist.