The Queensland Regional Art Awards (QRAA) has seen some extraordinary art and artists emerge from its 7 year history. One of the Alumni of this prestigious and unique award and exhibition is Cindy Wider. We asked them a few questions about her experience with the awards and what they're up to now!
---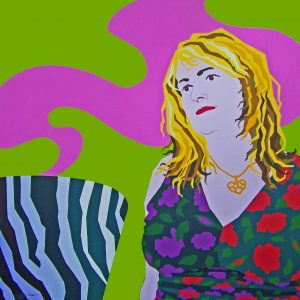 Hi Cindy! How did it feel to have your work selected to tour Queensland as part of the Queensland Regional Art Awards Exhibition?
When I first found out that my painting 'A Woman and Her Cuppa' was a finalist in the 2011 Wayne Kratzmann Award and that it would be included in the touring exhibition 'Connection' I was ecstatic. I knew that it would be the beginning of the next important phase for my art career development in Queensland. I had moved to Queensland in 2002 (after a successful art career in regional South Australia) and hadn't fully understood the set backs an artist experiences when moving states in Australia. This was the first time I had entered into a Queensland Government partnered art exhibition, so to be accepted was very exciting.
I understood the value of the recognition that this exhibition could offer me for the development of my art career. Through the combination of an outstanding curator (Michele Helmrich – Senior Curator, University of Queensland Art Museum) and the fact that my work was shown at the State Library of Queensland along with touring to many regional galleries, I recognised that it was a very valuable opportunity for my artistic development in this state.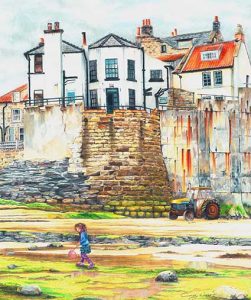 What benefits do you think have come from your work touring Queensland with the awards?
The major benefit of my work being included in the QRAA and touring regional Queensland was the recognition that my art practice was at a standard suitable for inclusion in this prestigious exhibition. As a result of the exposure that this exhibition gave me and my artwork, I have since made several valuable connections in the art industry; even several years later.
From a more personal note, the acceptance of my work in being included in this valuable exhibition was a pivoting point for me as an artist, it provided me with the encouragement to continue to further explore and develop my work along the themes and stylisations that I was working with at the time.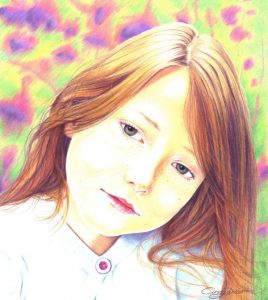 What else have you been up to in your artistic practice since your artwork started touring? Has your practice evolved or changed in that time?
Since being included in the 2011 QRAA touring exhibition I have been consistently developing my art career. In 2012 I was included in the 'Artist By Artist' ABC Open and Queensland Queensland Arts Council project then in late 2012 my husband and I decided to move to England in the UK to spend time with his family.
This move to the United Kingdom has given me an opportunity to further explore and develop my art practice in new and different ways. The amazing thing was that my experience with the QRAA touring exhibition had given me valuable and sustainable connections that surprised me. During 2014 I was contacted by Wendy Wager (then Director of the TYTO Regional Gallery in Ingham, Queensland.) Wendy had remembered my bright bold colourful artwork and contacted me through an online platform. We discussed the possibility of an exhibition of my work at the TYTO Gallery and the date was firmed in for an exhibition in March 2016.
I felt a need to tell the story of my new life in England in contrast to the Australian beach lifestyle that I had previously lived and that had greatly influenced my art at the time. This concept evolved further and I chose to invite another artist to collaborate with; Brigitte Back who was originally a student of mine. Together we created a body of work titled 'Contrasting Lives – from the Australian Coast to the English Village.' Brigitte captured the essence of the great Australian beach lifestyle in large bright bold expressive artworks, in stark contrast to the smaller finely detailed realism pencil drawings I created to depict the lifestyle I was living in England. The exhibition was very well received.
Since this exhibition I continue to created very refined artworks in coloured pencil, charcoal or graphite on paper in smaller sizes, which I find to be more compatible with the more confined living spaces here in England that I find myself living. I explore themes and subject matter that directly relate to my lifestyle. Textures have become an interesting fascination as I take more careful note of my immediate environment. In away everything seems so magnified here; close up and almost crowding in on me. My work reflects that experience.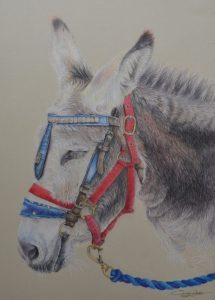 Do you have any upcoming exhibitions, events or projects you'd like to let people know about? Please tell them all about them!
One of my artworks titled 'I will Carry You' a portrait of a donkey that carried my children on the beaches of Whitby last Summer, will be included in an exhibition at the Derwent Pencil Museum in Keswick, England at the end of May 2017.
I am an Ambassador for two highly respected fine art brands here in the UK; Derwent (for pencils, charcoal and other related products) and St Cuthbert's Mill (for paper.) These two companies sponsor me as an artist and I have been commissioned by Derwent to create original artworks and various other projects. I have also appeared on National Television as a paid demonstrator for Derwent products and am also heavily involved in the promotion of their new brand new pencil range ProColour soon to be available for purchase.
I also have an on-going project that I have been involved in for many years along with my artist husband Stuart Wider and this has been an exciting collaboration. Together we are co-founders of DrawPj.com – a large international online art education business where I present my artworks in a 42 week art course (when studied for 2 to 4 hours a week online) for absolute beginners. We train and hire other artists to oversee our beginner level students as they study the course. This business allows me to continue to create art while also make a living from art as both an artist/illustrator and author as well as video-based demonstrator.
Is there anything else you'd like to add about you, your practice, or your experience as a participant in the Queensland Regional Art Awards?
The exposure that the QRAA can offer an artist is extremely valuable because it helps our work to be seen outside of the immediate place that we create that artwork within. This in turn can be very enriching for other artists viewing the work as it travels to various other venues. We can feel more connected to one another and learn from one other. This helps our artistic practice to further develop. In this age of the internet we cannot replace the actual real life experience of viewing art; of seeing the techniques in reality that the other artist has used and exploring the markings. There is something very soulful about seeing an artwork in reality that you just can't experience on the internet.
The QRAA was a pivoting point in my career in that it brought awareness to my art into the art sector and this has been invaluable to me. The idea of connecting regional artists with other artists and audiences is valuable and I hope that this tradition of regularly holding the QRAA continues and expands over the years to come.
---
Learn more about Cindy Wider at http://drawpj.com/cindywider/
Images courtesy of the artist.