The desire to make an environmental statement inspired Brisbane artist Carol Khan to create new work for the Winter Sitting of Tiny Art at the Judy. 
I was very excited to be selected for the exhibition at the Judith Wright Centre and am still a combination of nervous, excited and elated. It was with great pleasure and pride that I accepted.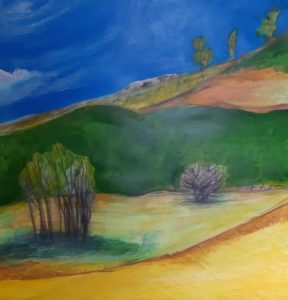 I have always been an admirer of the work of the Flying Arts School and am very interested in the work of remote art making and teaching. My interest in landscape, and in particular aerial landscape, stems from flying over inland Queensland and the Territory when I was just 21, glued to the window of a commercial airplane and seeing the dendritic drainage lines on the land for the first time. In much the same way as I was glued to the window of a train watching the moonrise over mulga scrub or the sunrise over the Hawkesbury River on the way to Bulli from Brisbane as a child going with my mother to visit her mother.
I traveled to the Northern Territory again for a huge mural project at the primary school in 1996 as part of the Desert Harmony festival to work at art with my childhood friend. The ceramic mural involved the students and staff and 5 sister schools. It necessitated the formulation of the casting slip to make in excess of 1,500 ceramic tiles for the mural of cast faces and hands and depicted the local story of the Rainbow Serpent.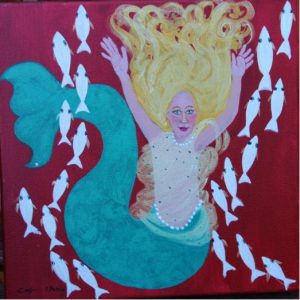 It is still there but now much exceeded by superior murals by the local indigenous youth. Landscapes still make me catch my breath and I recently returned from the Galilee Basin in Queensland, completely awed by the colours and shapes of the naturally beautiful places of our wonderful wide and varied, precious earth.
I am very grateful for the opportunity to feature as an artist in the Flying Arts Winter Exhibition of 2019. It is an opportunity to extend the dialogue about the environment that is currently raging in the community and across the globe, as well as to expose my work to the artistic community and claim my place there. Art has been a lifelong obsession for me and I have been supportive of many causes through the expression of my art.
I hope that I can now indulge this passion in support of myself and my most heartfelt cause making a deeper ongoing connection with my motivations to serve mother Earth now, when she needs it so desperately.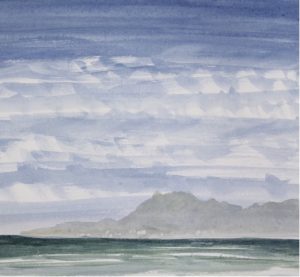 In terms of planning works for a plinth, for the most part the restriction of size and shape is a challenge that allows one to become creative about the solution to the problem. Although I am a sculptor and painter, the works I am exhibiting at present have their roots in painting and photographic imagery, so they are essentially quite frontal and flat, although they are presented with some elements that give them dimensionality. That frontal viewpoint is what is most challenging when presenting those works in the plinth cases which are better suited to work essentially in the round.
I have recently begun to write with a view to publishing my own stories and illustrating them. Recently I had a young reader story about a local possum 'Bundy the Bold' accepted by Library for All who hope to illustrate and publish it this year so that it can become part of the free library resources that they offer to remote and disadvantaged villages to promote reading.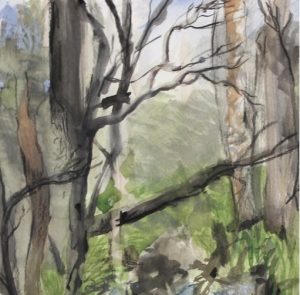 Two of my own stories are waiting for my illustrations, one is about a Rip, a metaphor for extracting oneself from life's dangerous situations, and the other is for the young reader, an 'emotional medica' offering 'remedies' for emotional wounds. I am also in the planning stage of a deck of 52 therapy cards and have a series of works on canvas, 'Waterline' in the making.
I am about to apply for the QUT Cube with a project that relates to the water theme, 'The Water's Voice' and am hoping to land a residency at the Queensland Museum next year working in illustrative and sculptural interpretation of Threatened species. In the background I also have a project for large figurative playground sculptures providing a comforting human presence for early child hood playgrounds. Wish me luck.
Carol's works will be on display at the Judith Wright Centre from 31 May – 23 August 2019 as part of the Seasonal Sittings of Tiny Art – Winter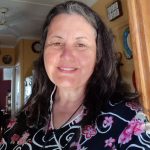 Born in 1960, Carol has always been interested in art and music. She attended Kelvin Grove College in Brisbane 1983 and studied drawing and sculpture with William Robinson and Tom Risley. In Melbourne 1985 she completed a BA of fine art in Ceramics, Sculpture, Photography and Print Making at Phillip Institute in Bundoora with Peter D. Cole, Peter Hook, with Betty Churcher and then Jeff Makin at the wheel. Completing her Post Graduate Teaching diploma at Victoria College she returned to Brisbane in 1990, teaching for the next 20 years while also engaging in various community projects involving ceramics, tile and mural in Brisbane and the Northern Territory, as well as exhibition and mural projects within schools. With qualifications in Art Therapy and Counselling, Carol maintains her studio practice and teaches.
You can contact Carol directly for inquiries about her works.