After years of developing an artistic practice, establishing a body of work and receiving industry recognition, it's not uncommon for some artists to experience a mid-career plateau. The mid-career environment often presents a lack of opportunities and progression for artists as compared to their emerging and established counterparts.
So, how can mid-career artists continue to thrive despite this plateau?
 Lyn Ahmat and Wayne Singleton spoke with us about overcoming mid-career hurdles and their experience participating in our Where to Next…? intensive.
The next Where to Next…? intensive for mid-career artists will take place 20 – 21 July. Registrations close June 28.
---
So tell us, how did attending Where to Next…? help you with your practice and career?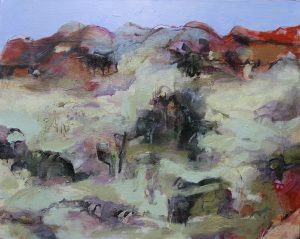 Lyn: I found that the course was very beneficial and rewarding for discovering new possibilities. I now have found a new network of artists/advisers and I follow fellow participants on social media and enjoy viewing their progress. I have also been more pro-active in seeking out opportunities.
Wayne: The major benefits, apart from meeting the workshop coordinators and other participants, were being challenged to clarify my thinking about my practice, i.e. where it has come from and where I want it to go. It also forced me to review my approach to writing about my practice – to write more concisely – on my website, on social media, and in my exhibition didactics.
What advice would you give to other artists who are at that mid-career stage?
Lyn: Be open to opportunities however different or diverse they are, they can only feed and grow your art practice.
Wayne: I don't give specific advice, every person's practice is different. To talk in generalizations isn't very useful. The only useful general advice is: 1. Remember why you do what you do and 2. The world doesn't owe you a living nor does it need to recognise your talent – you have to work hard at it!
What else have you been up to since Where to Next…?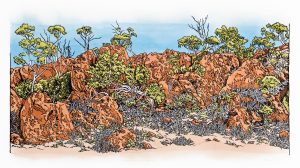 Lyn: My art practice is continuing to develop and gain more depth through regular practice. I now have a purpose built shed which to me seems to validate my passion. I continue to have varied success through entering art competitions to gain more exposure. I have had a solo show displaying 30 works, and a group exhibition my regional gallery. I have also established a regular residency on a tropical island. Their gallery shows my work and I teach art to island guests. I continue to teach approx. 2 days per week which mixes up my working week. Outside of this I am also involved in a community project called  Plastic Boutique which brings awareness to cleaning up our environment.."
Wayne: My practice has remained a full-time relief block printmaking practice. Since the workshop, I have had two very successful solo exhibitions in Brisbane and won several commendations in group exhibitions. I also continue to run printmaking workshops at Impress Printmakers' Studio, community groups, and in Secondary Schools in Brisbane.
---
This year's Where to Next…?  intensive for mid-career artists will take place on 20 – 21 July. Registrations close June 28. Book Now.
Join Dr Cathryn Lloyd, who holds a doctorate degree in Creative Industries and has extensive experience across arts business, management and education, to map out your long-term career goals.