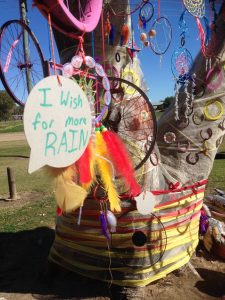 The Shockwave Festival is an annual event in Western Queensland and I was fortunate to be the Flying Arts visual artist for a series of workshops leading up to the festival Day.  My workshops involved creating a series of sculptural forms with participants from Blackall, Longreach and Winton over a two-week period under the theme of 'Wrapping the Environment'. I was part of an amazing team consisting of the Shockwave Manager, a musician, another visual artist, and a dancer who ran separate workshops.
Monday morning we left for Blackall, where we met with the team, and unpacked and prepared for the first workshop at the hall.  I had brought with me a selection of interesting materials including fish scales, shells, found objects and cane.  The organiser also provided a number of materials, including a variety of skulls, bike wheels and other assortments.  The skulls proved to be hugely popular.
The team worked together conducting workshops – four days in Blackall, three days in Longreach and three days in Winton. At the end of the two weeks, the children traveled to Blackall for the Festival to continue workshops and decorate a huge dead tree with their amazing creations.  We embellished horse-shoes and animal skulls, created beautiful dream-catchers and 'Gods-eyes'. The children also wrote 'wishes' on pieces of card that were hung from the tree.  It became a 'Wishing Tree'. 
The festival was a fantastic day, and  it was such a worthwhile two weeks of skill development, confidence building and community spirit. It was a successful outcome for the youth of Western Queensland.
---
Workshop – 2-week daily workshops
Western Queensland
Shockwave Festival
1 August – 13 August 2016
Simone Eisler – Flying Arts Artist
Flying Arts' Touring Artist Journal is brought to you monthly thanks to Art Shed Brisbane.