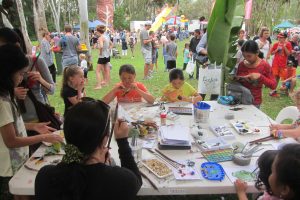 We arrived at the airport and went straight to Tondoon Gardens to touch base with the site and arrangements for the next day. We were shown the marquee and chairs and tables available, and spent some time exploring what materials were available around the grounds. We then drove to the town centre to have some late lunch and touched base with the gallery.
Sat morning we arrived at 10am and there was one volunteer to help. We collected some materials and then my partner and I spent the rest of the day collecting more and setting up the workshop area/power/seating etc ready for an early start on Sunday. On Sunday we arrived just after 8am to set up/last minute preparations.
I had grouped together tables to create an adult workshop area with the glue guns and a childrens area, with two tables for materials. We decided to add another table for materials as it was obvious we were going to need as many as possible and we had run out of room for clear working space.
People started streaming in before 9am and from then on it was a very busy day. I realize now it was not a situation where you could only allow as many participants as there were seats! Throughout the day we worked with hundreds of children and their parents, creating amazing natural sculptural assemblages, collages and paintings. Some of these we strung on mobiles made from seedpods, others we hung from the marquee, others we displayed and many other creations we put aside for participants to pick up later. The parents were extremely helpful with assisting their children and some creating works themselves.
It was a very successful day of inspiration and creating.
---
Gladstone (Ecofest Gladstone)
29 – 31 May 2015
Simone Eisler – Flying Arts Artist
Flying Arts' Touring Artist Journal is brought to you monthly thanks to Art Shed Brisbane.