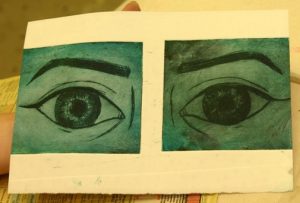 Pressing Question: Can you print etchings on a clay press? I was invited to run a Drypoint etching workshop at a school that didn't have an etching press; and so the journey of discovery began. It was a two day Flying Arts workshop at North Lakes, where international students were welcomed to the school with some art workshops. It was a very large class, and we had two complete days of printmaking: making artists books, screenprints and Drypoint etchings. The students did some very focused and detailed etchings, inspired by old engravings. We inked them up with water based inks, and they printed very successfully through the slab press with the help of some high quality press blankets that I brought with me.
---
2 Day Workshop: Drypoint Etching, Story Montage
North Lakes
24 Feb 2015
Nancy Brown- Flying Arts Artist
Flying Arts' Touring Artist Journal is brought to you monthly thanks to Art Shed Brisbane.