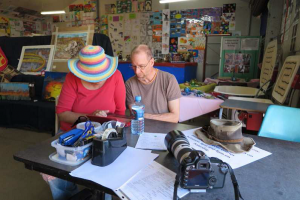 It was Queen's Birthday Weekend and like every year this meant that I was flying up to North Queensland for the Normanton Rodeo to be the 'Roaming Photography Tutor' for the event. This was my third year up there and by now the sounds and smells were familiar. I have even become an expert on rodeo photography and know how horse and rider are supposed to buck to get a good point score – and the photographer a good rodeo picture. As always I was quite busy sorting out cameras, exposure settings and dust control for anybody who had an interest in photography. Especially at night under lights the camera work becomes rather tricky and the action in the arena is fast and furious. Like every year the time passed much to quickly and soon I was on my little plane again, leaving Normanton behind me until next year's rodeo.
---
3 – Day workshop: Rodeo Photography
Normanton
5 – 7 June 2015
Joachim Froese – Flying Arts Artist
Flying Arts' Touring Artist Journal is brought to you monthly thanks to Art Shed Brisbane.