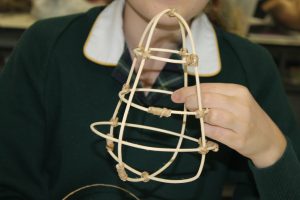 I worked with a group of 18 year 11 students over a 2 1/2 hour period, creating small sculptures using cane. The students looked at a variety of organic forms including shells, seed pods and pine cones, then drew an outline of one form that appealed to them to create the 3D shape of their sculpture.
The students then worked diligently to create these sculptures using cane bound with wire. I then demonstrated how to create netting using a needle and jute string, and all the students attempted to cover one section of their sculpture with netting.
They were then introduced to a variety of found natural materials that they will be able to add to their sculptures at a later time.
All the students engaged with the process of creating their 3D organic sculptures in the short period of time that was allocated, and were interested in the different weaving techniques that I showed them. Their teacher was very impressed with the results her students achieved.
---
Workshop – Environmental Sculpture
Indooroopilly
College
15 April 2016
Caselle Mountford – Flying Arts Artist
Flying Arts' Touring Artist Journal is brought to you monthly thanks to Art Shed Brisbane.