Jane du Rand moved to Australia from South Africa four years ago and set about trying to come to terms with the physical land in which she found herself. Here, Jane shares some insights about her practice.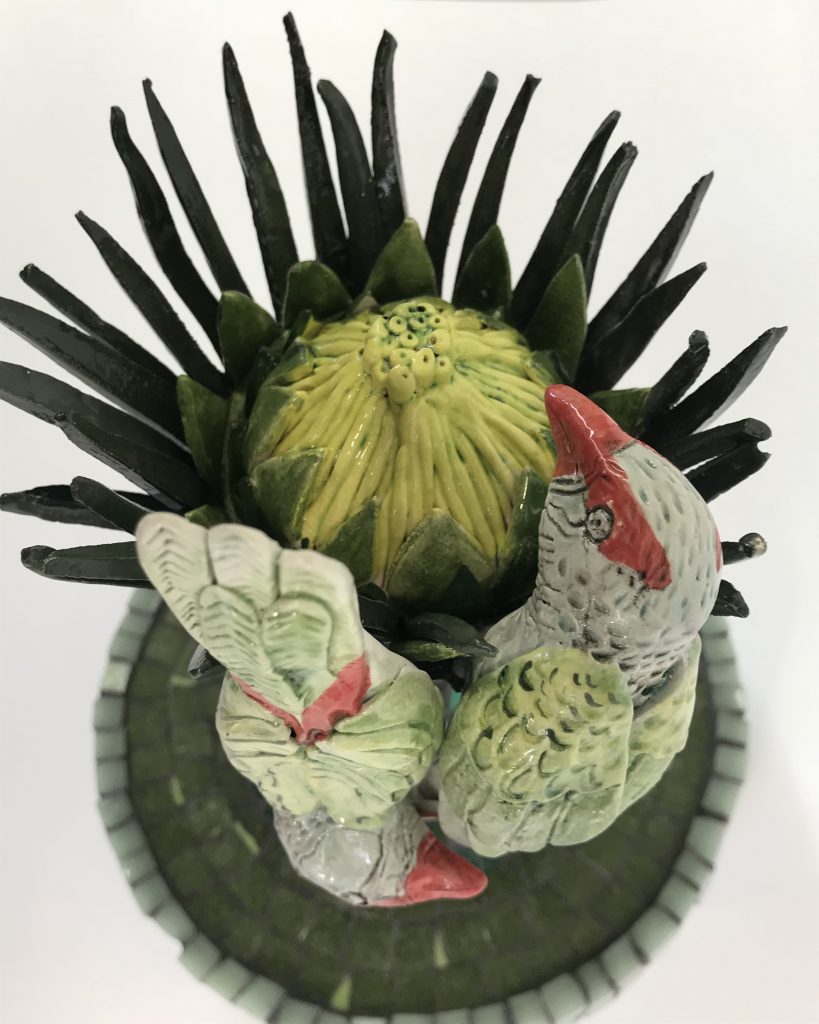 I was really thrilled to be invited to be part of the Flying Arts Judy program. As I am fairly new to Brisbane and Australia I have been finding the process of establishing myself in a new country really challenging. It has been so difficult coming from a place where I was very much a part of the "arts scene", having spent 20 years attending exhibition openings, being on the committees of arts organisations as well as exhibiting my work in various galleries, to arriving at a place where I found I had to start all over again! Being part of the Flying Arts Featured Artists at the Judy is so great for me as it is an opportunity to show a small collection of my work which gives me exposure to new opportunities. Flying Arts is a very well respected organisation and one that I am proud to be associated with.
Over the past two years I have been exploring the idea of making a series of small sculptures that live inside a glass cloche. I was fortunate that this idea linked really well with the small plinth display as this is a perfect way to exhibit the pieces I have been making. Over the past 20 years the bulk of the work that I have done has been really large scale work and so it has been a very new direction for me lately to make the small sculptures that fit into their own little worlds. I love to be "forced" into having to think in new ways and to challenge the usual way I do things as I believe this is what really helps me grow as an artist. I have always done a lot of commissioned work over the years and I like to look at the challenges of adhering to, and interpreting a client's brief as ways to learn to make new kinds of work.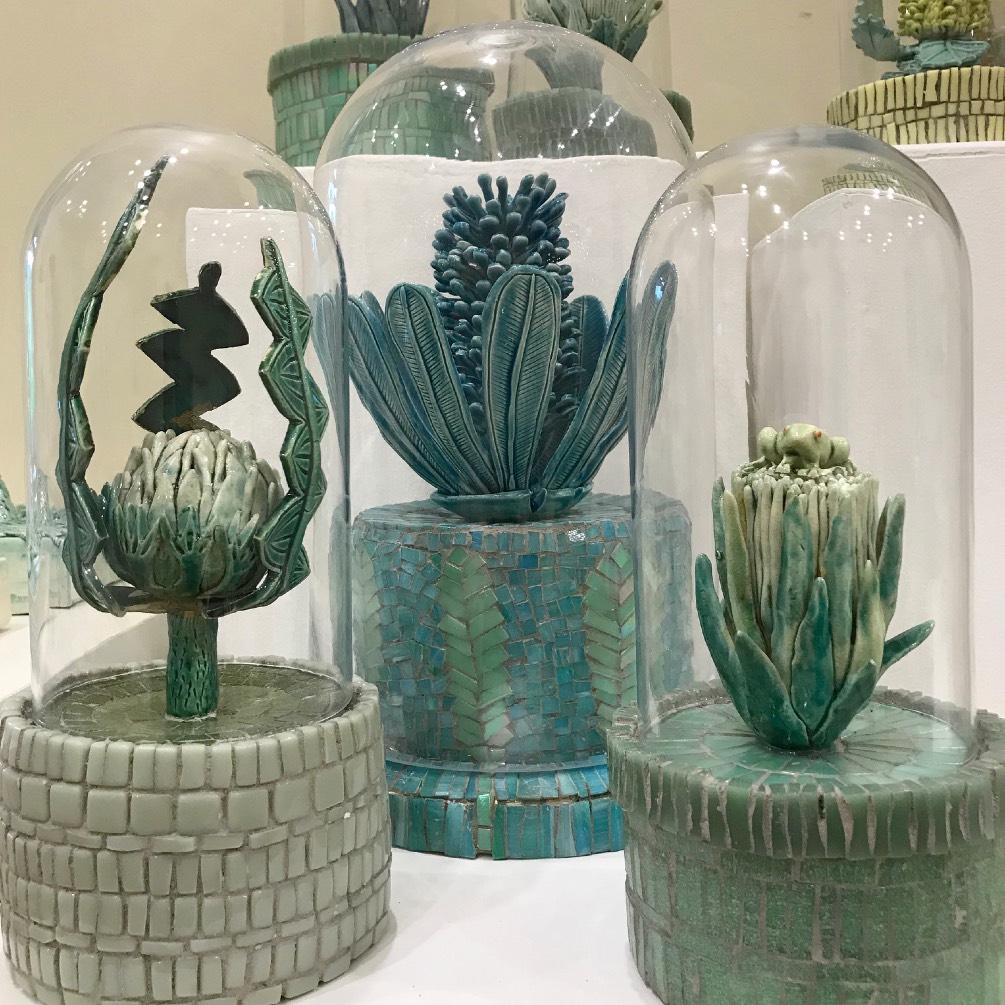 This year has been a busy year. I had a public art commission to make 15 ceramic and mosaic memorial tributes for Donate Life, each tribute to be installed n a different hospital in Queensland from the Gold Coast to Cairns. The unveiling ceremony for the finished pieces was held on 21 November. Each artwork was designed to remember and honour both the donors and the recipients of organs, highlighting the idea of new and ongoing life. I was part of the Artisans in the Gardens exhibition at the Botanic Gardens in Sydney where I exhibited and sold 31 works. I have installed a commissioned grave site artwork for a family at their mothers grave in the Brookfield cemetery. I have also been doing an artist in residence at the St. Augustine's School in Springfield for most of this year, making ceramic pieces with the Prep and Year One and Two students which will be part of a large ceramic and mosaic mural at the school which needs to be completed by 7 December.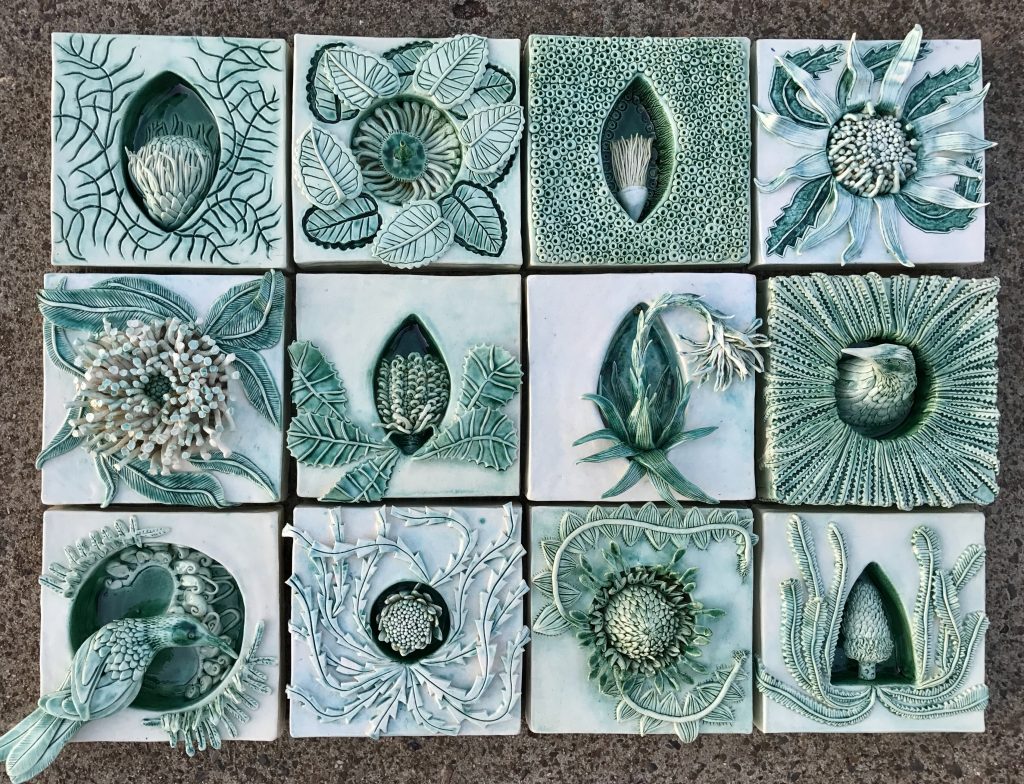 Coming up, I have a commission of a large ceramic and mosaic mural on the wall of a new Cafe in Yeerongpilly, as well as a small commission for a private home in Yeronga. I have a huge and enormous ceramic and mosaic wall mural commission for a hotel in Durban, South Africa which has approval in principal but awaits the final "go-ahead". I will be having an exhibition at the Weswal Gallery in Tamworth, NSW in June 2019. I have also recently been awarded a Regional Arts Development Fund grant for the start of my next big personal project which aims to culminate in a large solo exhibition at the Ipswich Art Gallery. I will be doing the research and preparation part of the project, thanks to my grant over the course of the next year. I also teach regular workshops from my studio in Yeerongpilly on Thursdays, Fridays and Saturdays, so busy busy!
Jane's ceramic sculpture series will be on display at the Judith Wright Centre from 30 November 2018 – 22 February 2018 as part of Flying Arts Featured Artists – Summer Exhibition
Jane du Rand is a ceramic and mosaic artist working from her studio in Yeerongpilly, Brisbane. Born in Durban, South Africa, she has a Bachelor of Architecture Cum Laude from the University of Natal. Jane has run a ceramic
studio for the past 18 years and is best known for her large scale commissioned ceramic and mosaic artworks in public spaces and on public buildings, as well as a great number of private commissions. She has completed
projects throughout Southern Africa, and also in France, the Netherlands, Chile, the United Kingdom (Guernsey), Ireland and the United States of America (New York and Los Angeles).