I've always been fascinated by jellyfish – they are biologically immortal and make up 40% of the oceans biomass so they are integral to a healthy marine ecosystem, providing food for loggerhead turtles. They can also be very dangerous. "High Vis Jellyfish" combines my interest in jellyfish with my love for weaving and recycling. Displaying these creatures outside of their normal environment encourages the viewer to look more closely and be drawn in by their floaty grace and beauty, but also emphasises a greater awareness of the worldwide issues relating to the problem of marine debris in our oceans. It is my intent that one can be mesmerised by them, but beware as they can be deadly too… that's why they are safely contained in a jar. These jellyfish have been hand woven using reclaimed fishing line and marine rope threads, all recycled from local beach clean ups.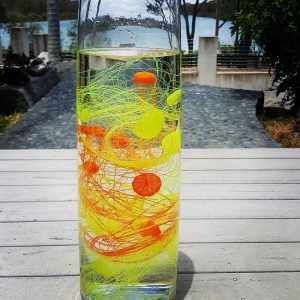 High Vis Jellyfish
Fishing line in glass jar
50 x 15 x 15 cm
$650
Christine's work will be on display at the Judith Wright Centre from 29 November 2019 – 21 February 2020 as part of the Seasonal Sittings of Tiny Art – Summer.
Christine Holden, Boyne Island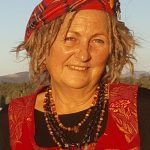 Local award winning artist, Christine Holden, has been creating unique hand woven art works and public installations for many years, and is well known for her fibre works made from a unique blend of marine debris and recycled materials found and foraged. Her 'ethical art' reflects how important it is to look after our planet, and explores the possibilities of how something that most people see as rubbish can be turned into something of aesthetic beauty. Christine experiments with fibres recycled from nature and man-made materials that are gathered from local surroundings to create woven art pieces with a strong environmental message.