Jacqueline Sanderson was happy and little nervous to be accepted for the Featured Artist program because she had submitted an idea that hadn't fully realised, working in a medium that was very new to her, clay. So, it was a bit daunting to have that commitment ahead, but she also felt assured that the FAA team could see the potential in her idea.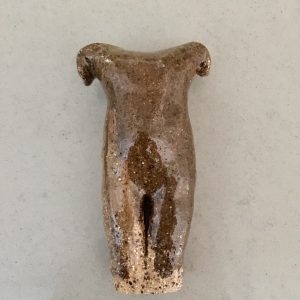 "I was fortunate to exhibit Some of the Parts in the Spring Small Plinth Exhibition in 2018 at the Judith Wright Centre and the exposure has been great. I received great responses and sold a few pieces of my work year last year, which was wonderful.
"I consider the challenge of making artwork for a 'specialised display' space as being provided with scaffolding for the artwork. The scaffolding gives a boundary or a base with which to work with. Similar to working with themed shows, where a basic concept is to be interpreted, the specialised display, to me means considering the scale and proportion of the work to be made before embarking on the magical adventure.
"In my practice though, I have to admit, that I usually work in smaller scale works, so this scale is familiar to me. I would like to work in larger scale as I feel so daunted by it. Maybe FAA will have a Giant Art theme one year!
"I have been interested in the human form for expression and for Tiny Art, I chose to explore the idea of balance and what that means when everyday we are stretched and pulled, and how do we find balance when sometimes we barely feel complete? I used my yoga practice as visual inspiration for how it feels to create balance when you may barely feel whole. I'm inspired by everyday domesticity, the pressure of modern society, and what it means to be a Sri Lankan Australian woman.
"I am working on a couple of projects til the end of 2019. One of these is a themed show at the Cool Art Gallery, titled A good Life and is essentially a retrospective exhibition of Trish Robson's artistic career. But it is simultaneously a launch of the book A Good Life, which documents the late Trish Robson's life (including images of her artwork).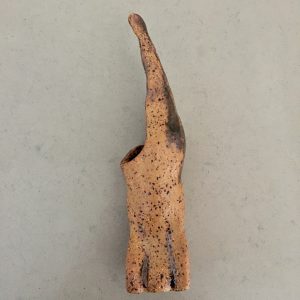 "As part of the exhibition, artists were invited to submit a proposal to respond to a fairy tale that Trish wrote not long before she died. The brief asked artists to interpret the fairy tale and respond with an artwork (the idea being there are many interpretations). The Fairy Tale artworks occupy only one part of the exhibition, however it does include an acquisitive prize to the value of $2,000.00.
"Like Tiny Art I chose to work in a new medium, and these pieces are pastel and pencil on paper. Trish was close to a lot of peoples hearts in Coolum, and being a part of this show is pretty special to me. For the show, I'm working in chalk pastel on paper, on a larger scale than I am accustomed to and using female form, dolls and shadows to explore human experience, control and integration.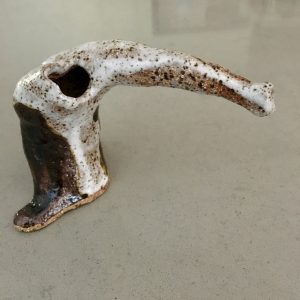 "The other project that I am working on is called 'The Keeper,' and it's a public artist in residency (AIR) project based in Coolum for 4 weeks, of which I will be an AIR for 2 weeks. We received funding earlier this year to develop the project with John Fuller and Robyn Fernandez (both Coolum artists and artworkers) alongside Jason Maling (Field Theory, Melbourne) and Amie Moffatt.
"Again, this is a new field for me, working in the public sphere within my own community. But we have a great crew from different creative genres, experience and knowledge in community based arts engagement projects and are looking forward to connecting with our people in Coolum.
"The Keeper project is essentially an artist framework that is facilitated and created by local artists within community. It has a research approach that creates a 'feedback loop' – creating a generative live public outcome. The Keeper aims to develop relationships between people and places by intersecting rituals and facilitating random encounters in order to creatively facilitate the development and participation in community and art practices. The Keeper will take place in November in and around Birtwill Street and the Coolum Boardwalk."
Jacqueline's work will be on display at the Judith Wright Centre from 30 August  – 22 November 2019 as part of the Seasonal Sittings of Tiny Art – Spring.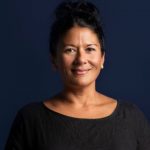 Jacqueline Sanderson is a visual artist who has lived on the Sunshine Coast since 2007. Jacqueline is inspired by nature, people, and the lived experience and she describes herself as an eclectic artist and maker whose artwork is meaningful and good-natured. Jacqueline paints, and creates by reusing and transforming discarded and found objects from nature. She completed her BA in Visual Arts (QUT) in 1995 and is currently completing an undergraduate degree in Psychology at USC.