Jacqueline Sanderson recently shared her thoughts with us on exhibiting her works at the Judy and some of the other challenges she's taken on this year…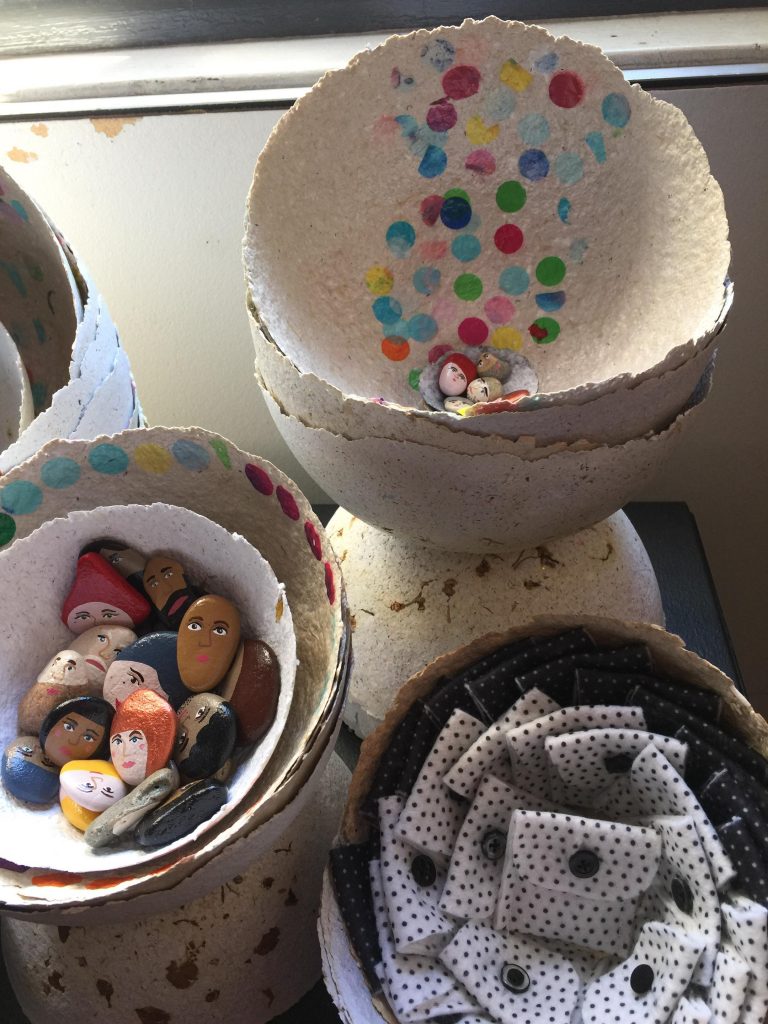 I was thrilled to be accepted for the Spring Show at Judith Wright as this series of my artworks are small and seemingly fragile, therefore being displayed in a plinth exhibition with similar artists work was very fitting. Although this means Some of the Parts are only viewed through their plinth case, it emphasises the nuance of making affordable, decorative and purposeful art. For me, this is a regular challenge I encounter in my different practices of art making, but it is rewarding to make the bowls and pebbles from found and recycled materials, and having them in the small plinth show showcases them as a useful and friendly new objects. Ideally they could be bought for a shop window display and re-sold.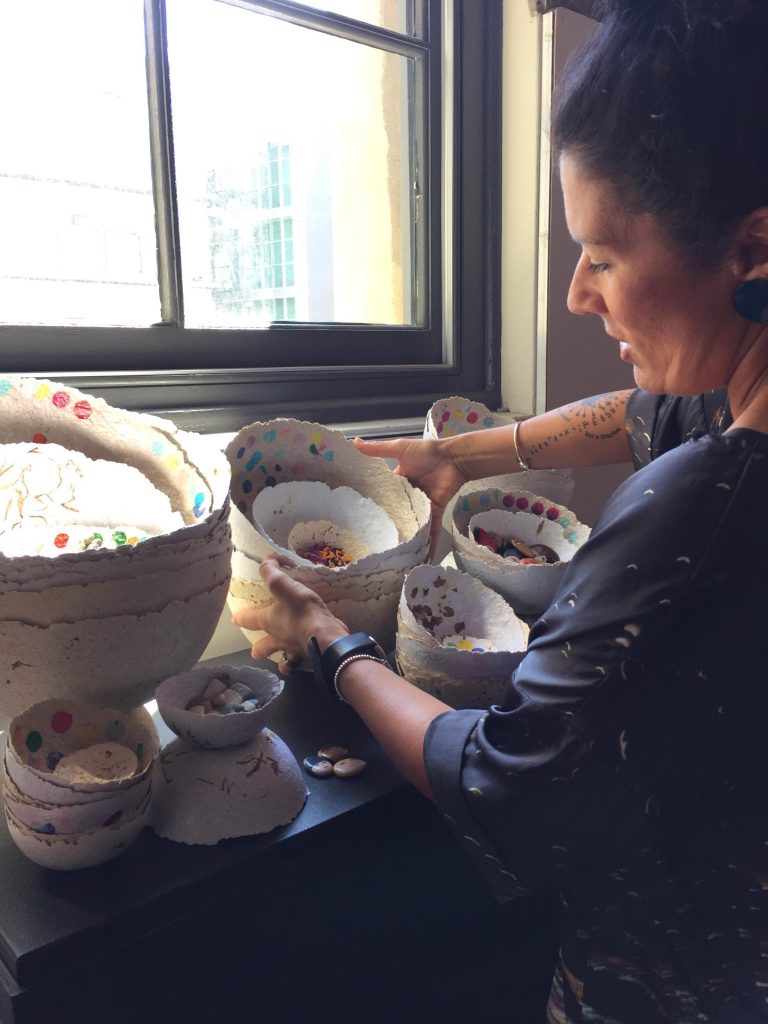 Producing artwork for specialised display space challenges the way I see my own art and practice. It's a great opportunity to critically analyse what I do; to deepen my art practice by taking it to other dimensions that I may not have considered before. Similarly, making artwork for a themed exhibition encourages my creative exploration beyond what may be my niche. I make a lot of small artworks and 'things' (as I commonly refer to them as), which are then used to make a larger artwork like Some of the Parts. I am currently being dared to move into some much larger works. In fact learning to evolve and transform my
niche works into something potentially formidable is exciting!
What else is going on in your practice at the moment?
In July I started a 12 month mentoring scholarship with Margaret Turner, which I am doing part time with a two other female artists. This opportunity is both reflective and practical, forcing me to critically analyse my work, see different perspectives, extend myself and really jump into some unknown, unfamiliar, and rather uncomfortable territory. While this all may sound rather unpleasant, I find being out of my comfort zones is beneficial in that it develops my resilience and divergent thinking. The psychologist, Mihaly Csikszentmihalyi says that when our skills match our challenge we can reach a state of flow, and it is here that we are at our happiest. And as the challenges and skills increase so does the effect of flow state. Therefore extending skills to bravely meet new challenges is a wonderful way to be.
Other projects Jacqueline has currently underway and coming soon…
I am exhibiting in the UNFRAMED ART EXHIBITION 2018 at COOL ART GALLERY in Coolum from 25 August – 1 September.
For this exhibition I was invited to make something space specific, so that is interesting for me again as it is a larger space! (See Cool Art Gallery's facebook page for video grabs of Jacqueline's installation)
I am also participating in an Artisan Market at Syndicate Creative (@syndicatecreativeqld) in Kunda Park on Sunday 21 October (9am-2pm).
I will have more paper bowls, pebbles and possibly some new products available for sale. I'm looking forward to this market as the Syndicate Creative Group are doing some really lovely artisan work on the Sunshine Coast, collaborating with a number of other artists, running workshops and hiring their beautiful space to facilitate workshops and workspaces for other creative like-minded people.
After that I am planning on spending more time in my scholarship mindset, developing new ways of seeing and expressing. In conjunction with my psychology studies I hope to delve into art health research, looking at ways we can better understand the way we see and interpret the diversity in people and nature. I am currently researching the subjective well being of carers of people with dementia using visual art making as an intervention. People of all ages feel good when they meet a challenge, and when they make… !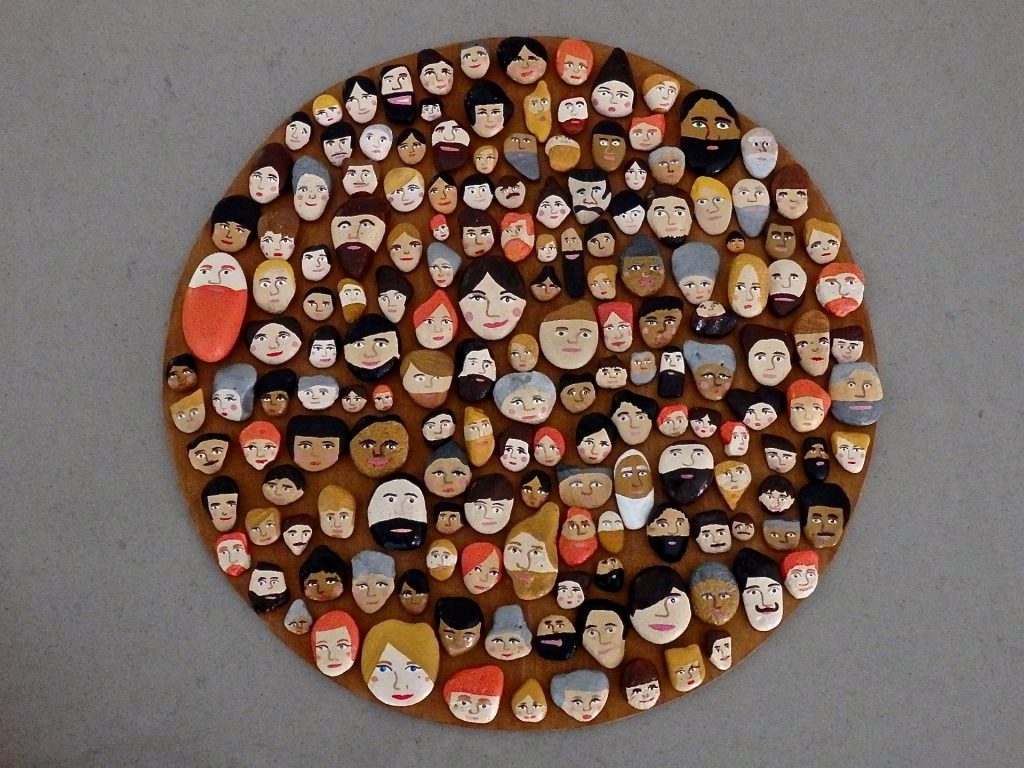 I don't have a website as yet, but curious folks can find and contact me on Instagram @jacqueline.gms2. 
Reverse Garbage in Woolloongabba also sells some of my smaller paper bowls and gift tags.
I was a finalist in the 2017 Queensland Regional Art Award, with This Spicy Life (pictured left). It is now in the Fairfax Collection. As an emerging artist this was obviously a very exciting experience for me, and gave me the confidence to apply for other exhibitions and community events
Some of the Parts will be on display at the Judith Wright Centre from 31 August until 23 November 2018  Flying Arts Featured Artists – Spring Exhibition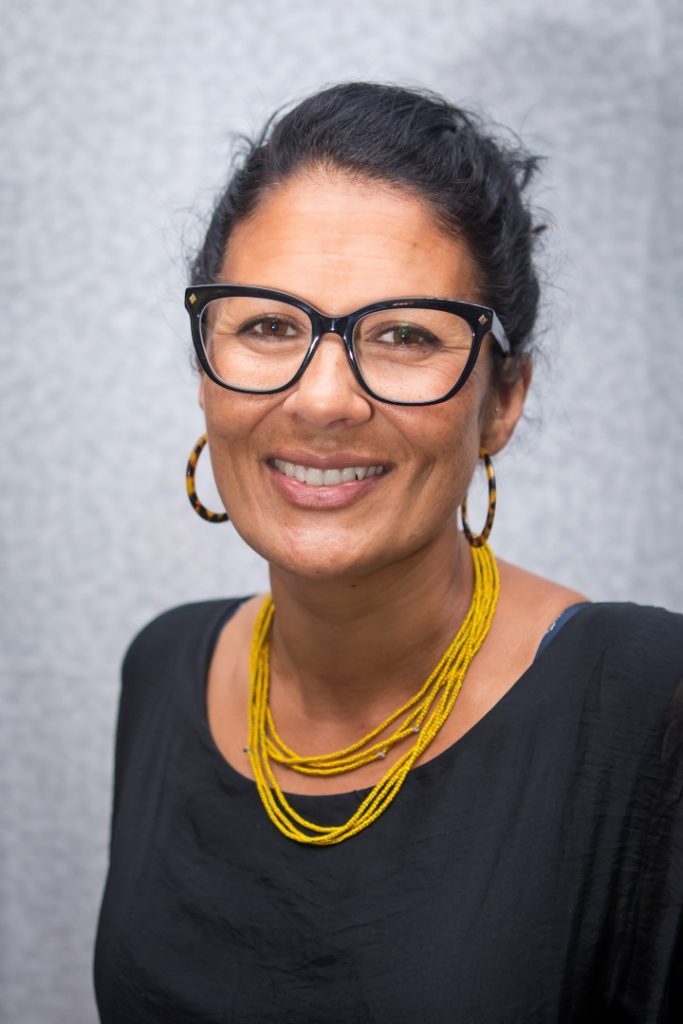 Jacqueline Sanderson is a visual artist who has lived on the Sunshine Coast since 2007. Jacqueline is inspired by nature, people, and the lived experience and she describes herself as an eclectic artist and maker whose artwork is meaningful and good-natured.
Jacqueline paints, and creates by reusing and transforming discarded and found objects from nature. She completed her BA in Visual Arts (QUT) in 1995 and is currently completing an undergraduate degree in Psychology at USC.
As an emerging artist Jacqueline has exhibited in group exhibitions at Noosa Art Gallery, Reverse Garbage Qld, Cool Art Gallery, and was a finalist in the QRAA 2017 Colours of Queensland exhibition.
She was excited to be accepted for the Spring Small Plinth Show as it gave her the opportunity to showcase her delicate paper bowls and pebble artworks, 'Some of the parts', which she has been developing since 2014.