Kulpi State School welcomed ceramic artist Dianne Peach to facilitate a 5 day cross-curriculum art, science and design workshop for students and their families to to create their own unique artworks for an exhibition at their local Rosalie Gallery in Goombungee.

This project was delivered by Flying Arts Alliance's Small Schools Fund which allows schools with 50 or fewer students in regional and remote Queensland to apply for a bursary of up to $5000 per school year for curriculum linked projects.
---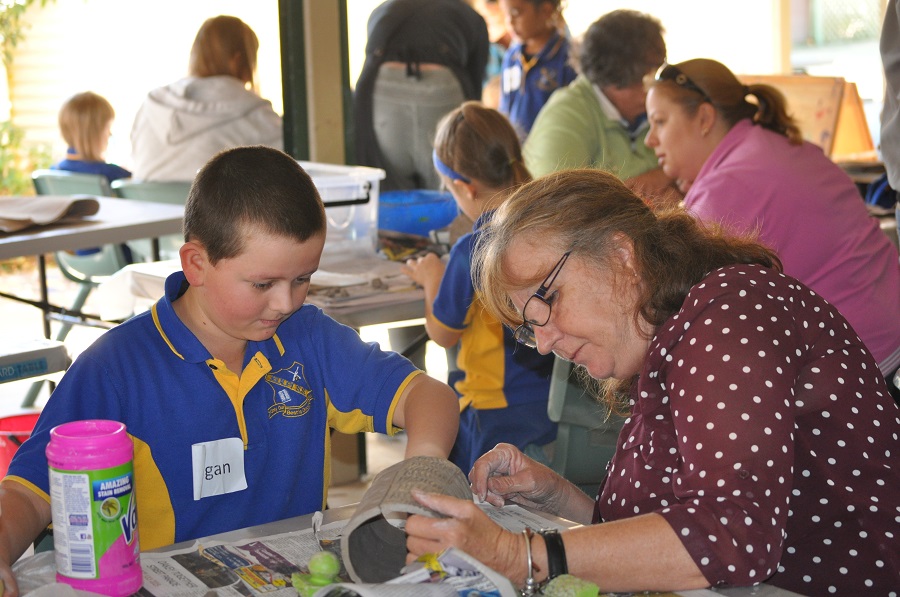 Kulpi State School is the hub of the Kulpi community, providing opportunities which broaden the student's life experiences. Along with extra-curricular areas that the school already covers such as cultural and sporting events, the staff continually looks to bring the outside world into their community.
Kulpi State School Principal Mrs Rosita Lever said that the staff were eager to bring an intensive arts program to the school in order to provide a unique experience for students and the broader community.
"Students in our regional context have had very limited opportunities to work with clay, and no experience with taking the pottery to a finished product. With several very creative students, this program will be a wonderful way to extend their talents," said Mrs Lever.
"Some students will also benefit from the therapeutic value of the tactile experience offered when working with clay. Students will also learn about the pleasure found in seeing a project through from design to final product, with a family member alongside."
Through a ceramic workshop, spanning over 5 days, students and a representative from their family made and fired a variety of clay objects for an exhibition to be enjoyed by the wider community. It was hoped that this project would allow parents and family members to experience an activity which is not otherwise available locally and create a special memory with their child, grandchild, niece or nephew.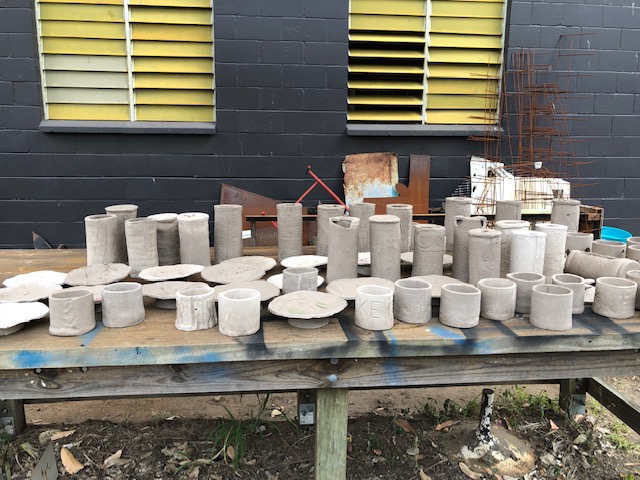 Alongside their family member, students created five items using different ceramic techniques which were then decorated, fired and glazed. The participants were shown the 3 basic methods of hand-building ceramics, pinch, coil, and slab, which were then fired in 3 different types of kilns: sawdust, wood, and gas. The workshop sessions were designed to educate the participants on the professional practice of ceramic making, with attendees assisting Dianne to build the kilns as well as crafting their own pieces.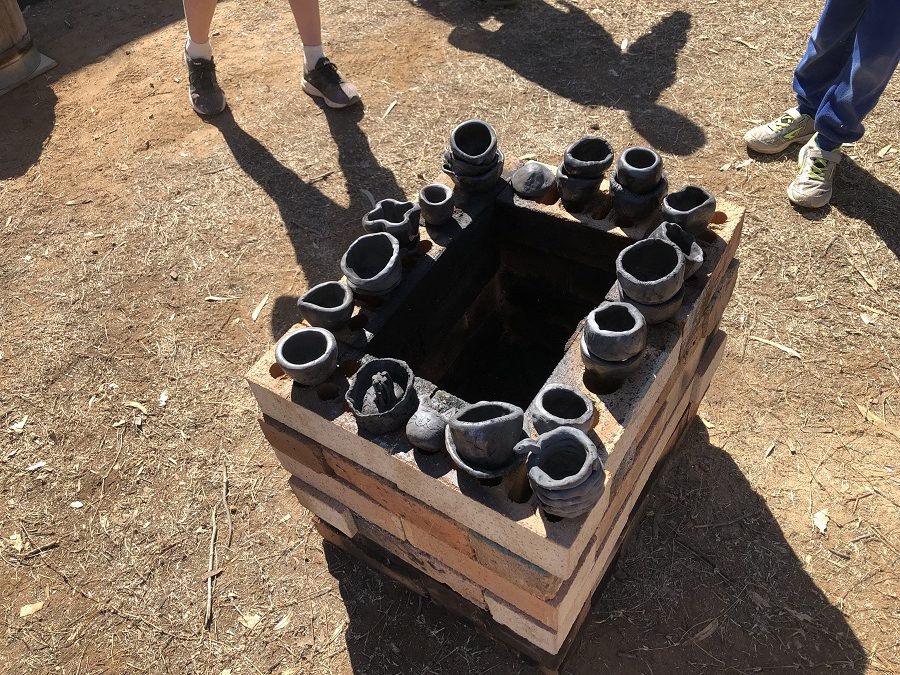 The project aimed to enhance the student's art experiences and dovetail into science concepts and design and technology units. The project culminated in a gallery opening and exhibition at Rosalie Gallery in Goombungee, meeting the curriculum requirement for Year Three to Six students to organise and mount a gallery exhibition as part of their Visual Arts Unit 'Patterns in the Playground.'
The program achieved a number of successful outcomes including a fantastic opening event, an article written in The Chronicle newspaper and an invitation to exhibit the artworks for a longer period of time at Rosalie Gallery again in 2020.
Mrs Rosita Lever said that the program overall was a resounding success and will be remembered by the school community.
"This project has provided a rare opportunity for students and their parents or family members to experience an activity which is not otherwise available locally. Having the talents of ceramic artist Dianne Peach all to ourselves for five days was just brilliant. I'm sure it will become a lifetime memory!"
---
The Small Schools Fund allows schools with 50 or fewer students in regional and remote Queensland to apply for funds up to $5000 per school year for curriculum linked projects (inclusive of facilitator fees, travel and accommodation). This opportunity allows schools to work collaboratively with an experienced artist to plan and deliver a visual arts incursion (workshop/residency) of your selection to create an arts rich experience for students and the wider school community.
To see the Lesson Plan for this workshop check out the Educators Resource page.
---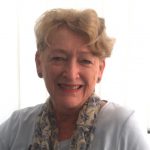 Dianne Peach's work is characterised by exacting craftsmanship of her original and innovative designs using a range of clay types and construction methods. A master thrower as well as a creative hand builder, Dianne has shared her talents with many generations of students through classes and workshops Australia-wide. She has contributed to curriculum development for Queensland tertiary institutions and judged many pottery and ceramic competitions. Dianne served on the Crafts Board of the Australia Council 1985-88, is a Founding and Life Member of Ceramic Arts Queensland, and in 2004 was named the first "Ceramics Icon" by Crafts Queensland. Her work is represented in the Australian National Gallery, most State Gallery Collections, and in numerous provincial and private collections.
---
Thanks to the incredibly successful Make Art Big in Small Schools campaign, Creative Partnerships Plus 1 funding and generous support from Gandel Philanthropy, Flying Arts has been able to dedicate over $40,000 to cross curriculum arts incursions in 2019. Consider supporting Flying Arts to provide more projects like this – all donations over $2 are tax deductible.