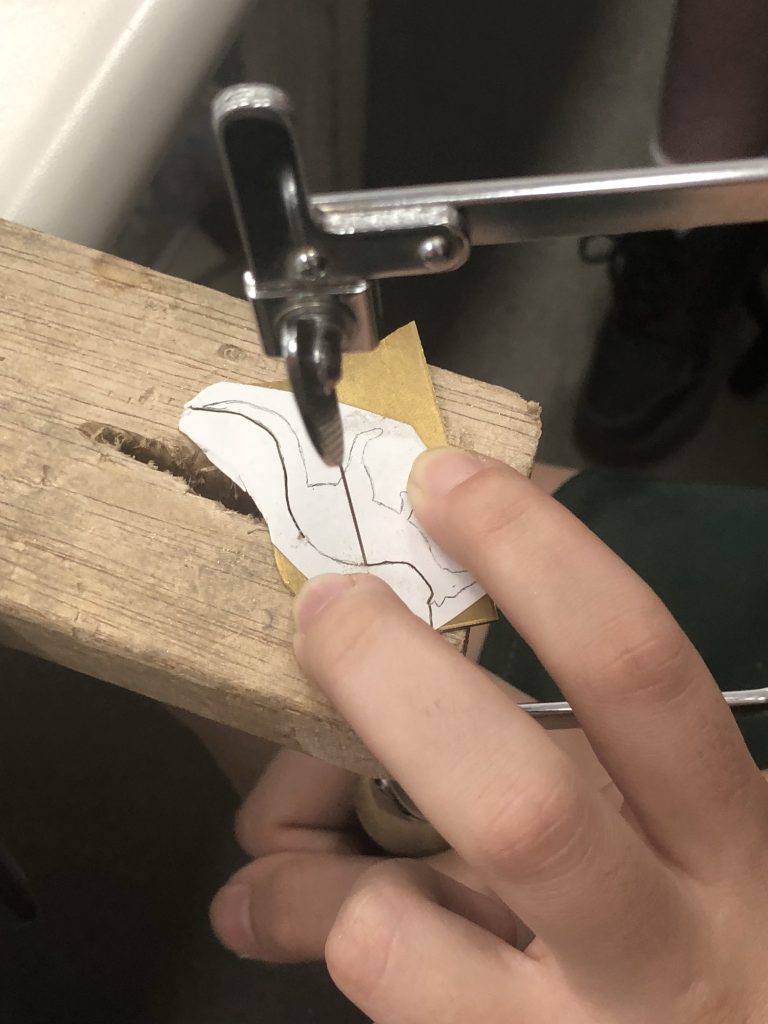 By Clare Poppi
Mt Isa is a strangely beautiful place, a real clash between a natural expanse and human impact on the land. It's very much in the middle of nowhere and this is one of its charms! The school is always exceptionally welcoming and warm and the students seem to enjoy the experience. As I always teach this particular workshop in February, my major impression of the location is the HEAT!! Though this year was probably the coolest year I have ever experienced, I don't think it cracked more than 30 degrees. Usually it has been in the forties which is always fun when you are working with flame torches outside!
I presented an Introduction to Silversmithing course to year 11 & 12 visual art students in a local school. The students learnt how to size, solder, shape and polish a ring in addition to other general silversmithing techniques including riveting, saw-piercing, texturing, filing and finishing. This year for the first time we tried some fold forming, a technique which I was introduced to last year. This is a super quick way to work with very thin metal to create some beautiful natural forms. I also worked with students to discuss their designs for assessment over the next few weeks and how they could improve their projects and methods.
It was the first time in a long time that I have done any fold-forming and it was the first time I have used fine silver to do the fold-forming, so that was a new experience and I was really impressed with malleability it has. It's certainly something I will be playing with more in my own practice. With a slightly bigger group than we have had in the past, it has also made me improve my "teacher voice" to make sure all students were paying attention and listening to the demonstrations!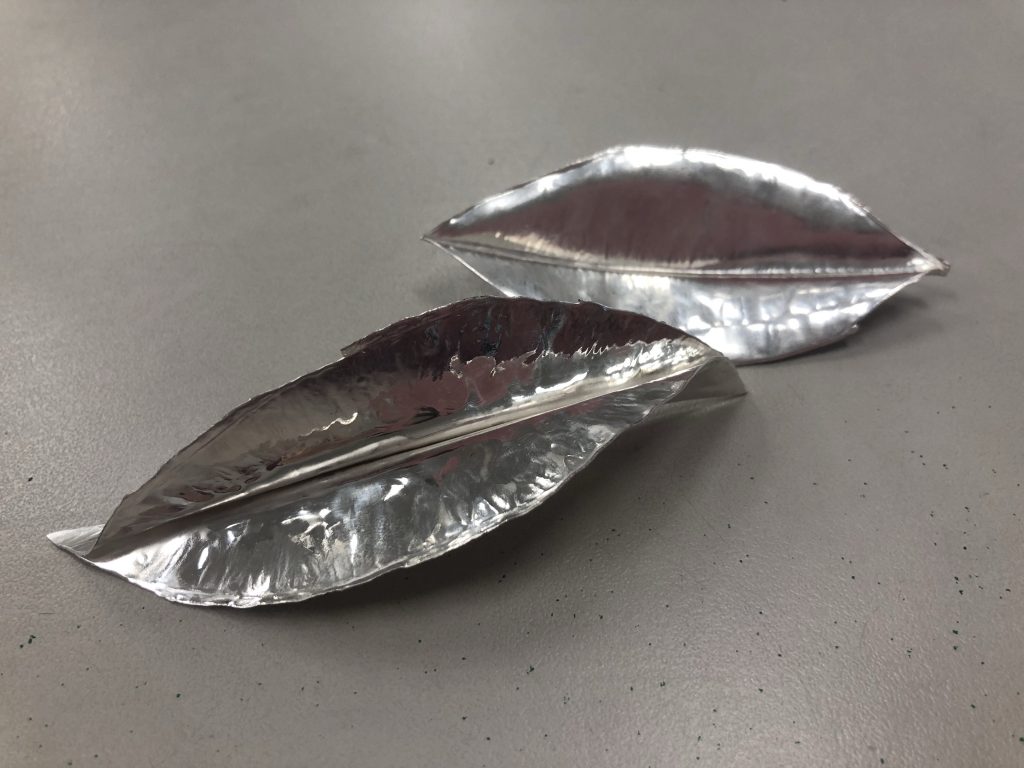 I loved talking to the students one-on-one about their designs and getting to know them a little better. It was so interesting to hear what these students are planning to do with their lives after they finish senior schooling. One girl in particular told me about her desire to study midwifery in Brisbane so she could come back when finished and work in community helping others. I was also impressed by another student who was consistently helping others with their projects and also managing her own work at the same time.
Many of the students were able to learn something which for most high school students is out of reach. Silversmithing classes can be very expensive in metro areas and are fairly non-existent in regional areas without a silversmithing club or lapidary group. At the end of the workshop all the students were asked to speak about what they learnt or enjoyed about the workshop. The one which sticks in my mind was one of the girls who said they liked having me come back every year (as the year 12 students had done the workshop last year). Having me return each year to keep teaching the same workshop meant that the students were able to improve their skills and learn more each year, and have continuity on their learning. Each year I develop a stronger relationship with the community, the students and the school and this is really important for all of us.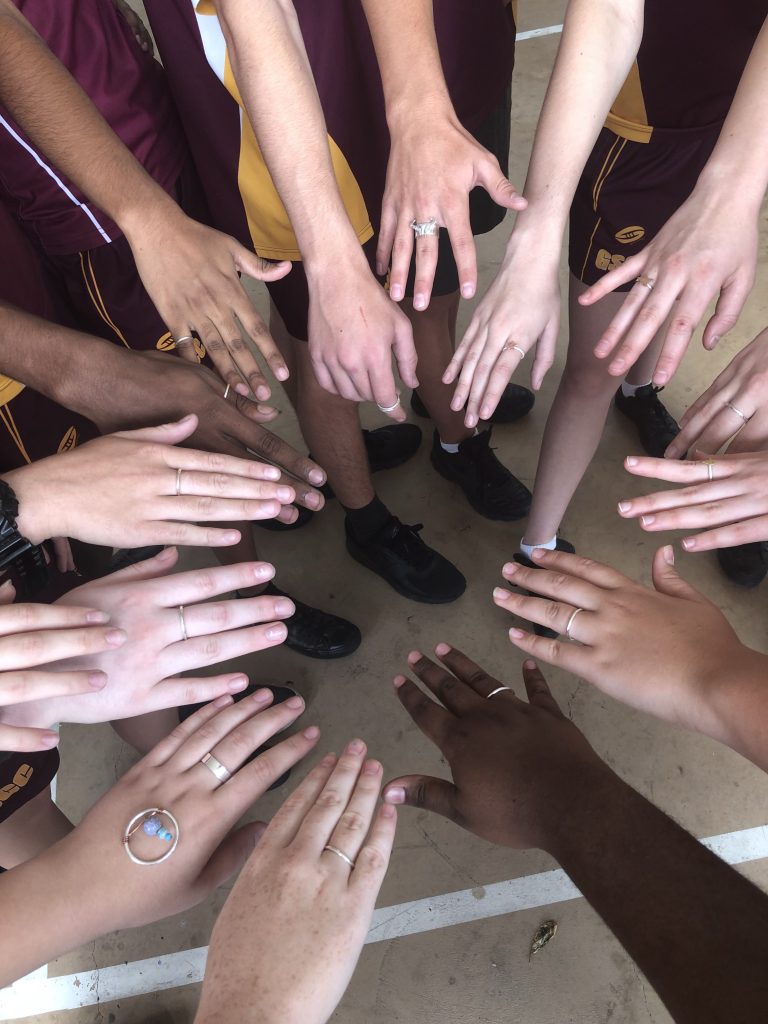 It would be great for the school to have additional funding to purchase more tools to make the experience easier and better for students. We discussed the possibility of purchasing a tumbler for the next year to make polishing easier and safer. Additional hand tools would also be great. The facilitator and I discussed at length during one of the breaks some of the other ways we could improve the workshop for next time. One idea was to make a more structured delivery of techniques so that students would have a piece of jewellery or a sample at the end which demonstrated all the techniques. This would be based around the project which the students have been given for their assignment work. We also discussed new techniques we could teach. The idea of changing the yearly timeframe to end of the year rather than start of the year was discussed so that there would be more time to plan. This would be particularly good if we also held an adult or community workshop on the weekend before the school class.
The students will continue to learn new and exciting visual arts techniques, as silversmithing is not something taught in most schools. It is also very beneficial for Sonja, the school's facilitator, because she is able to improve her skills each time and therefore teach the students better each time the course is offered.
---
This workshop was booked as part of our By Request programs.
By Request programs are available on-demand, and can be booked on behalf of schools or creative communities such as groups, festivals, local government and organisations. By Request programs can be delivered by our Flying Arts Artist and Facilitator Team anywhere across Queensland.
---