In her work Containment, Brisbane artist Sandra Pierce explores themes of fragmentation of habitats and the subsequent impact on the biodiversity and survival of native plant species. Here, she shares some of her insights and experiences as an exhibiting artist.
I was very pleased to be selected as 'Containment' is a new work, still in progress, and the Judy plinth exhibition is a perfect opportunity for me to see how it looks in a public space and gain some valuable feedback about its presentation.
'Containment' was always designed for a plinth display but I hadn't considered the plinth height and dimensions.  So I had to decide how many of the vessels would fit into a standard plinth at the Judy.  The final artwork will have between 80-100 vessels, and will be exhibited at the Gympie Regional Gallery in late June as part of my solo exhibition 'Fading to Grey'.   I'm exhibiting 30 vessels at the Judy, I needed at least that many to make the impact I needed. I'm currently busy making more vessels, I think I'm up to about 60 now but still enjoying the making process. 
I'm working towards my solo exhibition 'Fading to Grey' at Gympie Regional Gallery in June/July.  This exhibition is a body of work exploring ideas relating to the urbanisation of natural areas, which is a key part of my art practice.  I've already completed most of the work, and at the moment I'm working on several pieces that will complete my narrative.  I like working on a couple of artworks simultaneously as keeps me actively engaged and open to alternate versions of my original ideas.  All of the pieces I'm working on relate to my theme 'Fading to Grey' so they have a connection to each other even though I'm using a variety of techniques.
I love that Flying Arts can bring together both Brisbane and regional artists, it's an opportunity for us to share and learn from each other.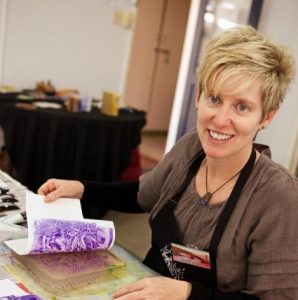 Sandra Pearce is a Brisbane based artist, with a background in painting, printmaking and papermaking.
Over the past ten years, Sandra has exhibited widely in both regional and private art galleries, with several solo exhibitions. Her artist books have been acquired by the State Library of Queensland for their artist book collection. Her monoprints have been acquired by major institutions both in Australia and overseas as part of folio box projects, as well as prints being held in local public hospital collections. Sandra has completed several artist-in-residence community programs, most recently in Cataract Gorge, Launceston.
Find out more about Sandra on her blog.