As the winner of the Gray Puksand Digital Art Award in the 2015 Queensland Regional Art Awards, Linda Clark received a fully funded two week residency at The Edge, State Library of Queensland. Here she talks about her experiences at The Edge, where she developed  the conceptual basis of a new body of work.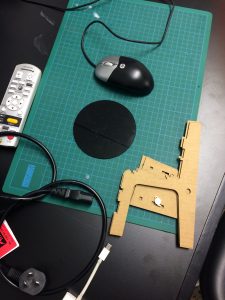 Initially I was impressed by the range of art making resources that hide within the Edge! My goal during the residency was to learn as many new processes as possible. Within the Edge, the instructors helped me to learn 3D printing and laser cutting techniques, and I completed inductions on those machines so that I can access them in the future.  I also chatted to Edge staff about sound recording, and about what technology I would actually need for installation work. My approach to digital recording is quite basic, which suits my work, and the staff helped me with tips to improve sound recording in everyday settings.
The venue is in a perfect location for artists, because of its proximity to GOMA, QAG, the museum, State Libary and QPAC, and enables immersion in culture. The Edge is a great venue whether you are ready to make work (because there is plenty of room and facilities to do so), or whether you are researching and experimenting because of the space to work that is available, and the facilities that surround the Edge.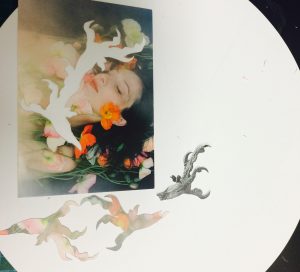 After many learning experiences, I took advantage of the cultural precinct that surrounds the Edge.
During the residency, I was developing the conceptual basis of a new body of work, and was able to spend time within visual research and exhibitions within the State Library, GOMA and Queensland Art Gallery.
This residency impacted my arts practice in a positive way. I was able to document my artistic process/development with intention, and recognized patterns within my practice that I can build upon in the future. The residency helped me to recognize that I have a specific way of working that begins with a question, and is developed through visual research of images, artworks and concepts, as well as a lot of journal writing and sketching. It is only after this process that I can begin to make the work through focused experimentation with materials.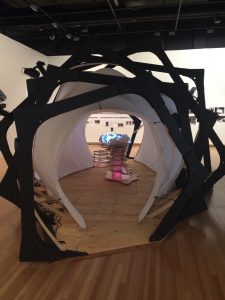 Before the residency, I had tried to force myself to make work without going through this process of conceptual development, for example, I tried to collect materials and just make a work. This residency helped me to recognize that I need the conceptual development phase first!
While I definitely produced new work in the form of laser cutting, 3D printing knowledge, and sound recording, which I'm sure I will utilize in future projects, I think the most significant new work was the development of my creative process. The Edge residency, offered within its surrounding precinct, afforded me the space and time to develop this artistic process, and intentionally work within it. This has led to a more focused way of art making for me.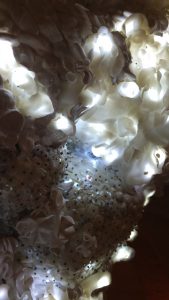 The residency created a space for me to be alone with my own thoughts, and to focus solely on my practice. I am rarely alone because I have a family, so the week of the residency was challenging in terms of being solitary. However, this solitude led to personal growth, not only in terms of my recognition of my specific art making process, but I now recognize the value of having a period of time in which to focus solely on a conceptual premise, with no distractions. While this experience was intense for me, it was invaluable because it forced me outside of my comfort zone and into real practice.
Since the residency, I have been conducting further research and development of the concept that I was working on during the residency, as part of the first semester of my Doctor of Creative Arts research project. This research has included thinking, reading, writing, sketching, video documentation and journal reflection. I am now beginning to make a new video and textile installation work that is based on the concept of exploring cultural identifiers for young/teenage Australian women.  I now have a more refined direction of my arts practice, so in this way it has changed the direction to a practice based research model. This is definitely helpful because I will be conducting practice based research for the next three years.