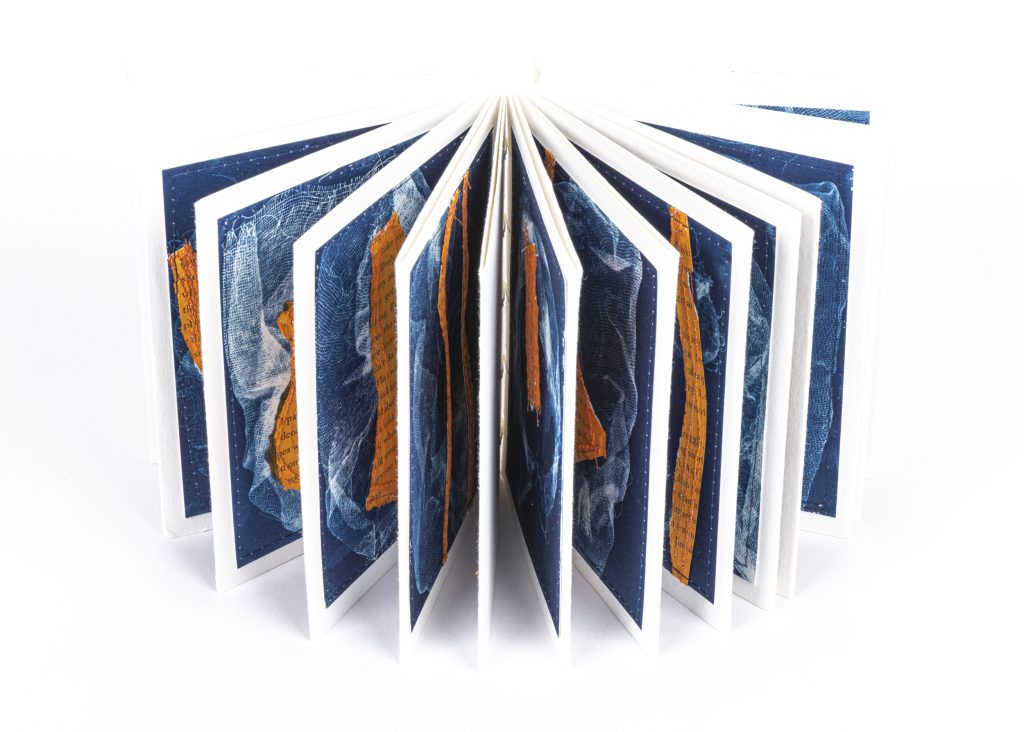 Above: Rose Rigley, Reframing Absence, 2021, artist book assemblage, mixed media, found object, machine and hand stitching. Image Credit: Rose Rigley.
The Longreach Community Library was the second host of Reframe, which was on display for the public to enjoy from 17 to 28 May 2023. Showcasing the winners of Flying Arts' 2022 Queensland Regional Art Awards (QRAA), Reframe highlights all of the wonderfully talented and creative artists from across regional Queensland in one place!
Longreach marked the exhibition's second stop before it continues on its regional tour to Blackall, opening on 15 June 2023. The Reframe exhibition will then continue its journey across Queensland touring to Moranbah and Cairns later in the year.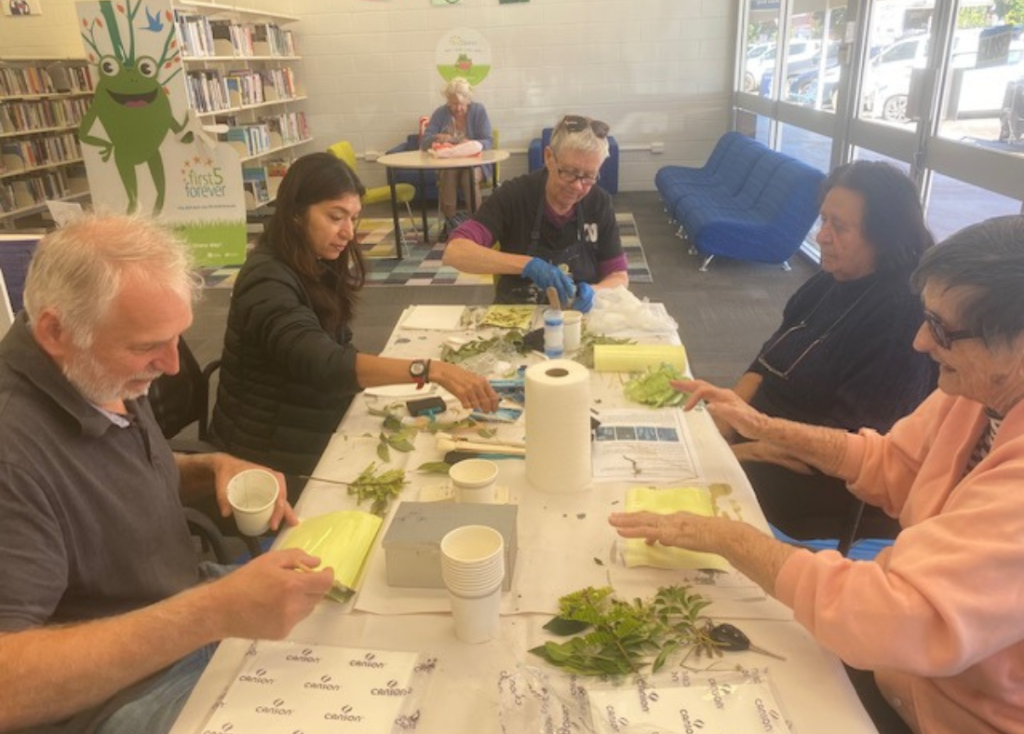 Above (L-R): Participants in artist Rose Rigley's Cyanotype workshop at the Longreach Community Library.
Image Credit: Rose Rigley.
Presented as part of the touring exhibition, award-winning exhibiting artist Rose Rigley delivered a creative community workshop, 'Cyanotype & Alternative Surfaces' on Saturday 27 May. This process features in Rose's award-winning artwork 'Cataloguing Absence' which received the 2022 QRAA 'Art Educator Award' thanks to award category sponsors the Queensland College of Art, Griffith University.
Flying in from Cairns, Rose was able to share first hand the joys and spontaneity of the wonderful process of Cyanotype, a historical photographic printing process using a chemical-coated surface and UV exposure (sunlight) to create negative-like images on a dark blue background.
Inspired by Rose's award-wining artwork on display in the touring exhibition participants created their own cyanotype masterpieces!
Flying Arts are delighted to share Rose Rigleys' thoughts on her time in Longreach delivering this wonderful experience with a very creative community.
"Creative activities like this are small moments of stopping and coming together. They are catchup sessions for those who know each other, and friendships strengthened over the process of doing. They are conversations between strangers, and new relationships formed. They are about discovering and exploring and trying new things. They are mornings that turn out differently than expected and potentially a shifting of ideas around what is art and who can do it. These small moments are so intrinsically valuable to me as an artist, and dare I presume to say, to the people who participate in them.
These moments, on a crisp winter morning, under a brilliant blue sky, in a shopfront library, in the middle of an outback town where all the streets are named after birds, are special. They are made smoother by the willing hands of library staff who help set up, going beyond their normal job description to assist. They are arranged by a council who understand the essential value of a creative community in their area. But most importantly these experiences are only possible through the work and support of Flying Arts. I applaud and celebrate this organisation for their investment and foresight into bringing these small moments into a reality for everyone." Rose Rigley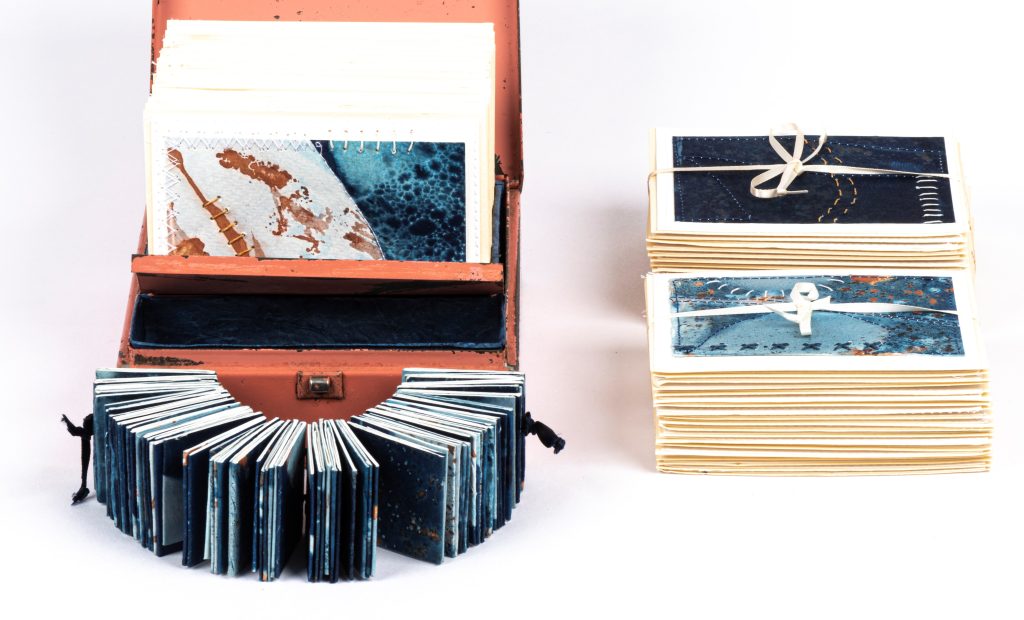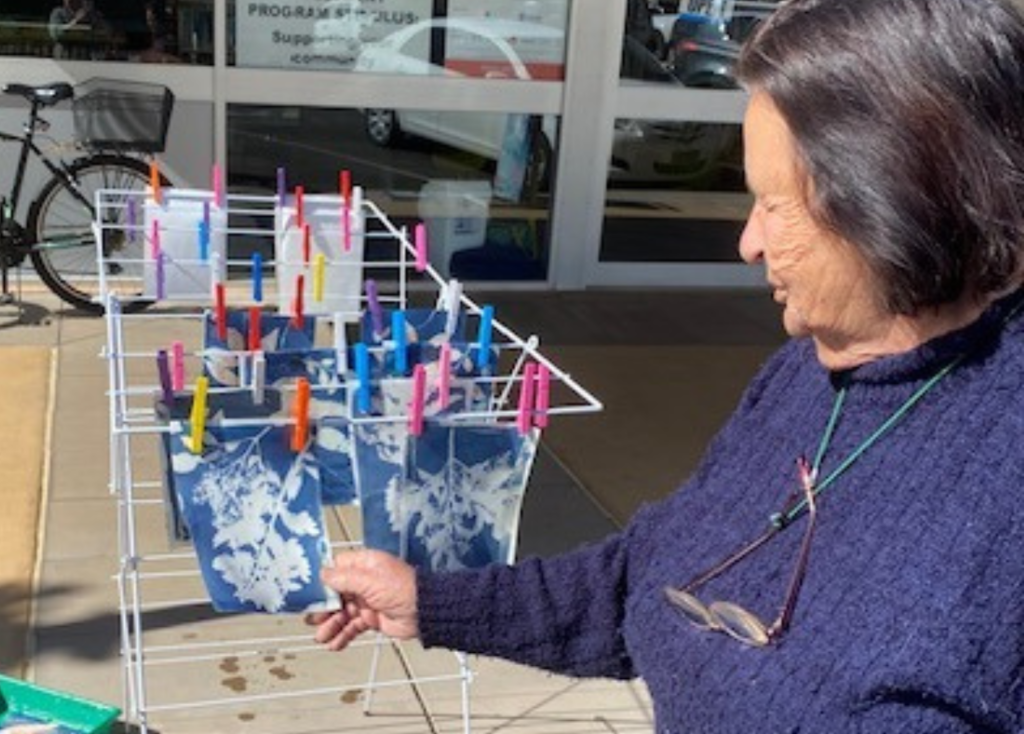 Above (Left to Right): Cyanotypes hanging out to dry, Longreach Community Library, Cyanotype prints developing. Image Credits: Rose Rigley.
Coinciding with the exhibition, Opera Queensland were in town presenting several performances as part of the Festival of Outback Opera from the 16 and 22 May.
Festival goers were treated to an unforgettable outback experience in Longreach, a true multi-arts experience.
Reframe continues its tour across regional Queensland with its next stop the Bushman's Artisan Gallery opening on 15 June until 2 July 2023. For further details on the exhibition with tour venues and dates, please visit here.
This project is supported by the Queensland Government through Arts Queensland.