In preparation for the community of Ravenswood's approaching 150th celebrations, the local primary school was tasked with creating colourful artworks featuring iconic elements of the township. The best of these artworks would then be included as illustrations for a commemorative book celebrating Ravenswood's 150 years of settlement and community.

Ravenswood State School students at the iconic Railway Hotel during their Plein Air Drawing Workshop with Flying Arts Facilitator, Lee FullARTon. Photographer: L. FullARTon
Approximately two hours' drive south from Townsville is the small country town of Ravenswood. Well known for its iconic pubs 'The Imperial Hotel' and 'The Railway Hotel', Ravenswood is a humble gold mining community with a population of less than 500. The town has had a fascinating history full of ups and downs, from the first discovery of gold in 1868 – early 1900s, to almost complete desertion during war times in 1915. Many of Ravenswood's iconic buildings remain from these historic periods and manage to capture the resilient character of the community. Ravenswood State School is the only school in the town, supporting students from Prep to Grade 6. The school has 24 students, most of whom come from families with generational links within the town.
With a hearty country welcome, Flying Arts facilitator Lee FullARTon was embraced by the school and community for three full days of workshops where they learnt innovative painting, drawing and collage methods.
"There is something unique about country children that makes spending time in their company a real joy." Lee recalled. "The staff and community were very professional and great to work with, all very generous and supportive in their own way."
On the first day of the program each student was paired with a town icon; either a heritage listed building, a local landmark, a historic event or a homegrown hero. After connecting with their selected iconic symbol of Ravenswood, each child would eventually go on to create numerous artworks featuring this icon as they learned new skills and techniques over the three days. Each work would be "scaffolded" – building upon and developing up to the next level.
On day one, learning new drawing techniques was achieved through a number of interactive activities including process drama, observational drawing, drawing games and a plein air drawing adventure.
Lee said, "I would have to say the highlight was the drawing excursion. The large vast blue skies bathed the landscape in beautiful light and contributed to our happiness to be outdoors. The church was our first drawing challenge and each and every one undertook it with such enthusiasm and confidence."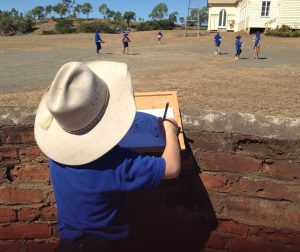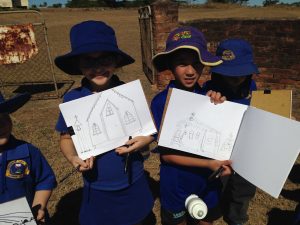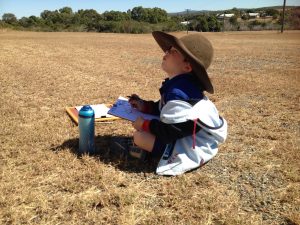 Ravenswood State School students during their plein air Drawing Workshop with Flying Arts facilitator, Lee FullARTon.  Middle image: Lilly Davis and Connor Stallman.  Right image:  Dallas Easton.  Photographer: L. FullARTon
On day two the program intensified with the young artists experiencing working with a number of different mediums, including pencil, ink pen, charcoal, pastel, etc. As the day progressed the young artists moved from drawing to painting.
After a long and fruitful day with the students, Lee then worked with the teachers to transform the library into a gallery space. "After school, the staff and I hung the works as a collection for each artist. The presentation was stunning as the narrative of each work and the journey of the artist could be seen," she explained.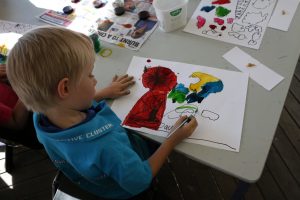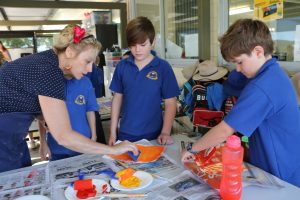 Ravenswood State School students during their drawing and painting workshops with Flying Arts facilitator, Lee FullARTon.  Left image: Davin Hood.  Middle image: Lee FullARTon, Zavier Harper and Finn Hastie.  Right image: Chelsea Cordie.  Photography courtesy of Ravenswood State School

On the third day, the students were given an artist talk by Lee, where students were given a chance to ask about her career as a professional artist. "I focused my talk on the practice of creating with constant exploration and attention to the subject and praised how well they had worked like an artist," said Lee.
The rest of the day was filled with drawing, painting and collage; learning all about mixed media techniques. Still using the icon as their inspiration, these new artworks were then added to the exhibition.
The program concluded with the family, friends, teachers and students all coming together to view the exhibition of works created by the students during the previous three days.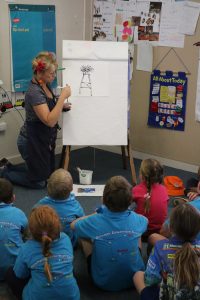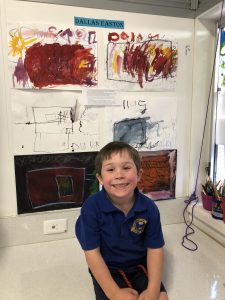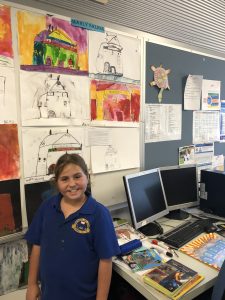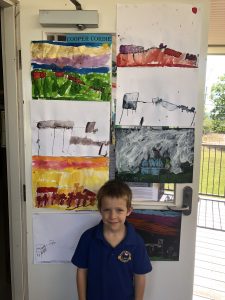 Left image: Lee FullARTon during her artist talk.  Middle left image: Dallas Easton.  Middle right image: Marly Saliba.  Right image: Cooper Cordie.  Photography courtesy of Ravenswood State School
"It was fantastic watching a teaching artist working with the children in creating artwork signifying our historical town. The portfolio of work from each child displayed huge improvement in their skills and artwork across the three days, I would highly recommend Flying Arts to any organisation or school."

– Andrew Stallman, Principal of Ravenswood State School
---
The Small Schools Fund allows schools with 50 or less students in regional and remote Queensland to apply for funds up to $5000 per school year for curriculum linked projects (inclusive of facilitator fees, travel and accommodation). This opportunity allows schools to work collaboratively with an experienced artist to plan and deliver a visual arts incursion (workshop/residency) of your selection to create an arts rich experience for students and the wider school community.
Support for this project also came from Carpentaria Gold who provided the on ground transport and accommodation for the touring artist, free of charge. A special thanks to Community Relations Advisor, Rebecca McLellan, who was fundamental in the planning and logistics of the project with the school.
Interested in reading the Lesson Plan for this workshop and others?  Head to our Resources page on the website.
---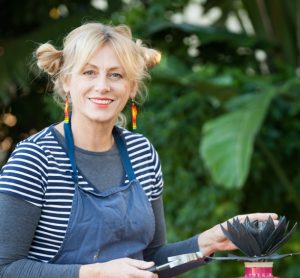 Lee FullARTon is a practicing and teaching artist that has worked extensively with children of all ages within schools and alternative settings in Australian and in New Delhi India. Lee has extensive experience in: visual art practices with children, artist in residence programs, arts project management, developing curriculum resources in the arts for education, galleries and museums. Whilst Lee maintains her arts practice she works as teaching artist across two primary schools in Queensland, is a Flying Arts Artist Facilitator and coordinator of Primary Arts Network Ipswich. In 2015 Lee was awarded an Individual Artist Grant by Arts Queensland and undertook a long term artist in residency in India. Lee's work is greatly influenced by her travels across India and her work with children. In 2017 Lee was a finalist in the Queensland Regional Art Awards, 'Hidden' Sculptural Exhibition at Rookwood Cemetery Sydney and the Linden Postcard Awards Domain House Gallery Melbourne.