Queensland Regional Art Awards Winners Announced
We are so excited, once again, to make this highly anticipated announcement – an annual highlight for all of us here at Flying Arts.
We would like to congratulate the winners of and commend all entrants into this year's Queensland Regional Art Awards. The number and quality of entries this year was exceptional, and emphatically demonstrates the wealth of artistic talent throughout regional Queensland.
More than 220 artworks were submitted to the competition this year – a record number of entries! The People's Choice gallery, featuring all eligible artworks, attracted over 7000 unique pageviews during the People's Choice voting period.
Thanks to the support of our generous award partners and the expertise of our judging panel, over 25k worth of awards and prizes has been awarded to nine regional Queensland artists.
The judges selected works by Jo St Baker (Redcliffe), Erin Dunne (Rockhampton), Shanoa Rea (Woombye), Meaghan Shelton (Imbil), Allan Tulloch (Ipswich), Barbara Cheshire (Gulliver) and Jane Dennis (Cooktown) for the sponsored awards. Ironlak's People's Choice Awards went to Scott Denholm (Moffat Beach) and Helenna Dohle (Linville).
A total of 29 artworks have been selected to tour in the Iconic Queensland exhibition, curated by Henri Van Noordenburg. Look out for the tour in 2018 in Brisbane, Toowoomba, Ingham, Emerald, Julia Creek, Munduberra, Childers and Warwick.
View the full list of winning and touring works here
---
Touring Team 2018 – Expressions of Interest Open  
Applications are now open to join the Flying Arts Touring Team 2018.
Our Touring Team is our first point of call if a client approaches us to arrange a workshop or project on their behalf. Workshops and projects are delivered 'By Request' all across Queensland.
This year we have streamlined the application process. You will have the opportunity to outline your availability, the audiences you are comfortable teaching, and nominate your specific teaching areas.
Key Application Dates
7 October – Applications close
18 – 27 October – Interviews conducted (phone interviews available)
31 October – Email notifications sent to applicants regarding outcome.
---
Have You Renewed Your Accredited Membership?
Flying Arts Accredited Membership and Insurance renewals are now open for the new policy year running 1 October 2017 – 1 October 2018.
To continue your membership and insurance into the next policy year please follow the link below to access the online renewal form. To renew you will need to submit a up to date CV to affirm your accredited status.
---
Touring Team Journal: Cherie Lynch
Flying Arts Touring Team member Cherie Lynch recently delivered a workshop at a school in Far North Queensland.
"I think anything workshop related is positive for schools and communities. It teaches people things they may not have tried on their own, opening door ways and possibilities into something they may want to pursue in the future."
Artists + Artsworkers
Scheduled
 Artist Consultations
[tribe_events_list category="artist-consultations" limit="2″]
Workshops – Brisbane
[tribe_events_list category="artist-workshops-brisbane" limit="3″]
Webinars – Flying Arts Web TV
[tribe_events_list category="artist-webinars" limit="2″]
Artists + Educators
Scheduled
Connecting Arts with School Curriculum
[tribe_events_list category="connecting-arts-with-school-curriculum" limit="2″] 
Educators
Scheduled
Workshops – Brisbane
[tribe_events_list category="educator-workshops-brisbane" limit="2″]
Webinars – Flying Arts Web TV
[tribe_events_list category="
educator-webinars
" limit="2″]
Schools
By Request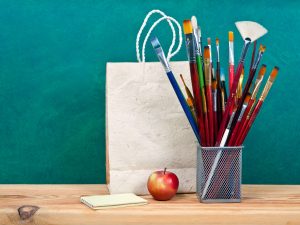 These By Request programs are available on-demand, and can be booked on behalf of your school. By Request programs can be delivered by our Flying Arts Artist and Facilitator Team anywhere across Queensland.
Offerings include:
Visual Arts Workshops and Projects
Cross-Curriculum Collaboration
Cross-Curriculum Collaboration with QMF's Youth Touring Program
Small Schools Program
Creative Communities
By Request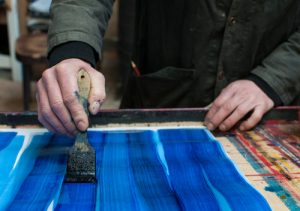 These By Request programs are available on-demand, and can be booked on behalf of creative communities such as groups, festivals, local government, galleries and organisations.
Offerings include:
Visual Arts Workshops and Projects
Arts Business and Management Workshops
Curator By Request
Exhibitions By Request
Professional Services
View all programs for Creative Communities
Exhibitions
Scheduled
Touring Exhibitions
[tribe_events_list category="touring-exhibitions" limit="3″]
New Flying Arts Memberships
Members are an important part of the Flying Arts family. You can join Flying Arts as a Standard Member at any time. Accredited Membership and Public Liability Insurance is available to sole traders engaged in activities related to professional practice on a pro rata annual basis.
All members are entitled to a great range of Member Benefits.
Give Away
Thanks to Think Tank Communications we have 5 in-season passes to FINAL PORTRAIT. Just email comms@nullflyingarts.org.au with your name, membership number, address and 'Final Portrait Give-away' in the subject line to claim yours!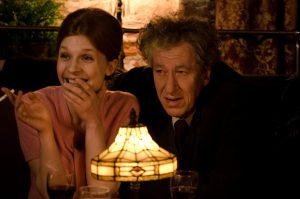 In 1964, while on a short trip to Paris, the American writer and art-lover James Lord (Armie Hammer) is asked by his friend, the world-renowned artist Alberto Giacometti (Geoffrey Rush), to sit for a portrait. The process, Giacometti assures Lord, will take only a few days. Flattered and intrigued, Lord agrees.
So begins not only the story of a touching and offbeat friendship, but, seen through the eyes of Lord, a uniquely revealing insight into the beauty, frustration, profundity and, at times, downright chaos of the artistic process. FINAL PORTRAIT is a bewitching portrait of a genius, and of a friendship between two men who are utterly different, yet increasingly bonded through a single, ever-evolving act of creativity. It is a film which shines a light on the artistic process itself, by turns exhilarating, exasperating and bewildering, questioning whether the gift of a great artist is a blessing or a curse.
Released in Australian cinemas nationally 5 October 2017