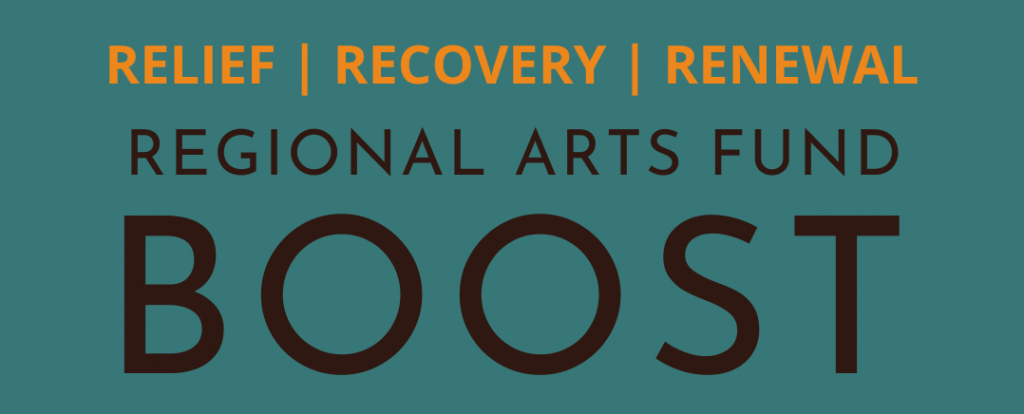 The RAF Recovery Boost grant program is progressing  into the major funding round stages with applications for RAF Recovery  opening 9 am, Monday 31 August and Expressions of Interest for RAF Renewal opening in early September.
One final round remains for the RAF Relief quick-response funding which opens 9 am, 14 September. This will be the final opportunity to gain short-term funding in 2020 as part of the RAF Recovery Boost. Standard RAF Quick Response streams will resume in January 2021.
See below for details on upcoming rounds.
---
RAF Recovery: up to $30,000
Applications for RAF Recovery grants open 9 am, Monday 31 August. Recovery grants are designed to meet the medium-term recovery needs of artists, organisations and communities. Projects in this program should focus on activities that assist in recovery from the impacts of COVID-19. 
For projects commencing on or after: 1 January 2021
Amount: Up to thirty thousand dollars
Opens: 9:00 am 31 August 2020
Closes: 5:00 pm 12 October 2020
Project funding can include up to $5,000 worth of asset purchase or replacement. All RAF Recovery projects must be complete by 30 June 2024. Preview the  application site.
---
Final Round: RAF Relief Funding
The final round of RAF Relief funding  will open for applications at 9 am, Monday 14 September 2020.
For projects commencing on or after: a minimum of 4 weeks after application date
Amount: Up to five thousand dollars
Opens: 9:00 am 14 September 2020
Closes: 5:00 pm 30 October 2020 or when funds expended 
Please note, due to outstanding levels of interest in previous RAF Relief rounds applicants are advised to prepare attachments, supporting documents and application draft prior to the round opening. Preview application template here.
---
3-year Strategic Funding with RAF Renewal
Renewal grants will provide up to one hundred and fifty thousand dollars over three years of funding to support projects that have strong partnerships and demonstrated long term outcomes, with sustainable future positioning focus.
Project activities could include partnership projects, community events or programs, First Nations-led renewal and wages for workers (First Nations worker positions will be encouraged). Applications to this program will be by Expression of Interest, by invitation only.  
The first stage of this process will be submission of a Draft Renewal Proposal to Flying Arts, outlining your plans for a transformative and strategic three-year program through a Smartygrants process opening in early September. A formal notification of this process will be released soon.
Send enquiries about RAF Renewal to RAF Lead Nigel Lavender at raflead@nullflyingarts.org.au.
---
About RAF Recovery Boost
The Regional Arts Fund Recovery Boost is a $10 million targeted measure announced by the Australian Government in 2020 as part of the Relief and Recovery Fund. It responds to the difficulties experienced by regional artists, arts organisations and communities who have been heavily impacted by COVID-19. The Recovery Boost is one-off funding and will be delivered through the Regional Arts Fund and seeks to offer short (Relief), medium (Recovery) and long-term (Renewal) support.
For more information about the Regional Arts Fund Recovery Boost please contact Flying Art's RAF administrator on 07 3216 1322 or raf@nullflyingarts.org.au.
The Regional Arts Fund (RAF) is an Australian Government program designed to benefit regional and remote arts practitioners, arts workers, audiences and communities. The fund is provided through Regional Arts Australia and is administered in Queensland by Flying Arts Alliance.