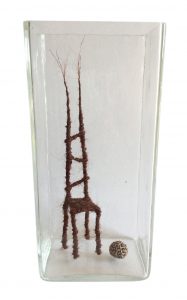 Metaphors are commonly used in poems as a means to evoke strong images in feelings in the reader. The meaning of these metaphors is not always clear which leaves room for individual interpretation and inspires the reader's imagination. As with most of my work I aim to do exactly that through my series Strange Conversations – evoke images, memories and emotions in the viewers, but leave enough untold to inspire their imagination and make their own meaning.
The chairs in Strange Conversations can be seen as metaphor for a person. Each of the chairs are placed next to one or several objects having a "conversation of sorts", referring to the kind of inner conversation or thought process that we sometimes experience when we let our mind wander and wonder about the mysteries of the world, not always able to make sense of things. Human hair and Blue Quandong seed, resembling a brain, can stand for finding or pondering one's identity, shed snake skin and bowl shaped skin shed can be a symbol for letting go but at the same time keeping something precious in form of a memento or treasured memory and the beach findings can be understood as a reference to being stranded as well as elements coming from a world where humans don't belong. 
Each chair and findings are placed in an open glass vessel, which creates a semi-contained space, a sheltered, yet not completely closed off area for these intimate strange conversations to take place.  There is also a whimsical aspect to these works, perhaps triggering memories of childhood play when we used to create our own little worlds where anything was possible.
STRANGE CONVERSATIONS will be on display at the Judith Wright Centre from 24 August – 24 September, 2017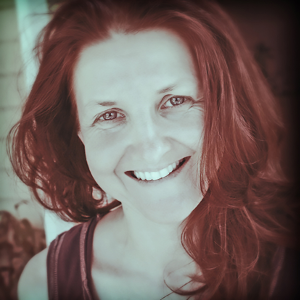 German-born artist Katrin Terton studied art in the US and Germany. She also holds a bachelor degree in Art Therapy. In 2001 she migrated to Australia.
Katrin now lives and works at the Sunshine Coast, Queensland. Katrin has had various solo and group exhibitions in Germany and Australia and has been a finalist in several art prize competitions.
Katrin received a RADF grant in May 2017 to develop a new body of work for a sensory art exhibition – Beyond Sight – aiming to make her work accessible for blind, vision-impaired and sighted individuals and at the same time create awareness among the sighted population.