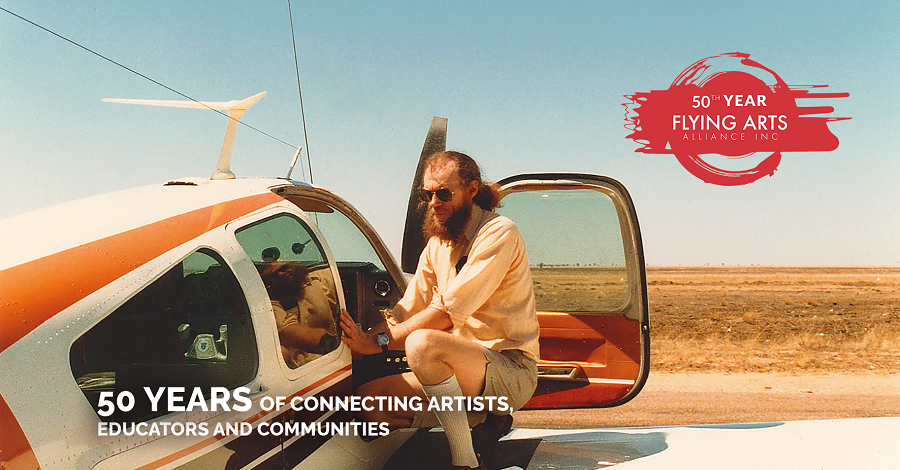 Flying Arts Alliance Inc (originally known as the Australian Flying Arts School) invites members of the visual and regional arts community across Queensland and beyond to join in celebrating the organisation's 50th anniversary on 7 October 2021.
Flying Arts are live-streaming an online event at 6:30 pm and invite anyone who has been involved with the organisation and benefited from their work, inspiring regional and remote artists and communities to access visual arts activities and services to encourage arts careers or interests, regardless of their location across the vast state of Queensland.
The celebrations "take flight" with the announcement of the 2021 winners and finalists of Flying Arts annual arts prize, the Queensland Regional Art Awards, along with the launch of a special anniversary project.
Flying Arts Executive Officer Kerryanne Farrer says she hopes many artists, arts groups, schools and communities across the state and beyond will gather to celebrate this significant milestone.
"This special event is about celebrating our Flying Arts community who have been engine and the fuel of this organisation for an astounding 50 years," said Kerryanne.
"We are so excited to celebrate half a century of Flying Arts as a virtual event so that all members of our community – whether located regionally, remote, interstate or even internationally – can tune into the festivities."
Flying Arts was founded in 1971 and has been credited as being a catalyst for social regeneration and sustaining creative practice for hundreds of artists living on rural properties and in remote and regional towns throughout Queensland.
"For 50 years, Flying Arts has supported rural, regional, and remote arts communities to strengthen and promote wellbeing, social connection, engagement in arts and creativity and in a number of instances launched arts careers," said Ms Farrer.
"From art classes in remote locations, to young artist residencies in metropolitan centres, to online professional development workshops and industry consultations and a prestigious art prize, Flying Arts has provided transformative experiences that has sustained lives, lifestyles and livelihoods and continues this work today, and aims to continue for at least the next 50 years."
For more information on Flying Arts and the virtual event, visit: https://flyingarts.org.au/50-anniversary/
---
For media enquiries, or to arrange an interview with Ms Farrer, please contact:
Odette Miller
Marketing and Communications Coordinator
Flying Arts Alliance
comms@nullflyingarts.org.au
---
About Flying Arts Alliance Inc
Flying Arts is an arts and cultural development organisation which has been delivering visual arts activities, projects and services to regional and remote Queensland since 1971. The Association has played a significant role in inspiring artists and communities, as well as helping to overcome the impacts of regional isolation and remote living.
Flying Arts Alliance is supported by the Queensland Government through Arts Queensland. Flying Arts is the administrator in Queensland of the Regional Arts Fund (RAF), an Australian Government program provided through Regional Arts Australia.
Flying Arts Alliance acknowledges the traditional custodians of the lands and seas on which we work, live and create. We pay our respects to Elders past and present.