QRAA Artist in Residence: Katrin Terton
05mar(mar 5)10:00 am06(mar 6)4:00 pmQRAA Artist in Residence: Katrin TertonCreative Site Activation
Time

5 (Thursday) 10:00 am - 6 (Friday) 4:00 pm(GMT+10:00) View in my time
Location

POP Gallery, QCA Galleries Griffith University

381 Brunswick St, Fortitude Valley, Brisbane
Event Details

Join artist Katrin Terton for a creative site activation featuring hand-building clay and collage objects.

During the site activation period, exhibiting artists from State of Diversity will demonstrate their practice and sell their artworks at pop-up shops.

This program is part of the Brisbane Hotspot – an event which combines a Flying Arts exhibition with a compact suite of engaging public programs.

Open 10 am – 4 pm
Free
---
Katrin Terton's artwork This too shall pass (2019) is included in State of Diversity, the touring exhibition of the 2019 Queensland Regional Art Awards:
Artist Statement

The various organic materials and found objects used for this series of 11 crown-shaped objects were all collected on the Sunshine Coast. The crown symbolises the individual sovereignty we have and the ability to take charge of the changing pathways in our lives. These materials represent the diversity of the local environment, relating to flora, fauna and human-made aspects as well as different endeavours, skills and interests of members of the community. For example: beeswax, shed snakeskin and ashes refer to the quest to protect and manage wildlife and the ecosystem; hair, fibres and book pages to creative pursuits, chillies and kombucha culture to local food artisans. The title alludes to the ephemeral nature of the materials and the evolving environmental and cultural changes and challenges. This work acknowledges the diversity of the local communities and the transience of all elements of the environment we inhabit.

Photographer: Andrew Mortimer
Event Partner/s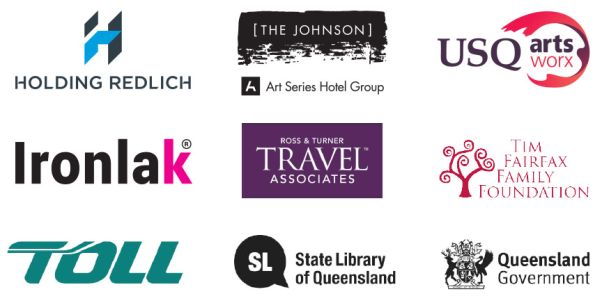 Flying Arts Alliance gratefully acknowledges The Booth Memorial Fund of Annie Tan (Yuh Siew), the Geoff Booth Foundation, David Crombie, Janet de Boer, private donors and the government, philanthropic and corporate supporters and Award sponsors who help make the Queensland Regional Art Awards possible.