QRAA Artist in Residence: Barbara Stephenson
26feb(feb 26)10:00 am28(feb 28)4:00 pmQRAA Artist in Residence: Barbara StephensonCreative Site Activation
Time

26 (Wednesday) 10:00 am - 28 (Friday) 4:00 pm(GMT+10:00) View in my time
Location

POP Gallery, QCA Galleries Griffith University

381 Brunswick St, Fortitude Valley, Brisbane
Event Details

Join artist Barbara Stephenson for a creative site activation featuring textile demonstrations.

During the site activation period, exhibiting artists from State of Diversity will demonstrate their practice and sell their artworks at pop-up shops.

This program is part of the Brisbane Hotspot – an event which combines a Flying Arts exhibition with a compact suite of engaging public programs.

Open 10 am – 4 pm
Free
---
Barbara Stephenson won the Textile Art Award for her artwork and will the blue skies go on forever?(2019), included in State of Diversity, the touring exhibition of the 2019 Queensland Regional Art Awards:
Artist Statement

In a world drowning in waste, I use rejected woollen blankets to create art. Woollen fabric is often discarded for modern materials made of micro-fibres which harm many creatures. And as our country heats up the need for cosy wool decreases. Layers of colour strips are coiled and twisted. I love the way different combinations create new colours but remain harmonious. My piece celebrates the diversity of Toowoomba and the Darling Downs with its endless blue skies and clouds so close it seems you could touch them. We have rainforest in the Bunya Mountains and Eucalypt scrub on the Range, with farming on the rolling plains in between. The looming world climate crisis challenges the diversity of human and natural resources. Hopefully between us, we will find a sustainable balance. But will the blue skies go on forever? Now is the time to put Blue Sky thinking into action.

Photographer: Brian Kenny
Event Partner/s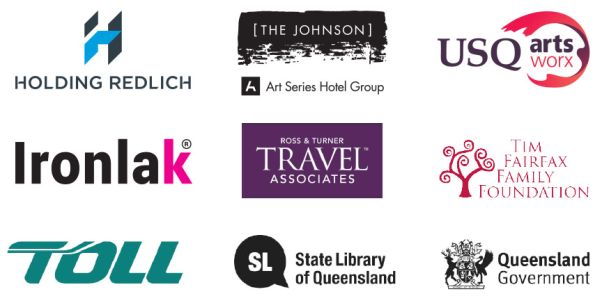 Flying Arts Alliance gratefully acknowledges The Booth Memorial Fund of Annie Tan (Yuh Siew), the Geoff Booth Foundation, David Crombie, Janet de Boer, private donors and the government, philanthropic and corporate supporters and Award sponsors who help make the Queensland Regional Art Awards possible.