QRAA Artist in Residence: Adrienne Williams
24feb10:00 am4:00 pmQRAA Artist in Residence: Adrienne WilliamsCreative Site Activation
Time

(Monday) 10:00 am - 4:00 pm(GMT+10:00) View in my time
Location

POP Gallery, QCA Galleries Griffith University

381 Brunswick St, Fortitude Valley, Brisbane
Event Details

Join artist Adrienne Williams for a creative site activation featuring two-dimensional media.

During the site activation period, exhibiting artists from State of Diversity will demonstrate their practice and sell their artworks at pop-up shops.

This program is part of the Brisbane Hotspot – an event which combines a Flying Arts exhibition with a compact suite of engaging public programs.

Open 10 am – 4 pm
Free
---
Adrienne Williams' artwork Lean Out and Dance (2019) is included in State of Diversity, the touring exhibition of the 2019 Queensland Regional Art Awards:
Artist Statement

The northern headland of the Elliott River is my new home. This work is a conversation through markmaking about the diverse natural, cultural and elemental forces that continue to change and shape where I'm living. A perfect line of planted casuarinas perches atop red volcanic soil, underpinned by a coastline of basalt rock flung in messy patterns from an ancient volcano. Walking out to see these views each morning produces a surge of joy and disbelief within me… do I really live here? And this daily routine has bought a utopian dreamlike quality to this piece with it's perfect line of leaning casuarinas, juxtaposed against tumbledown undergrowth and the jumble of rocky tidelines. Elliott Heads is both caressed and scarred by water and wind – literally the winds of change that will continue to extend it's diversity well beyond my time here.

Photographer: Adrienne Williams
Event Partner/s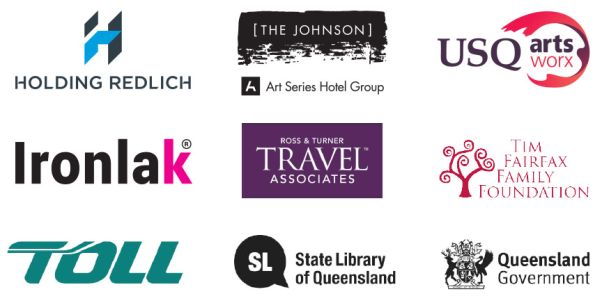 Flying Arts Alliance gratefully acknowledges The Booth Memorial Fund of Annie Tan (Yuh Siew), the Geoff Booth Foundation, David Crombie, Janet de Boer, private donors and the government, philanthropic and corporate supporters and Award sponsors who help make the Queensland Regional Art Awards possible.