Our Globalised World: Exploring diaspora through art practice
18aug3:30 pm4:45 pmOur Globalised World: Exploring diaspora through art practiceWebinar for Teachers & Educators
Time

(Thursday) 3:30 pm - 4:45 pm(GMT+10:00) View in my time
Event Details

Hear Eugenia Lim discuss her video, installation and participatory performance based art practice and recent projects on globalisation, diaspora and identity.

This webinar is suitable for visual art educators, and people interested in the intersection of art, globalisation and national identities. This webinar links to the Cross-Curriculum priority of 'Asia and Australia's Engagement with Asia'. In particular, Organising Ideas (OI) 4-8 will be discussed:
OI.4 The arts and literature of Asia influence aesthetic and creative pursuits within Australia, the region and globally.
OI.5 Collaboration and engagement with the peoples of Asia support effective regional and global citizenship.
OI.6 Australia is part of the Asia region and our histories from ancient times to the present are linked.
OI.7 Australians play a significant role in social, cultural, political and economic developments in the Asia region.
OI.8 Australians of Asian heritage have influenced Australia's history and continue to influence its dynamic culture and society.
Please bring:
Questions to discuss with Eugenia about her work. You will have the option to provide these to Flying Arts in advance of the webinar.
Note-taking materials (recommended).
Banner image: Detail from Eugenia Lim's 'Shelter' (2015).
---
Event Partner/s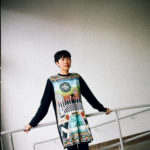 About your facilitator:    Eugenia Lim is an Australian artist of Chinese–Singaporean descent who works across video, performance and installation to explore how national identities cut, divide and bond our globalised world. Based on unceded lands in the Kulin Nation, Lim has exhibited, screened or performed at the Tate Modern, LOOP Barcelona, FIVA (Buenos Aires), Recontemporary (Turin), Kassel Dokfest, Museum of Contemporary Art (Syd), ACCA, Melbourne Festival, Next Wave, ACMI, FACT Liverpool and EXiS (Seoul). She has been artist-in-residence with the Experimental Television Centre (NY), Bundanon Trust, 4A Beijing Studio, Gertrude Contemporary. She co-founded CHANNELS Festival and most recently, was the co-director of APHIDS. Eugenia Lim is represented by STATION.
Headshot photographed by Leah Jing.