01sep3:30 pm4:45 pmDigital Art & the Climate CrisisWebinar for Teachers & Educators
Time

(Thursday) 3:30 pm - 4:45 pm(GMT+10:00) View in my time
Event Details

In this webinar, join Rachel O'Reilly as she discusses her practice as a settler artist, writer, curator and Phd candidate at Goldsmith's Centre for Research Architecture. Rachel will discuss her research project The Gas Imaginary (2013-2021), which used poetry, drawing, installation and moving image media to explore the difference of unconventional fossil gas (fracking) from colonial modern mining regimes. The final work, a feature-length installation INFRACTIONS (2019) platformed Indigenous cultural workers perspectives on fracking in Queensland and the Northern Territory and toured nationally in 2020-21.

This discussion is relevant to visual art educators teaching to the Australian Curriculum priority area of 'Sustainability', as well as those interested in learning about the relationship between art making, critique and sustainability. In particular, this webinar will link to Organising Ideas (OI) 3-9:
OI.3 Sustainable patterns of living rely on the interdependence of healthy social, economic and ecological systems.
OI.4 World views that recognise the dependence of living things on healthy ecosystems, and value diversity and social justice, are essential for achieving sustainability.
OI.5 World views are formed by experiences at personal, local, national and global levels, and are linked to individual and community actions for sustainability.
OI.6 The sustainability of ecological, social and economic systems is achieved through informed individual and community action that values local and global equity and fairness across generations into the future.
OI.7 Actions for a more sustainable future reflect values of care, respect and responsibility, and require us to explore and understand environments.
OI.8 Designing action for sustainability requires an evaluation of past practices, the assessment of scientific and technological developments, and balanced judgements based on projected future economic, social and environmental impacts.
OI.9 Sustainable futures result from actions designed to preserve and/or restore the quality and uniqueness of environments.
Please bring:
Questions to discuss with Rachel about her work. Please note you will have the option to provide these to Flying Arts in advance of the webinar.
Note-taking materials (recommended).
---
Additional Information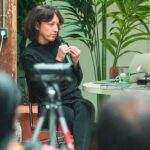 About your facilitator: Rachel O'Reilly is a settler artist/writer/curator and Phd candidate at Goldsmith's Centre for Research Architecture. Her work engages questions of subjectivity, governance and planetarity paying particular attention to language and the moving image. She teaches theory at the Dutch Art Institute, and is a current Fellow in Ecology at Sandburg Institute. Her artistic work has been presented at IMA Brisbane, UNSW, KW Berlin, ICA London, Van Abbemuseum, E-flux, Tate Liverpool, and Qalandiya International. Curatorial collaborations include The Leisure Class, GoMA; Moving Images of Speculation JvE; Ex-Embassy.com at the Former Australian Embassy to the GDR, Berlin, and 'Planetary Records: Performing Justice between Art and Law', Contour Biennale. From 2013-21 her artistic research project, The Gas Imaginary, used poetry, drawing, installation and moving image media to explore the difference of unconventional fossil gas (fracking) from colonial modern mining regimes. The final work, a feature-length installation INFRACTIONS (2019) platforming Indigenous cultural workers perspectives on fracking in Qld and NT, toured nationally in 2020-21. www.infractionsdocumentary.net