Create a 'Community Quilt' with Dr Karike Ashworth - Blackall
01jul10:00 am2:00 pmCreate a 'Community Quilt' with Dr Karike Ashworth - BlackallCreative Community Workshop
Time

(Saturday) 10:00 am - 2:00 pm AEST(GMT+10:00) View in my time
Location

Bushmans Art Gallery, Blackall

Bushmans Hotel Site, 119 Shamrock St
Event Details

Come along to the Bushmans Artisan Gallery in Blackall and contribute to a 'community quilt' with Dr Karike Ashworth using paper-based domestic products!

Throughout Blackall's history, women have played vital roles, managing households, raising children, and supporting their families in the pastoral community. Over the years, they engaged in social activities, church groups, and suffrage movements. Today, Blackall remains closely tied to its pastoral heritage, with women actively involved in diverse industries, healthcare, education, and community organisations, shaping the town's present and future.

This workshop will take the form of a community paper weaving workshop, where participants work together collaboratively to create a single 1m x 1.5m 'community quilt' made of shopping receipts and other paper-based domestic products.

This 'community quilt' highlights the important intergenerational role that women have played, and continue to play, in shaping Blackall's history. This name speaks to the legacy that is still being woven, with contributions from women living in the Blackall region today —women who are the fabric of the community.

At the end of this workshop, you will have:
Contributed to a 'community quilt' alongside Blackall residents and visitors.
Developed an appreciation for everyday materials, such as receipts, shopping lists and notes.
Reflected on the history of the Blackall region and Bushmans Artisan Gallery.
This is a slow-paced workshop. No previous skills are required – just a community-minded attitude. Suitable for ages 13 years to adults. All children must be accompanied by a supervising parent or carer.
_________________________________________________
Please bring:
For comfort & safety
Closed in shoes are recommended
Water bottle & snacks
For the workshop
Participants are encouraged to please bring the following paper-based domestic items to add to the 'community quilt':
Handwritten shopping lists
'Things to do' lists (cleaning chores, washing, gardening etc.)
Hand-written calendars
Grocery shopping receipts (from Blackall local grocery stores: Foodworks, IGA, SPAR, local butcher etc.).
Medical scripts
Children or grand children's school circulars, school newsletters etc.
Annual diaries (current and past)
Other paper-based domestic materials
_________________________________________________
Further information:
This workshop is delivered as part of the Queensland Regional Art Awards (QRAA) Reframe touring exhibition which will travel to Charleville, Longreach, Blackall, Moranbah and Cairns in 2023.
The QRAA is an annual visual arts prize and exhibition for established and emerging artists living in regional and remote Queensland. The program aims to provide a platform for further professional development. The 2022 QRAA explored the concept of 'Reframe', calling artists to enter work which drew upon experiences and observations, reflecting upon the past year or two and responding to our changing world. 'Reframe' is an opportunity to see our current situation from a different perspective, to inspire problem solving and decision making and apply learning, whilst constructively responding, shifting and evolving.
This project is supported by the Queensland Government through Arts Queensland. Flying Arts Alliance was a recipient of the Touring Queensland Fund – Round 1a 2023 to deliver Reframe the touring exhibition of the 2022 Queensland Regional Art Awards.
For further information visit here.
Image Credit: Karike Ashworth, Domestic Topography (sample I), 2023 (detail).
---
Additional Information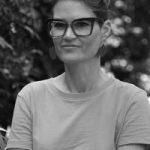 Dr Karike Ashworth is an award-winning multidisciplinary artist-researcher-teacher living and working in Meeanjin (Brisbane). Her experimental research practice consists of performance, time-based media, objects and installations. Her practice is informed by a feminist epistemological approach; in that she views the world through a woman's perspective; and uses her practice to build knowledge and understanding of how patriarchal structures like gendered expectations control and contain women.
Image Credit: Andrea Higgins.