Colour and Response - Roma
27sep(sep 27)9:00 am09nov(nov 9)5:00 pmColour and Response - RomaExhibition
Time

September 27 (Friday) 9:00 am - November 9 (Saturday) 5:00 pm(GMT+10:00) View in my time
Location

Roma on Bungil Gallery

Hawthorne St
Event Details

The Colour and Response project consists of two exhibitions at each venue. The first exhibition, Colour II: Merv Moriarty, In the Field features works by Flying Arts founder, Merv Moriarty. Each gallery will also present a local exhibition drawing on Flying Arts legacies, under the mentorship of Flying Arts curator Lisa Beilby.

Roma on Bungil's response exhibition: From the Verandah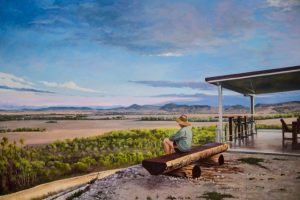 Just like backyard cricket, the 'Hills Hoist' clothesline and even the humble lamington – the verandah is an iconic feature of the Australian cultural landscape. It has found a permanent home within the urban and rural landscapes of the 'sunburnt country'. Providing solstice from the harsh summer sun, the verandah is essentially an alfresco area for families to gather, sit down and watch the kids play in the garden or the world go by. A veranda provides the perfect stopgap between the backyard and the house, a sheltered area in which you can enjoy nature without succumbing to its whims!, It is a long held Australian tradition for the fun to take place on the family veranda.
This theme was chosen because the verandah so quintessentially typifies the Australian Outback where the artists that attended Marv's workshops, lived and worked and were influenced by his tutoring. During his travels Merv would have sat on many a verandah enjoying the hospitality of his students and their families and taken the time to appreciate and to be influenced by, the colours of the outback views.
Image credit: Heather Chandler-Moore A Place to sit and Think 2019, oil, 60 cm x 66 cm
Opening Hours:
Monday – Friday 9am – 5pm, Saturday 9am – 12pm
Free
Event Partner/s

The Colour and Response Project has received financial assistance from the Queensland Government through the Arts Queensland Playing Queensland Fund.