During the last weekend in February 2019, Texas Regional Gallery celebrated the opening of the two-part exhibition Colour II: Merv Moriarty in the Field and their own 'response' exhibition Inspiration & Legacy.
Showcasing the works of Flying Arts founder Mervyn Moriarty alongside artists who have been influenced by his practice, the two exhibitions reinvigorated Merv's legacy in the Texas region. The exhibition is part of the Colour and Response program where regional galleries were mentored by Flying Arts Exhibition Lead Lisa Beilby to develop their 'Response' exhibitions.
---
Exhibition Development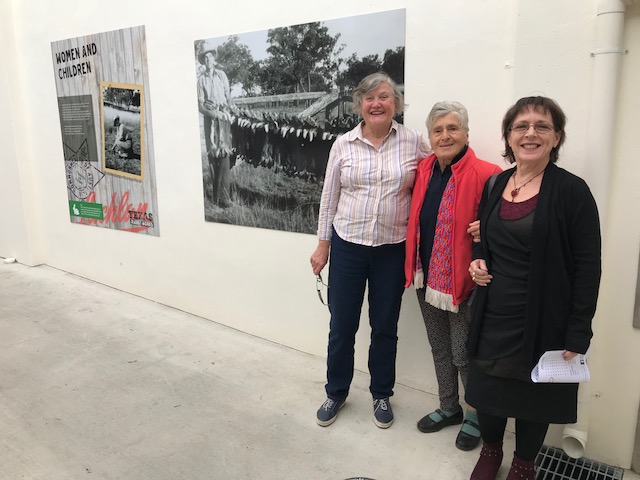 Development of Texas Regional Gallery's 'response' exhibition Inspiration & Legacy began in the latter half of 2018 with Flying Arts Exhibition Lead Lisa Beilby making the trek to Texas to lead curatorial mentorship workshops.
Lisa was joined by Texas Arts Council Secretary and Publicity Officer Maxine Steward and Texas Arts Council member Barbara Coventry for the two intensive curatorial sessions, translating Mervyn Moriarty's connection to the Texas region into a unique curatorial concept.
Maxine Stuart said that the workshop sessions provided immense guidance and professional development for the Texas Regional Gallery team, allowing them to grow their skills for future exhibitions.
"Texas is a small and quite isolated rural town with a population under 1000 people. Staffed and managed by volunteers, the Texas Regional Art Gallery has run continuously since it opened in 2000. As a small team who are working to our best ability, these workshops have enabled us to more confidently curate the 'response' part of the exhibition.
What's most exciting is that we are creating new and enhanced relationships with members of our greater community by contacting them with regard to Mervyn Moriaty's workshops. We are looking forward to a successful response from the community that will lead to an interesting exhibition!"
Opening Ceremony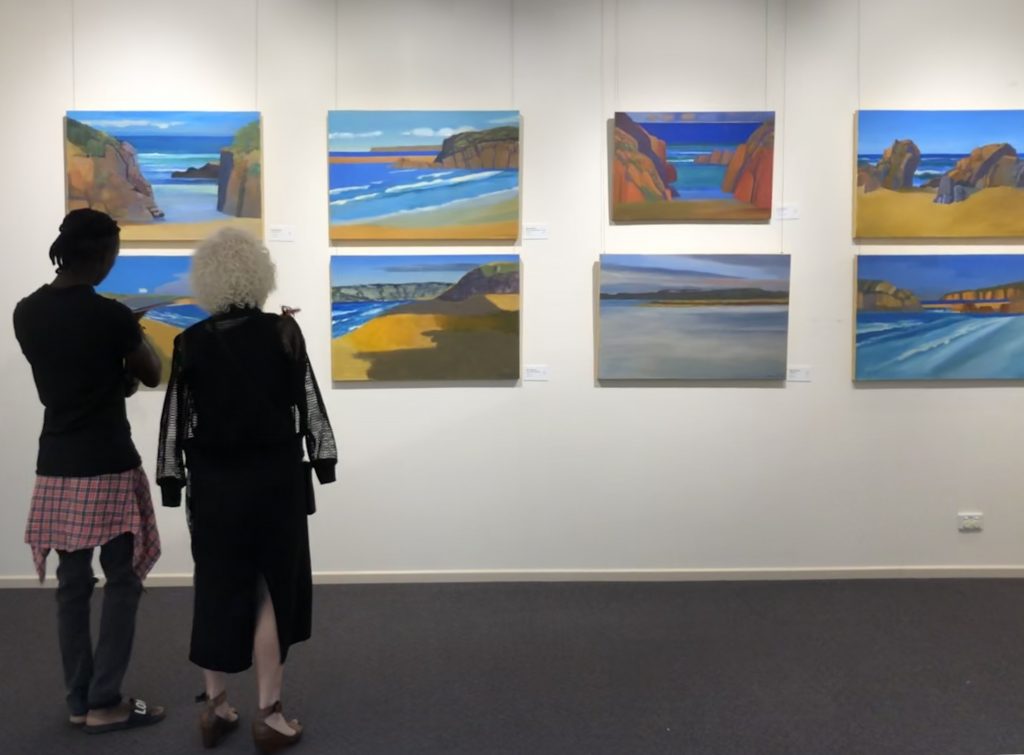 The official weekend began with a well-attended opening ceremony on Saturday 23rd with guests including Mervyn Moriarty, his partner Prue Action and Flying Arts CEO Kerryanne Farrer. 
Artist Helen Woods, whose artwork Binna Burra Mountains was included as the promotional image for Inspiration and Legacy, shares her thoughts on the exhibition.
Helen was a participant of Mervyn's Flying Arts School back in the 80's and a written account of her experiences with Merv is included in a portfolio accompanying the exhibition.
"The Art School was held in an old shed on the Wilson property 'Nungwa' which was in close proximity to the airport, and very convenient for little planes [such as Merv's]… I had an experience with Mervyn I shall never forget.
We were all painting away in the shed when a very violent storm brewed up. Mervyn had forgotten to tie his little plane down! As I had my car nearby I was chosen to drive him with haste to the airport – the wind, lightning and dust were frightening. As we approached the Cunningham Highway I was blinded with dust and decided to stop, but Mervyn had other ideas so we had to carry on regardless of any trucks or cars that may have been on the highway. 
Thankfully, the plane was safe and we lived to tell the story!" – Helen Woods
Mervyn Moriarty's Masterclass
The weekend's festivities concluded on Sunday 24 February with a painting masterclass run by Mervyn Moriarty. In the one-day intensive Merv instilled his knowledge of selecting colour and hues for plein air and still life works. Participants used their own artworks as a reference and transposed their new knowledge of the Moriarty Colour Wheel to further develop their art-making practice.
See below for a snapshot of the masterclass and some of the artworks produced on the day.
The Colour and Response exhibition showed in Texas from the 19th of January to the 2nd of March, 2019. See the full touring Colour and Response itinerary here.
---

The Colour and Response Project has received financial assistance from the Queensland Government through the Arts Queensland Playing Queensland Fund.