The Queensland Regional Art Awards (QRAA) has seen some extraordinary art and artists emerge from its 7 year history. One of the Alumni of this prestigious and unique award and exhibition is Alinta Krauth. We asked them a few questions about her experience with the awards and what they're up to now! The Queensland Regional Art Awards 2017 is now open for entries.
---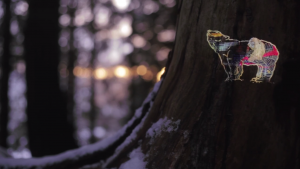 What was your reaction when you found out your work would tour Queensland? How did it feel to be selected?
My work toured as part of the 2015 Queensland Regional Art Awards, 'Vital Signs'.
At the time, I had only been a practicing artist for a year, so I was very excited to be a part of QRAA. My work was an interactive artwork that was shown on a computer screen, so that the audience could make their own changes to the work. There was always a concern that this set up would be a bit difficult for some galleries and QRAA, but they handled everything perfectly!
I felt as though my work was very different to other finalists, so it was so interesting to see it in exhibition beside beautiful paintings and other images. When I went to visit the work, it was one of my first experiences of seeing my computer-based digital interactive work in a traditional gallery setting, and this really helped me to be able to envision my work as being just as socially important, and just as 'gallery-ready', as more traditional art styles.
What benefits do you think have come from your work touring Queensland with the awards?
Since that 2015 tour, I have gone on to create a slew of new works that have toured internationally and been seen in some of the country's largest projection festivals such as White Night Melbourne.
I think programs such as QRAA have helped me to keep a part of my arts practice grounded in local issues. While some of my works have been made for a global audience, I've also done a range of projects since 2015 that are locally based to my area, including working with local regional galleries such as Ipswich Regional Gallery and The Centre in Beaudesert. I have also made my own small events for locals such as 'Bioluminous Walking' projection event on Tamborine Mountain (see video below) and 'Tree:Mails: Scenic Rim' web platform – both of which were helped by a RADF grant. This has allowed me to use the kinds of digital technologies not often seen in small rural areas for the benefit of locals, even though the current arts climate usually sees digital artists moving to other parts of Australia or the world. Queensland has such potential as a vibrant digital arts hub, and arts organisations, the government, and the community should (hopefully) all foster this to help it grow.
What else have you been up to in your artistic practice since your artwork started touring? Has your practice evolved or changed in that time?
My practice has definitely evolved since 2015. I began in netart and projection mapping, which can at times be more 'spectacle' than 'art', and my hope was to bring these two things together, in order to bring important environmental issues to a mainstream/new audience. My themes within my works were fairly broad, and focused on narrative and content rather than concept necessarily. But now I've narrowed down my focuses to environmental science themes, and this has allowed me to think about my practice in different ways. I've recently spent a year in Europe, with a solo exhibition at Art Laboratory Berlin, and a series of artworks across Norway and Ireland, including taking my small-town event ideas such as 'Bioluminous Walking' and giving this a Norwegian flair.
I've experimented with new ways for art to be interacted with, including hand-made interactive kinetic controllers, touchable canvases that drive digital works, and gesture-based systems. I've delved into more traditional video art, which is very new to me, and sound art. I have experimented with creating what I call 'projection sculptures', faux holographic sculptures, augmented reality applications, and touchscreen artworks. So I've started combining the digital with the real world. Playing and experimenting with technology, in as sustainable way as possible, is a nice way to communicate environmental issues that resonate on both a local and a global level – species extinction, climate change, and new knowledge in the sciences. This is a nice focus for me because it involves artistic skill, tech skill, and a great deal of research.
The inclusion of creating stand-alone events and animating spaces (such as libraries and universities), rather than just being a part of a gallery's exhibition of festival, has also allowed me to get more into the realm of event management and curating, and working with city councils and city planning institutions around the Brisbane area, which is an exciting new path for me that I never thought I would end up on.
However I do hope my practice continues to evolve over the coming years, as I feel as though, as an early career artist I haven't yet reached my 'final form'.
Do you have any upcoming exhibitions, events or projects you'd like to let people know about?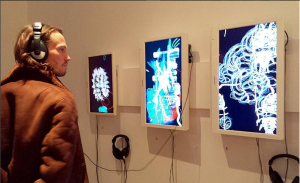 I have a video work called 'The Nonhuman Subject (no. 1)' in an exhibition called GrassRoots and Woman Made Gallery in Chicago, USA from the 5th of May to the 17th of June.
For something more local, I have an interactive installation at The Centre in Beaudesest QLD, for 'Caring for Country' exhibition from June to August. It will be about my web platform Tree:Mails, that people can use to have email conversations with trees from across the Scenic Rim – a combination of creative writing, AI, and imagination!
---
Learn more about Alinta Krauth on Facebook, Instagram or www.alintakrauth.com
Images and video courtesy of the artist.