Flying Arts 500 Club celebrated at Art at 'Toonarbin' Event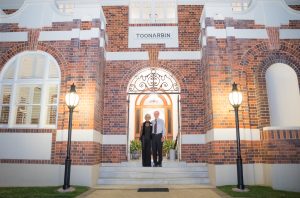 Flying Arts' 500 Club is a valued group of donors who significantly help us grow our programs and services that support and develop established, emerging and aspiring artists, young people and communities across Queensland.  500 Club donations strengthen our signature event, the Queensland Regional Art awards, and, importantly, help us connect isolated regional and remote Queensland communities through visual arts activities and programs.
The grand doors of 'Toonarbin', the magnificently restored Georgian home of early settler, Captain Henry O'Reilly, and former convent, were opened wide to Flying Arts Alliance and guests on Friday, 24 August to grow our 500 Club donor circle at a very special fundraising event.
See pictures and read the speeches from the event.
If you are interested in donating to the 500 Club, or would like to give to the Flying Arts Alliance 'Art for Life' fund, please contact development@nullflyingarts.org.au  or donate online.
Have you voted yet for People's Choice?
Voting for People's Choice in the Queensland Regional Art Awards 2018 yet? Voting closes September 6, which is just a few days away! Yours could be the vote that determines the winners of the adult and youth People's Choice categories thanks to Ironlak. View the best of regional and remote Queensland art and vote today.
Registration Deadline Extended: Artiz Street Art at USQ
Young artists in Years 9 – 12 now have until September 14 to register for Artiz Street Art at USQ. A full program for this residential art experience have now been released on the website, alongside information about the facilitators, Dr Rhi Johnson and Karri McPherson. We hope to see you all there!
Become a Webinar Presenter
Trained educators are invited to submit an expression of interest to join our team to develop and deliver our Connecting Art with School Curriculum webinar series in 2019. We are particularly looking for those with experience in using the National Curriculum and planning cross-curricula lessons to connect art with other learning areas and cross-curriculum priorities such as Mathematics, Geography, Aboriginal and Torres Strait Islander Histories and Cultures and Sustainability.
Please email our Scheduled Program Lead at scheduled@nullflyingarts.org.au for more information.
New Trust and Foundation Supporter
Flying Arts Alliance is thrilled to announce its newest Trust and Foundation supporter, Gandel Philanthropy. Their generosity will ensure that our Small Schools Program, providing enriching arts experiences to schools and communities with the least access, will continue to expand and thrive.  Thank you, Gandel Philanthropy!
---
In the Regions
Small Schools Fund Outcome: Avondale State School
Inspired by scientific exploration processes, students from Avondale State School invited Flying Arts Alliance's, Kayako (Kay) Watanabe to facilitate a workshop on how to record their observations artistically.
Over three days, the Avondale State School students participated in a variety of printmaking activities facilitated by Kay, centered on (but not limited to) the theme of bugs. After learning about insects in Science, the students were encouraged to apply their scientific knowledge to design suitable plates for printmaking.
---
Regional Arts Fund
Applications Open: Community Project Grants
Applications close 28 Sept @ 5:00 pm
Regional Arts Fund Community Project Grants support applications which benefit the community, increase access and participation, and/or provide direct benefits to artists/arts workers.
Apply Now
Applications Open: Quick Response Grants
Applications close 30 November @ 5:00 pm or when funds have been expended
Funding is available for artists, arts practitioners and volunteers residing in regional and remote Queensland to conduct projects commencing on or after four weeks from time of application.
Apply Now
The Regional Arts Fund (RAF) is an Australian Government program designed to benefit regional and remote arts practitioners, arts workers, audiences and communities. The fund is provided through Regional Arts Australia and is administered in Queensland by Flying Arts Alliance.
---
Artlands 2018: Full Program Announced
The full program has now been announced for Artlands 2018. Presented by Regional Arts Victoria as an integrated conference and cultural program, Artlands Victoria 2018 aims to combine a curated program of works in progress, explorations and commissioned projects alongside an engaged speakers program.
More Information
Artlands 2018: Subsidies Available for artists and independent practitioners
The second round of artist & independent practitioner registration subsidies for Artlands are now open. Regional Arts Victoria is offering a limited second round of $180 subsidies to attend the Artlands Victoria conference. Applications close 9 September.
More Information
---
Your voice is critical to building a clear understanding of how Australian creative communities are operating and what they need to thrive. Take a moment to fill in the Creative Ecologies survey. The findings will contribute to the development of new approaches and resources for arts practitioners & policymakers.The research will be presented at Artlands Victoria this October.
Complete the Survey
---
Upcoming Programs
Queensland Regional Art Awards
---
For Artists & Artsworkers
---
For Young Artists
---
For Teachers & Educators
---
Exhibitions
---
Book a By Request Workshop
Flying Arts offers a range of By Request programs for Schools and for Creative Communities such as groups, festivals, local government and organisations. By Request workshops and projects can be delivered on-demand for all age groups and skill levels, anywhere in Queensland or online.
---
Become a Flying Arts Member
Standard Membership is available to individuals, groups or corporates. It comes with a full range of benefits including rebate vouchers, discount vouchers, and ability to submit members news.
Accredited Membership confers all benefits of standard membership in addition to providing coverage under the Flying Arts General Liability and Personal Accident Insurance Package.
---
As a Standard Financial Member you receive a number of benefits including:
2 x $25 rebate vouchers for standard workshop fees per year
Savings/discounts from participating Retail Associates
Special rates on workshop fees for workshops, consultations and events
Special rates on entry fees/registrations for events and projects
Voting rights at Annual General Meeting
Receipt of regular e-news bulletins & updates
Ability to post to the your events, exhibitions and workshops to the members news feed on the Flying Arts website
Other benefits as may arise
We value our members highly as part of the Flying Arts artist network. To stay connected, take advantage of the member benefits, and be a part of the visual arts scene we invite you to become part of our member network.