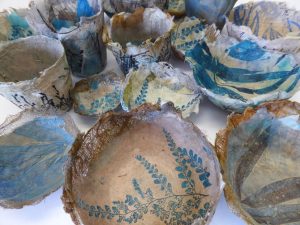 Containment
30 small handmade vessels of varying dimensions
re-purposed papers, Japanese papers, eco-dyed textiles, monoprints
 55 x 55 x 15cm (variable installation) NFS
The colonial occupation of Australia has irrevocably modified the character, extent and connectivity of natural bushlands and eco-systems, creating islands of remnant wild areas in a sea of agriculture and urban development.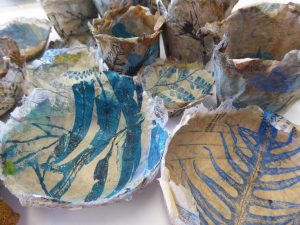 Containment is a series of organic vessels that respond to this fragmentation of habitats and the subsequent impact on the biodiversity and survival of native plant species.
The vessels are imprinted with the imagery of leaves and grasses collected from local remnant bushland, memorialising the natural specimens into three dimensional representations of their fragility and impermanence.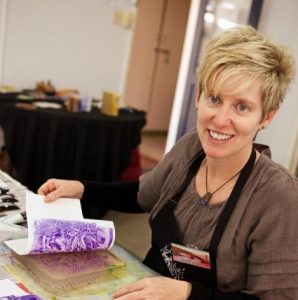 Sandra Pearce is a Brisbane based artist, with a background in painting, printmaking and papermaking.
Over the past ten years, Sandra has exhibited widely in both regional and private art galleries, with several solo exhibitions. Her artist books have been acquired by the State Library of Queensland for their artist book collection. Her monoprints have been acquired by major institutions both in Australia and overseas as part of folio box projects, as well as prints being held in local public hospital collections. Sandra has completed several artist-in-residence community programs, most recently in Cataract Gorge, Launceston. You can read more about Sandra here.