Drifting – Woven Sculpture Collection
Cindy Wood's Drifting woven pieces were inspired by a beautiful island getaway. Escaping from the 'day to day' treadmill of life to explore, enjoy and rejuvenate on a deserted island. To witness the moon & sun both rise and set from one beach truly connects you to the natural rhythm and tides of island life.
Driftwood foraged provides support, flow & stability that floated ashore to join together and tell of the journey through the waves onto the shore. Sun bleached and at peace in the sands of island times.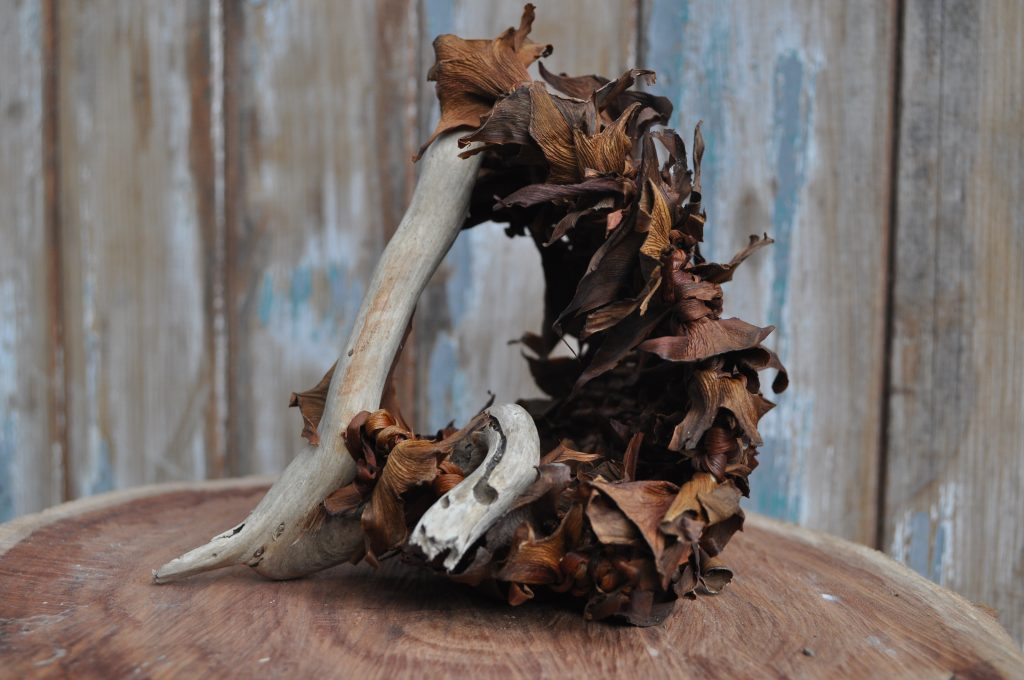 Fungi
mini philodendron & driftwood
L:14cm x H:14cm x W:12.5cm
$125
enquire to purchase
Lizard
mini dracena & driftwood
L:13cm x H:13.5cm x W:10cm

$125
enquire to purchase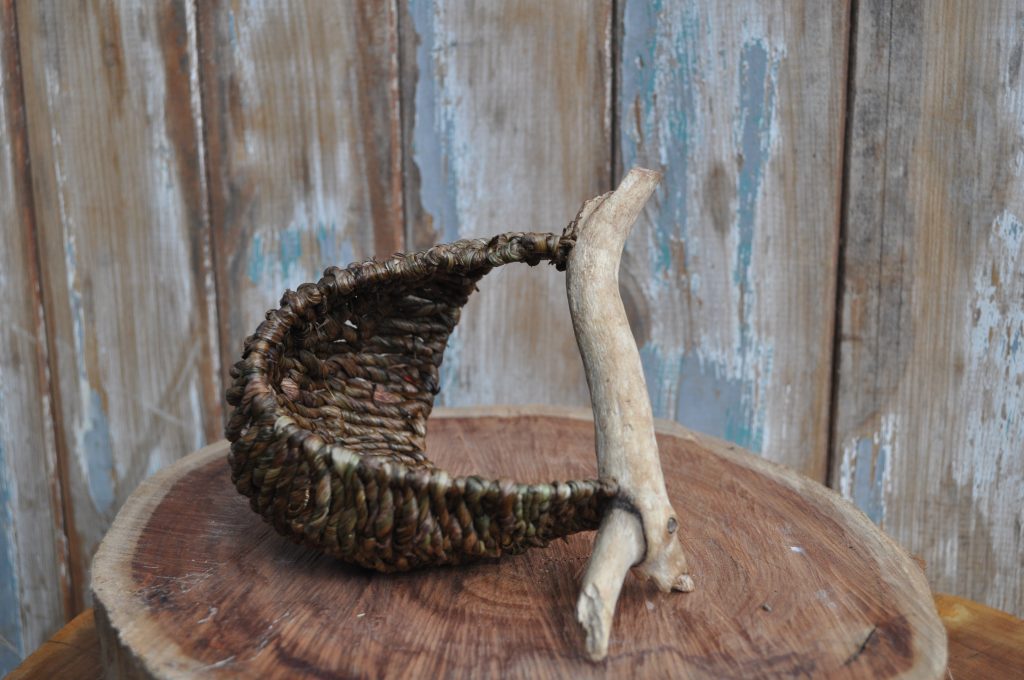 Moon
twined red hot poker & driftwood
L:17cm x H:9cm x W:13cm
$125
enquire to purchase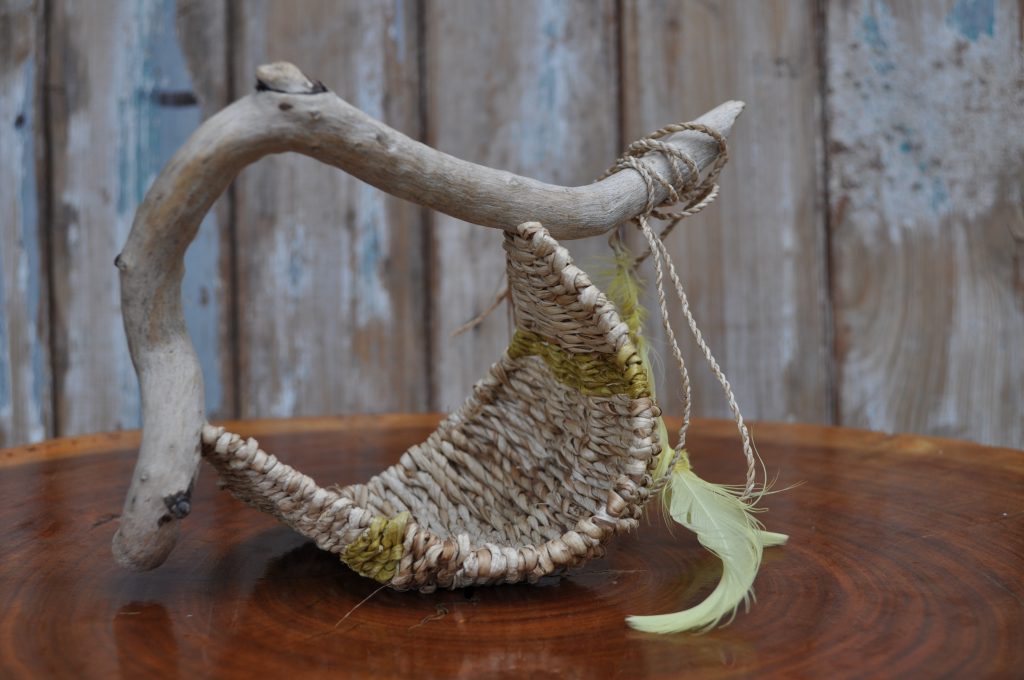 Sail Away
banana, cockatoo feathers & driftwood
 H:11cm x W:9cm x L:16cm
$125
enquire to purchase
Cindy's Drifting series will be on display at the Judith Wright Centre from 31 August until 23 November 2018  Flying Arts Featured Artists – Spring Exhibition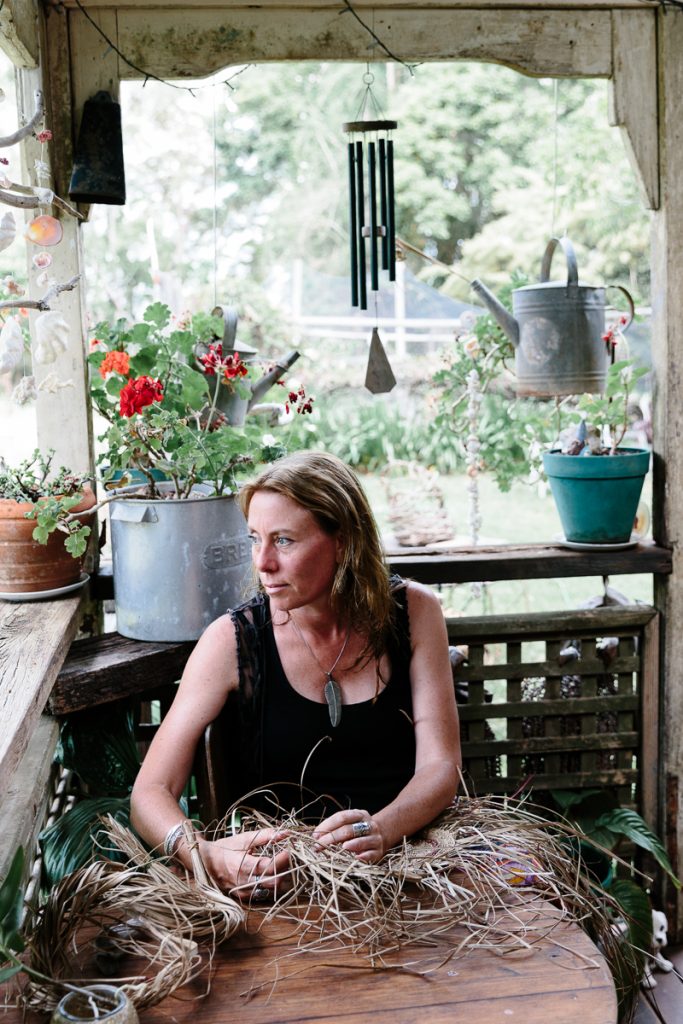 Cindy Wood began her weaving adventure 25 years ago, making a basket with the use of native vines. Since then she has continued to explore creating with natural fibres and attend workshops to extend her knowledge and skills.
Cindy facilitates Basket Weaving Workshops for Youth Programs, Home School Groups, in School Programs and adults and Corporate Groups. She enjoys sharing her knowledge with others and inspiring them on their weaving and creative journey.
Cindy has enjoyed exhibiting her work at Tamborine Mountain during an annual Open Studio Event and at private local galleries, festival and private installations and commissioned art pieces. read more