Want to receive Flying Arts updates in your inbox each month? Sign up to our eNewsletters
---
We are hiring! Flying Arts Alliance has welcomed the opportunity to create a part-time First Nations-identified Cultural Worker position, funded through the Regional Arts Fund Boost Program. The Regional Arts Fund First Nations Cultural Worker role is designed to promote and support First Nations multi-arts activity throughout Queensland.
Does this sound like the role for you or someone you know? See the position description and email us your application before 5:00 pm Tuesday 27 April.
The recipients of the Australian Government's major strategic funding under Regional Arts Fund Recovery Boost – Renewal Grants have now been announced. Six hundred thousand dollars will go towards four key regional Queensland companies to undertake renewal initiatives over 3 years after COVID-19. Read the Media Release
Flying Arts is soaring to outback Queensland this June to celebrate the regional launch of Decadence with a long weekend of workshops and social activities and we'd love for you to join us! We'd particularly like to invite you to attend the Decadence Opening Event on Saturday 26 June at Mulga Lands Gallery  with judges and touring artists. We hope you'll participate in all the Flying Arts programs (or just one!) and pay a visit to the local tourist attractions. Register now
---
Program Highlights
Following the success of our first Educator webinars of the year, we're excited to welcome artist and educator Lynette Griffiths for Connecting Art with Climate. Lynette is a leader in ghost net art collaborations nationally and internationally, advocating for environmental sustainability. Sign up for the free webinar
Do you know a budding artist or writer currently completing year 11 or 12? Early bird tickets are now available for our annual critical writing program, Art Enquirer with IMA. Read more about this year's virtual 5-day program below.
---
Professional Development Opportunities (view all)
For Artists and Artsworkers (view all)

For Teachers and Educators (view all)

---

Get your keyboard at the ready, our critical arts writing program is back!

Over 5 half-day workshops, digitally tour galleries and artist studios, meet contemporary artists, and work with established industry mentors to hone your art writing and critique skills. 
Participants will produce an essay edited by professional writers that could be selected to be published in Art Enquirer magazine by the Institute of Modern Art (IMA). Register Now

---
For Schools and Communities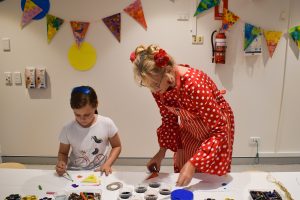 Case Study: Bunting for Happiness at Redlands Art Gallery
Our By Request facilitator, Lee Fullarton recently hosted a mixed media happiness bunting workshop for kids and families at Redland Art Gallery  to celebrate UN International Day of Happiness. Participants created gorgeous buntings to hang in their home and discussed the ways creativity makes them happy!
Now is the time to plan your programs for the latter half of 2021! Reach out to our By Request team any time to book your bespoke visual arts or creative industries workshop for any age or ability level. Enquire Now
---
Regional Arts Fund

Announcement: Major Strategic Funding Recipients Announced
Flying Arts Alliance and Regional Arts Australia have announced the successful recipients of a total of six hundred thousand in strategic arts funding under the RAF Recovery Boost – Renewal grant stream. The successful recipients are Bundaberg Regional Council, danceNorth Austalia Ltd, Just Us Theatre Ensemble Trading as JUTE Theatre Company, and Umbrella Studio Contemporary Art. Read more
---
Do you have your application ready? Round 2 Quick Response Grants open at 9 am, 12 April! Quick Response Grants are intended to assist regional artists, arts organisations and communities to take up professional or skills development or small project opportunities. Learn More

Artlands 2021 is seeking expressions of interest from speakers who can respond or reflect on multi-discipline art practice across in regional, rural or remote Australia or within the Asia-Pacific or globally. As the largest regional arts gathering in years, let's ensure Queensland's voice is heard! Read more

---
Bursaries Available for Arts on Top: Regional Arts Forum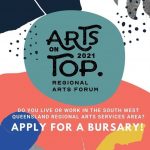 Bursaries are now available for artists and artsworkers in the South West RASN Region to attend the Arts on Top: Regional Arts Forum happening 13 – 15 May 2021 at the Bunya Mountains.

Eligible regions include Balonne, Goondiwindi, Lockyer Valley, Maranoa, Scenic Rim, Southern Downs, Toowoomba and Western Downs. Apply for an application before Monday 19 April. Apply Now
---
Standard Membership started April 1! Have you signed up?
Flying Arts offers Standard Membership with a full range of benefits including rebate vouchers, discount vouchers, and ability to submit members news. Accredited Membership includes all benefits of standard membership in addition to providing coverage under the Flying Arts General Liability and Personal Accident Insurance Package.
Learn More
---
Exhibitions on the Road
---