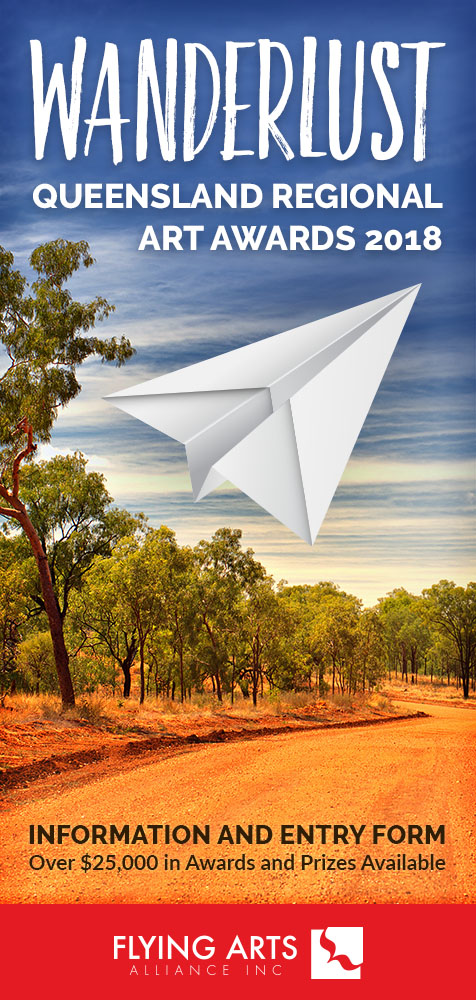 The Queensland Regional Art Awards (QRAA) is an annual visual arts prize and exhibition for established and emerging artists living in regional and remote Queensland. The program aims to provide a platform for further professional development.
From dirt roads to rock pools, luscious rainforests to local festivals, Queensland is a state that inspires exploration. It's full of diverse personalities, local legends and hidden gems valued by tourists and locals alike.
In 2018, artists were asked to embrace a spirit of adventure to discover something unique about their own community or one that they visit within the state.
The theme was to be addressed in an accompanying artist statement of 100 – 150 words.
2018 Judging Panel
Bianca Acimovic (Touring Exhibition Curator) – Director, Rockhampton Regional Art Gallery
Renai Grace – Director, Museum of Brisbane
Bruce Heiser – Director, Heiser Projects
Read the media release announcement here.
---
2018 WINNING ARTWORKS
Destination Duaringa, Erin Dunne (Rockhampton) – The Flying Arts 'Art for Life' Award, thanks to Holding Redlich and the Flying Arts Alliance 500 Club Donors – $10,000 cash, non-acquisitive
Killara Display Homes, The Ly

(Loganholme)

– The Annie Tan Memorial Watercolour Award, thanks to The Booth Memorial Fund of Annie Tan (Yuh Siew) and the Geoff Booth Foundation – $3,000 cash, non-acquisitive

Mist #3, Lillian Whitaker (North Maleny) – Betty Crombie Young Artist Development Award, thanks to David Crombie – $2,000 cash, non-acquisitive
Dawn to Dusk, Suzy Furness (Ilkley) – Textile Art Award, thanks to Janet de Boer and Art for Life donor – $1,500 cash, non-acquisitive
Streets of Your Town, Rebecca Lewis (East Ipswich) – Digital Art Award, thanks to The Edge, State Library of Queensland, The Johnson and Flying Arts – Fully funded one-week residency at The Edge, SLQ including 7 nights accommodation at The Johnson, valued at $4,000
Mitchell, Feathertop and Flinders, Karen Stephens (Winton) – Remote Artist Award, brought to you by USQ Artsworx – Fully funded one-week residency at McGregor Summer School (Jan 2019) valued at $2,500
If Trees Could Talk, Hayley Roberts (Narangba) – People's Choice Award (Adult), thanks to Ironlak Art and Design – $1250 Ironlak art materials voucher
Where the ocean meets the sea, Caitlin Broderick (Toowoomba) – People's Choice Award (Youth), thanks to Ironlak Art and Design – $750 Ironlak art materials voucher
Judge's Commendation
The epic flight of the Arctic Tern 2 plates, Shannon Garson (Maleny) – Judge's Commendation for a 3D work
---
WANDERLUST TOURING EXHIBITION
Download here:
Wanderlust catalogue (low-res)
Developed by the University of Southern Queensland (USQ) in collaboration with Flying Arts Alliance and Art Education Australia (AEA)
Works listed with prices are available to purchase (click on images to view full details) – please contact us for sales enquiries
---
Flying Arts Partners and Prize Sponsors for the
2018 Queensland Regional Art Awards

PREVIOUS YEARS
View the winners and touring artists of previous years of the Queensland Regional Art Awards.